October Leadership Opportunities
Octobers's area business and networking calendar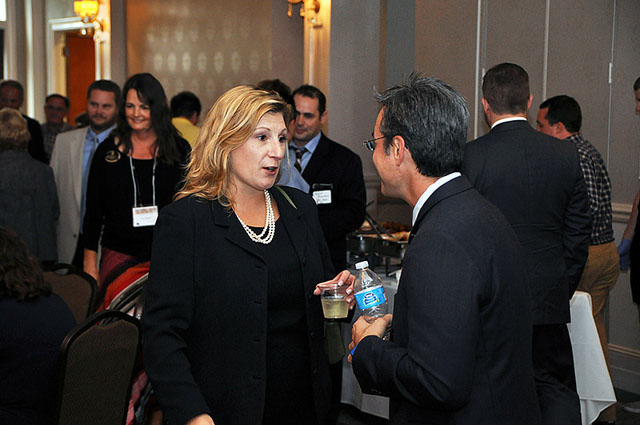 Looking to sharpen your skills? Make connections? Each month, WILMA will highlight upcoming business-related events in the area to help you track down ways to get involved as part of the Women to Watch Leadership Initiative.
October 8: The first-ever Discovery Forum takes place at UNCW's Center for Innovation and Entrepreneurship. The event highlights locally based young social entrepreneurs and features innovative ideas through five-minute presentations, networking, and socializing. Three teams picked by the audience will go to a Leadership Symposium in Raleigh to compete for $10,000 in funding. Click here for info.
October 8: The Small Business and Technology Development Center hosts a workshop on writing federal proposals for doing business with the federal government. Click here for info.
October 9: George Bandy, vice president of sustainability at Interface and immediate past chairman of the U.S. Green Building Council, speaks on "Where We Live Matters" at the UNCW Burney Center. The council's North Carolina chapter hosts the event. Click here for info.
October 13: UNCW Swain Center's annual Outlook conference takes a look at the region's economic activity and forecasts. This year's event panel features executives from GE Hitachi Nuclear Energy and PPD as well as UNCW Chancellor Jose Sartarelli. Economists also will present their regional and national economic forecasts. Click here for info.
October 13: Wilmington Regional Association of Realtors and Wilmington Chamber of Commerce hold Pork & Politics, a reception for members to meet with candidates in this year's elections over a dinner of barbecue. Click here for info.
October 15: Wilmington Health Access for Teens (WHAT) marks its twentieth birthday celebration at the Hilton Wilmington Riverside. The event includes a panel of health specialists discussing youth and health care issues. Seats must be reserved in advance. Click here for info.
October 15: Cape Fear Commercial Real Estate Women (CREW) holds its annual oyster roast event, an evening of networking for members and potential members over food and drink. Click here for info.
October 15: The thirty-seventh annual North Carolina Association of Women Attorneys Conference takes place at the Blockade Runner Beach Resort in Wrightsville Beach. Local members of the Coastal Women Attorneys group host the event. Click here for info.
October 26: CFCC's Small Business Center presents a free seminar 6-8:30 p.m. on "How To Finance Your Small Business." The area's SBA senior manager and a local commercial loan officer reviews the current guidelines and requirements a potential borrower must meet to qualify for a small business loan. Click here for info.
October 27: DocsInk CEO Julie Thomas is the guest speaker at the monthly meeting of Cape Fear Women in Tech, a networking group formed by WILMA's Women to Watch Leadership Initiative and tekMountain. The meeting starts at 5:30 p.m. at tekMountain, 1844 Sir Tyler Drive. Click here for info.
October 28: The second training event of Women to Watch's Get on Board! program holds its second round of training for women interested in getting involved with local nonprofits. UNCW's QENO experts lead women through information about board of director service, and the United Way of the Cape Fear will then help participants match up with local nonprofits in need of board members. Cost for the two-hour training session, which will be 8 a.m.-10 a.m. at CFCC's Union Station, 502 North Front Street, in room U-512, is $20. Click here for info.