Ocean-Friendly Stamp
Kim Beller's artwork part of Ocean Friendly Establishments program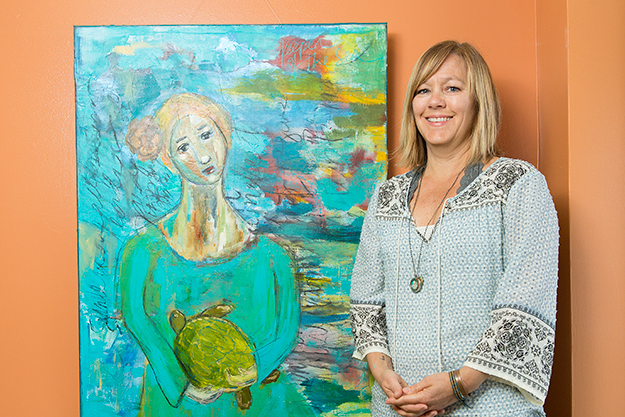 "We have a voice, and when we use it we can make a difference," is artist KIM BELLER's motto, and she puts it into action.
She's the official artist for the OCEAN FRIENDLY ESTABLISHMENTS program, an instructor at the Cameron Art Museum, an instructor in her private studio "heART space," and a community activist.
Ocean Friendly Establishments came about when Beller, Bonnie Monteleone, and Ginger Taylor met to brainstorm about how to convince restaurants to use fewer plastic straws. Taylor, founder of Wrightsville Beach Keep It Clean, had long wanted to reduce straw usage because of debris her group finds on the beach.
The three women are environmental advocates aware of how much plastic ends up in the ocean. Ocean animals eat the plastic, and we eat seafood.
"It's overwhelming when you start looking at how many things have plastic in them. But every little change is a good thing," Beller says.
Beller is secretary of the Plastic Ocean Project, which teamed up with the Surfrider Foundation Cape Fear chapter and Wrightsville Beach Keep It Clean to recruit establishments that would make the pledge. Beller designed a certificate for the businesses to post, announcing participation to their patrons.
More than a dozen restaurants have signed on in the six months since Blockade Runner got the first certificate. These restaurants agree to offer straws only when requested and to think of other ways to reduce single-use plastic in their operations. And the restaurants are saving money in the process, organizers say.
"More establishments are calling us now, which was my dream to start with," Beller says.
Beller's art is intrinsically tied to the ocean, often depicting ocean animals or scenes.
"I grew up in Wilmington and spent a lot of time in the ocean and in the sound fishing with my dad. I had an early sense that we need to take care," she says. "My family's rule was you clean it all up when you leave. I have an appreciation for the coast."
Her career began as a Montessori teacher, but she always incorporated the art her mother instilled in her. That led to teaching summer art camps for kids.
"I always saw things in nature," Beller says.
Her visual journaling grew from the pull to what comes naturally – "whatever is in my heart and mind at the moment is where I start," she says. "I usually start with writing. It's intuitive. I let it come to me; I don't plan it. Let go of your expectations and let the process unfold, and you'll see what evolves."
Beller teaches classes at the Cameron Art Museum, in her home studio, and as a guest teacher in schools or anywhere else she's invited. She also invites guest teachers to her studio to feed her love of learning from others.
Her home studio has a special connection.
While her mother was battling cancer, Beller's family found a house on middle sound with an apartment for her mother where they could care for her. She died at age sixty-two, leaving Beller heartbroken over the loss of her best friend. Eventually, she turned that loss into an act of giving by turning her mother's space into "heART space," a studio filled with classes, journaling, art, bookmaking, and a peaceful place.
In her studio or at the museum school, Beller sometimes has "pop-up" classes, offered on short notice, as a fun way to jump into a new project.
And she gives back.
"Any classes I teach or items I sell in 2016, I will donate 10 percent of the profits to Homes of Hope India. They build orphanages. I learned about them in Kunga classes at Wilmington Yoga Center and was inspired during a class taught by Kristin Cooper-Gulak," Beller says. "Every year I choose a different charity."
To view more of photographer Chris Brehmer's work, go to www.chrisbrehmerphotography.com