NYFW – Beyond the Runway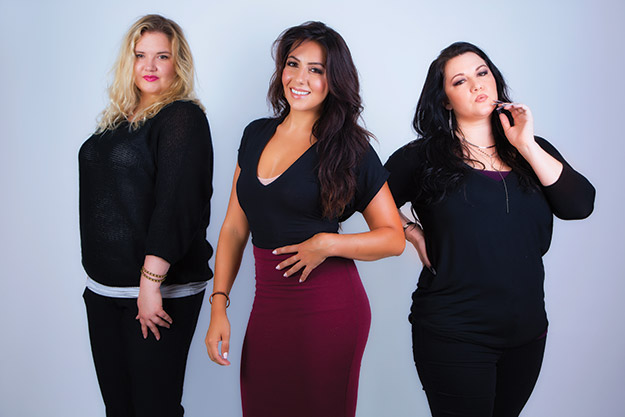 New York Fashion Week brings together clothing designers from all over the world to preview their lines for the upcoming season. It's no small feat to be invited to help complement the clothes with the best hair, makeup, and nail art. This year, these three Wilmington residents are fortunate enough to practice their craft in the creative madness that is Fashion Week.
HAIR FLAIR
Brandy Alexander (far left), co-owner of Groove Jet Salon, has been involved in the hair industry for ten years, though she says it's been in her blood from birth.
"I've always been prissy, my dolls were all perfectly coiffed never cut or colored, and I was constantly intrigued by hairstylists' lives." Alexander says.
The upcoming New York Fashion Week September 10-17 to preview designers' spring/summer 2016 collections will be Alexander's first NYFW after auditioning for the Bumble and bumble team last year and not being chosen.
The process of getting onto the team is a rigorous one.
"In order to be eligible to attend their Skills Assessment, stylists must complete two rounds of styling courses (from Bumble and bumble University)," Alexander explains. "I had to complete these courses and submit my styling portfolio to be invited to Skills Assessment. During Skills Assessment, sixty stylists from all over the country have to go through the same audition process."
Her determination paid off, and her dream since middle school has come true. Ready for whatever the week may bring Alexander says, "Although I have not experienced NYFW, I have been forewarned it involves lots of early call times, several trips to Starbucks, no sleep, and a whole lot of inspiration and fun! Bring it on!"
POWDER KEG
This will be freelance makeup artist Chelsea Sule's second time at NYFW. Her first was in February for the shows previewing fall lines, and the route she took to get there was less by the book than Alexander's.
"I honestly just took a chance and booked a plane ticket," Sule says. "I reached out to everyone I knew that had any part of the event and found an intern/volunteer opportunity backstage with a PR company called Seventh House. It was really neat to see how the rest of the backstage operated, and (it) gave me an opportunity to connect with the lead artists of the makeup teams and assist them as well."
She'll be connecting with those contacts again to finalize with a team for the September event. Otherwise, Sule says, "I will also be working on a few photo shoots and bookings during the week as well as doing a little fashion research."
New York isn't the only city that hosts fashion weeks – Sule has been involved in Charleston Fashion Week as part of Team ABP.
Wilmington has a fashion week, as well, where Sule has been the director of the makeup team for the past two years. Regarding Wilmington designers she says, "Casey Crespo and Kristin Wood are amazing local designers. I'm honored to say I've worked with."
In New York, Sule assisted with the Saunder and Charlotte Ronson presentations, where she says her favorite part of being involved was watching the show.
"When I see the model I've worked with coming down the runway, it's the biggest rush," Sule says. "I just stand there and think, 'Am I dreaming right now? There's my work – my makeup – and it's on the runway alongside the work of some of the best in the world. How is this real?!'"
NAILING IT
Alecia Mounixay, owner of White Koi Nail Studio, has a similar reaction to the show.
"I love to see my work on the models when they walk down the catwalk," she says.
Getting them on the catwalk can be an intense process.
Mouxinay describes a typical day at NYFW: "You get up at 4 or 5 a.m., get ready, double check all of your equipment, and try and track down a taxi. As soon as the models arrive, we get to work. You have to work fast. Then when the models go to dressing, we go with them.
"Then when they come back around to get into their new outfit, it gets crazy. They are slinging clothes off, and sometimes we have press-on nails for work that was more time consuming, and they go flying," she continues. "So we even have to check them again before the catwalk. This happens two, four times. When everything is done, you have to collect your stuff, rush to pack up, and get to the next show."
Doing nails at NYFW also requires Mounixay to be flexible. Literally.
"You will be in the oddest of places: on the floor, under the tables," she says. "Sometimes, there are so many people, you can't move an inch."
To view more of photographer Chris Brehmer's work, go to www.chrisbrehmerphotography.com.