November Spotlight
Spotlights on area women making news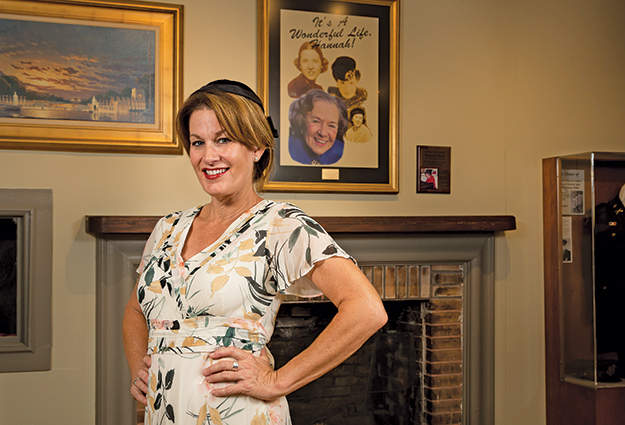 Musical brings WWII to the stage
This month in time for Veterans Day, Mrs. World War II Wilmington, an original musical theater show set in the 1940s, honors Hannah Solomon Block.
Actress RASA LOVE (above) plays Block, who used her theatrical skills and energy to make Wilmington a welcoming place for GIs during the war.
Show performances November 11-13 also mark the 75th anniversary of the Hannah Block Historic USO/Community Arts Center, home to USO activities during the war and later named for Block.
Info on tickets and show times are available at wilmingtoncommunityarts.org.
– Jenny Callison
Skrabal joins Waterman Hall Of Fame, 2016 Class
TRACY SKRABAL was inducted into the Wrightsville Beach Waterman Hall of Fame this year, as its Woman of the Year.
Skrabal is the southeast regional manager and senior coastal scientist with the North Carolina Coastal Federation.
"Having grown up around watermen, it is very humbling to be considered as one within this community," Skrabal says about the honor.
The Wrightsville Beach Museum of History board selected the six inductees. The award is meant to "reflect the importance of community spirit and personal contributions to the culture of water sports throughout the history of New Hanover County Beaches," according to the museum.
– Vicky Janowski
White receives national principal recognition
Lincoln Elementary School Principal MOLLY WHITE was named a 2016 National Distinguished Principal, a distinction that went only to fifty-eight elementary and middle school principals across the country.
White has been at the Leland school for three years. She also served as director of Pender County Schools for six years.
"White has worked closely with all of the staff to impart her strong knowledge of curriculum and research-based strategies," a note from the NDP program states, "bringing Lincoln from one of the lowest to one of the top performing schools in the county with academic growth achieved each year under her leadership."
White and the other principals received the honor last month at a program in Washington, D.C.
She is a committee member of the North Brunswick Chamber Education Foundation Excellence in Education. And, earlier this year, White was named the Southeast Region Principal of the Year in North Carolina.
– Vicky Janowski
WISP marks scholarship milestone
Wilmington-based Women's Independence Scholarship Program (WISP) recently celebrated the graduation of the 2,000th woman the group has helped send to school.
The program – started in 1999 by DORIS BUFFETT, Warren Buffett's sister – provides scholarships to women who are survivors of intimate partner abuse to help them gain economic independence.
"I see every grant as an investment – and the women who have received WISP funding have been one of my best investments," Doris Buffett says.
Over the past seventeen years, the program has granted more than $35 million to the women. "To consider what that means," says WISP Executive Director Nancy Soward, "2,000 women with their degrees in hand, an improved economic outlook, and the confidence that goes with it – truly, this is an extraordinary thing."
– Vicky Janowski