November Spotlight
Area newsmakers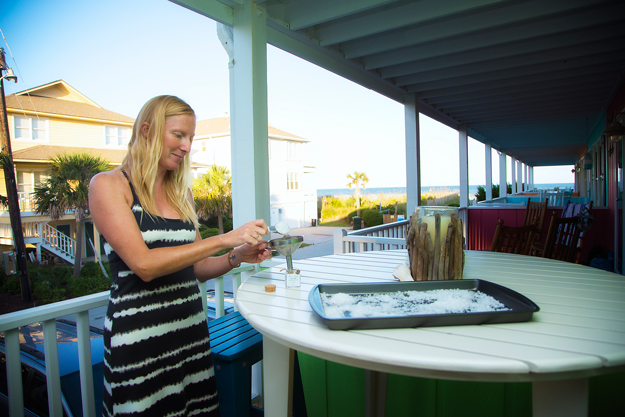 Sea Salt Love Gets National Nod
SEA SALT LOVE CO. recently got national attention from the queen of Good Things herself.
Sea Salt Love, which harvests ocean water from Wrightsville Beach and converts it to sea salt products, was named a finalist in this year's Martha Stewart American Made contest. Editors for Martha Stewart productions picked the finalists in several categories from crafts to style. Sea Salt Love made the cut in one of the food categories, says company owner AMANDA JACOBS.
As of press time, Jacobs didn't yet know if she won an overall award or a voting-based people's choice award – the winners were announced October 23. But she says just being nominated and featured on the national website as a finalist brought a bump to business.
"I've gotten into a couple more stories and definitely into more restaurants that are not in this area," Jacobs says. As a finalist, she's able to have her products on MarthaStewart.com's online store.
– Vicky Janowski
Howard travels to ILM for benefit
James Beard Awards semifinalist and host of the PBS series A Chef's Life VIVIAN HOWARD is the special visiting chef for a fundraising event this month to benefit the Food Bank of Central & Eastern North Carolina's Wilmington branch.
The Chef's Feast for the Food Bank event on November 16 features Howard, who owns Chef & the Farmer restaurant in Kinston, and local chef Keith Rhodes, owner of Catch and also a James Beard semifinalist, as event ambassadors.
Other well-known Wilmington chefs also will be on hand, making their signature dishes for the food-tasting event.
Howard plans to hold a dessert cooking demonstration to be served to the evening's guests. The event takes place 5:30-8 p.m. at The Terraces on Sir Tyler. Info: foodbankcenc.org
– Vicky Janowski
Independent film highlights adoptions
Tying in with National Adoption Day, a locally made independent film whose story highlights the adoption process premiers this month with showings in Wilmington on November 21 and 22.
Dock Street Productions' feature film FINDING HOME at manna/Bourgie Nights, 123 Princess Street.
The screening event also will include other parts such as a question-and-answer session with local adoptive families, bringing a National Adoption Day Event to Wilmington, says AMBER PATEE ADAMS, assistant director and producer of the film.
"To see Finding Home premiere is an illustration of what an integral group of filmmakers can accomplish," says Adams, shown above with director and producer NICK WESTFALL on the set of the film.
"Finding Home has always missioned to push past the confines of a movie screen and give back to society."
Info: facebook.com/Finding-Home-Movie
– Vicky Janowski
PNC Mortgage Hires Mesler
PNC Mortgage, a division of PNC Bank, has appointed LISA MESLER as its Eastern North Carolina Market Manager.
Mesler has more than fifteen years of experience in the mortgage industry and previously served as a branch manager with Wells Fargo for over twelve years, according to a news release.
She now is the key contact for residential loans in the eastern part of the state for PNC, officials say.
Mesler is active with the Wilmington Association of Realtors and Wilmington Cape-Fear Home Builders Association.
PNC Mortgage also recently hired BRITTANY ESLINGER and ZACH HINSON as loan officers in its Wilmington market.
Eslinger, with a decade of experience in the mortgage industry, previously worked as a mortgage loan officer for Mutual Bank in South Bend, Indiana.
– Vicky Janowski