November Spotlight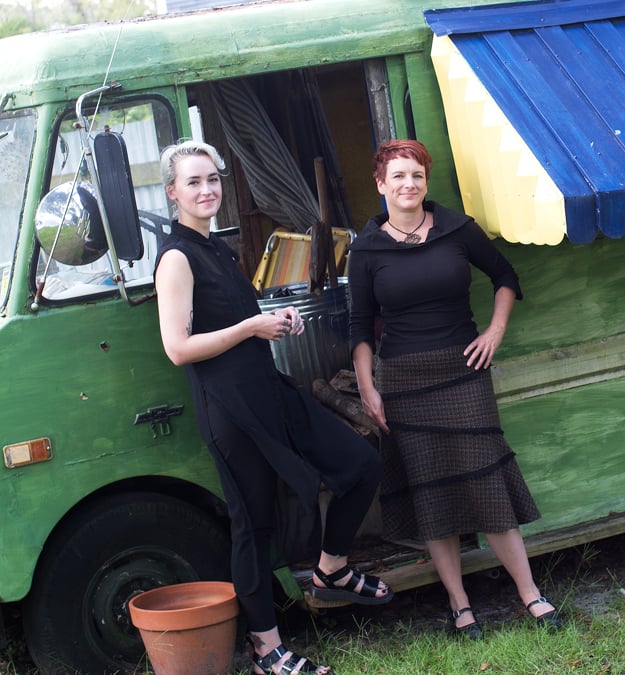 Cucalorus' Visting Artists
Filmmaker and visual artist Ruth Paxton (above left) from Scotland and flutist and looping artist Rozalind MacPhail (right) from Canada are resident artists for the Cucalorus Film Festival.
Addison Adams is the festival's third fall resident artist, which means the three stay in housing provided by Cucalorus and meet other creative artists and filmmakers while working on their projects for a couple of months away from the daily distractions of home.
Paxton is working on a screenplay for "A Hymn for Mars," the plot for which was inspired by her visit to last year's film festival. MacPhail is finishing DVD work on her "Head First" project and wants to start a collection of silent films with scored music called "Wilmington."
To find out more about Paxton and MacPahil, see the WILMA weekly email newsletter this month.
-Vicky Janowski
Opera Wilmington Gives Out First Scholarship
University of North Carolina Wilmington student Isabella Stollenmaier received a $1,000 scholarship from Opera Wilmington. The scholarship, created to support opera's growth, was the group's first and will be awarded annually to UNCW voice students.
The scholarship comes two years ahead of when organizers initially planned, according to a news release.
Stollenmaier, mezzo soprano, is a rising junior majoring in vocal performance. She received the scholarship during Opera Wilmington's Aria Night event last month.
-by Vicky Janowski / photo by EJM Photography
Literary Magazine and Feast Down East Serve Dinner Event
Ecotone, University of North Carolina Wilmington's literary magazine of place-based writing, and Feast Down East hold a farm-to-table supper November 7 at UNCW Kenan Hall's courtyard to coincide with the magazine's "Sustenance" issue about food.
Chef Ryan Andress created the menu using locally sourced food, and Wilmington Brewing Company is providing drinks.
Feast Down East co-founder and director Leslie Hossfield and authors Alison Hawthorne Deming and Randall Kenan – the dinner comes at the end of UNCW's annual Writers' Week – are slated to speak and tell stories.
Tickets are $50 for the limited seating and have to be purchased in advance. Info: ecotonesupper.brownpapertickets.com
-by Vicky Janowski / photo by Harry Taylor
Girardot Appointed to ILM Authority
The New Hanover County Airport Authority has its first female member in twenty-five years.
County commissioners appointed Donna Girardot, who in October was sworn in on the newly expanded, seven-member board that manages Wilmington International Airport. Dan Hickman and Tom Wolfe also joined the board.
The last time the independent aviation board had a female representative was in 1989, when the authority became a separate group from the county, says Airport Director Jon Rosborough.
Girardot is the former head of Wilmington-Cape Fear Home Builders Association and Business Alliance for a Sound Economy and current vice chairwoman of the county planning board.
-Vicky Janowski