November Men's Room
Life After the Cosmo: A Real Woman's Drink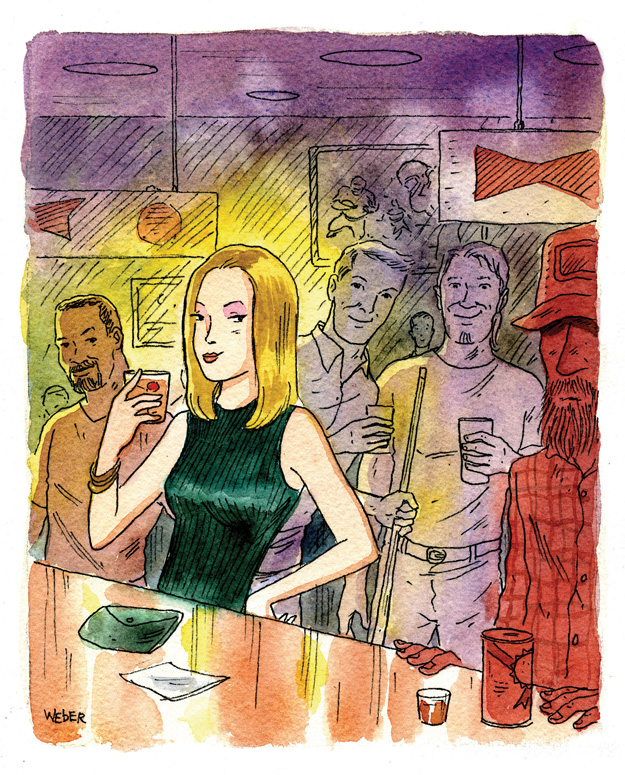 "Your grandmother could drink you under the table."
I love that statement. It scares me and I get a little defensive, but I think the proof is in the quality of drink they drank and the scene that they so sweetly maintained.
It was a cocktail kick. Men had scotch, and the girls had martinis. Why are there Mad Men parties popping up in the suburbs? We're moving ahead while revering our past.
The average adult doesn't get jacked up on shots and dance with "Toothless Dan." You don't have to study at the Sorbonne to know that tequila slammers with a fellow who goes by "Sleeveless T" is cruisin' for a bruisin'.
And while those guys at the bar have every right to drink like a "man," how does a lady order a drink and hang with the boys:
Be Decisive: Know what you are getting into before you step to the rail. You know how much trouble you're looking to get into so choose wisely. Brown or white liquor; rich or tart in taste. Try a top shelf, and you'll taste the difference.
Order Order: Always name the liquor before the mixer [if necessary]. Vodka and soda. Whiskey, neat. Gin, up with a twist. You can drop the "I'll have a …" because that's not how Mae West or Marlene Dietrich would do it. Are you ordering or requesting? It's an attitude.
Politesse: Always keep the scene light and regal. You want to walk in with sailors and leave with senators. Your beautiful presence is why the establishment is full in the first place. Wear a grin and if someone turns the mood, just give them a tip of the glass and nod; they'll know they're being a downer. And for the highest level of service … tip.  Always.
Cocktail suggestions
Old Fashioned: A sweet and citrus tinged bourbon flavor. Fun for beginners. Says you've done your homework and appreciate craftsmanship.
Manhattan: Ask what ryes they have and go with the suggestion. It's a deeper bourbon flavor and a sophisticated taste jump, but it says you know how to drink like the mature woman you are.
Gin Fizz: Light, tart and lemon; a brilliant throw back to the American Jazz Age. If you're out to celebrate, enjoy. It's like champagne with a kick. Have fun swimming in the fountain.
Long Island Iced Tea: Trouble in a glass. If you drink this, make sure you're at home and you have some personal days.
Finally, after exhausting all options and attempting to hold it together, refrain from being the one who swaggers up to the bar and asks, "If you were me, what would you get?" More likely than not, the answer will be, "A cab home."
To view more of illustrator Mark Weber's work, go to www.markweberart.blogspot.com.