Night At The Museum
After-hours events gear up at the Cape Fear Museum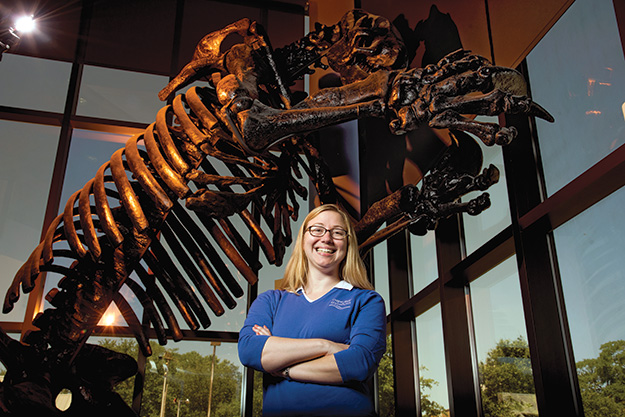 While the Cape Fear Museum of History and Science has an assemblage of exhibits meant to appeal to a broad audience, a new program aims to reach a specific group.
"Young adults can be a difficult audience for many museums to reach. Often they are interested in museums, but don't want to sit down for a lecture or see static displays," says AMY THORNTON (above), the museum's education coordinator.
Last year, the museum staff rolled out a strategic plan to address this void. Part of that plan is the new, quarterly Museum After Dark program targeting young adults.
"They want their museum experiences to be hands on and active," Thornton says. "Museum After Dark appeals to a crowd that is curious about science, eager to participate in activities and challenges, and excited to socialize with friends in a unique setting."
Cape Fear Museum first tested the waters in February with a space-themed event for adults (right, photo courtsey of Cape Fear Museum). Unsure of how much interest the program would garner, the museum began by pre-selling tickets. The results surpassed organizers' expectations. Over 400 people attended the one-night event in February.
"We really found a niche in our community," says Amy Thornton, Cape Fear Museum's education coordinator, about Museum After Dark. "There were young adults showing up in their NASA shirts ready to embrace their geeky side."
During the space-themed extravaganza, the planetarium was open for viewing astronomy shows, accompanied by a space place exhibit. Activities such as constructing a parachute to compete in an egg drop and building edible satellites made for non-traditional ways to learn about NASA's engineering history. It sounds like a typical day at a museum, only after regular museum hours with no kids allowed and adult beverages.
"Adults with young kids only get the opportunity to experience the museum following a two-year-old, and adults without kids sometimes want to enjoy adult-only environments," Thornton says.
Museums across North Carolina and the country also have implemented programs to access the age groups.
Durham's Museum of Life and Science, for example, hosts "Tinkering and Drinkering" in which grown-up museum-goers can experience a new sort of happy hour with access to the museum's tools and technology.
Cape Fear Museum's next event, dinosaur-themed, will include an exhibit of local fossils and possibly an appearance by Dr. Rocks, paleontologist extraordinaire from Cape Fear Community College.
Attendees can expect to get their hands dirty with fossil digs, and for those who want to be active there will be, of course, T. rex basketball. Vittles Food Truck and Bombers Beverage Co. will offer bites and libations.
To view more of Michael Cline Photography's work, visit www.michaelclinephoto.com.