Next Course
Karen Taylor mixes up her next chapter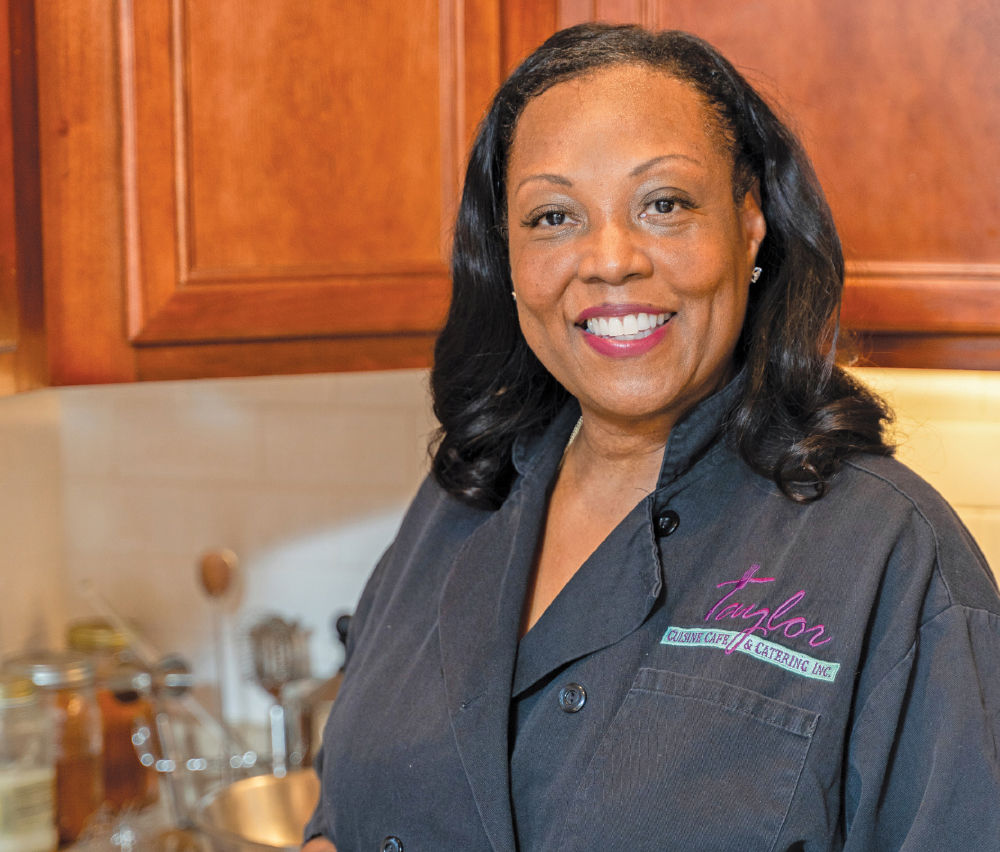 Love hurts. Just ask KAREN TAYLOR, who fourteen years ago pursued her love and now has lost it after giving it all she had.
But, like many who have lost in love, she's willing to go out and try it again.
Taylor didn't chase a person, though. She chased a dream. She came to the Southport area and opened Taylor Cuisine Cafe & Catering at 731 North Howe Street fourteen years ago, after prodding by her parents, Walter and Virginia, who had moved to St. James Plantation from New York. Her specialty was what she calls "Southern with a twist" and featured items such as the traditional fried green tomatoes, which she served as an appetizer with crumbled goat cheese and a roasted red pepper sauce. The tomatoes were also served as a sandwich, with herb mayonnaise, goat cheese, and lettuce on focaccia bread.
While operating the restaurant in Southport, Taylor also became involved in the community, serving on Dosher Memorial Hospital's board of trustees and the Order of the Eastern Star, as past president of the Southport- Oak Island Area Chamber of Commerce's board, past secretary of American Culinary Federation's Wilmington chapter, member of the local NAACP chapter, and past board member of the Boys & Girls Clubs of America when it was in Southport and part of the Wilmington chapter.
Due to a number of circumstances, Taylor closed her restaurant in late 2019.
"I'm still numb," she says, not quite a month later.
"You duck and you dodge bullets and you rob Peter to pay Paul," she says of the past two years of the business.
The restaurant used to serve breakfast, lunch, and dinner. Then, it could only support breakfast and lunch. Taylor says the next step would have been to only open weekends. The summer of 2019 was particularly tough. The air conditioner in the rented facility broke. A GoFundMe effort helped to repair it, but it was a hot summer, and it impacted business.
Hurricane Florence caused a delay in opening. And, while the headline news of the hurricanes that have plagued the area in recent years has died down, the ramifications of those storms have not, she says. Many people are still trying to rebuild their lives; many more are displaced. Going out to eat was not a priority for these people.
Finally, Taylor says, she had to say no more to trying to hold on to the restaurant. She still loves food, she says, "and, that's the hardest part." With the dream went her financial stability, as well. Taylor says she's lucky to have the support of her fiancée, Raymond Hicks, as she determines the next stage of her career. Her father and sister, Karla, have also helped her through this difficult time, she says.
Much like peering at the ingredients needed for a dish, Taylor is taking stock of her skills and experience and starting to make a plan. It might look like this:
Take fourteen years of experience and roll into cookbook (This is a project Taylor says her customers have been requesting of her for years. Now, she has the time. "And, I have a lot of volunteers to test it," she says.)
Use partially completed computer science degree and completed business management degree and combine it with years of sales and marketing experience, including selling directory advertising for Bell- South (now AT&T) in Atlanta
Update resume and LinkedIn accounts
Sprinkle liberal doses of hearty work ethic, community leadership, great customer service, and project and staff management and seek position in outside sales in food- and beverage-related organization
Much like making a perfect roux, put love of food and people together to offer personal chef and catering services – possibly including a food truck – on the side
Combine and see what happens.
"It's very humbling. It's not easy, but you just have to swallow your pride and put yourself out there," Taylor says of her experience. "It's not going to be The Karen Taylor Show. It's going to be working to help another company succeed."
---
To view more of photographer Logan Burke's work, go to LoganBurkePhoto.com
Want more WILMA? Click here to sign up for WILMA newsletters and announcements.