Newest Noshings
Next on the restaurant scene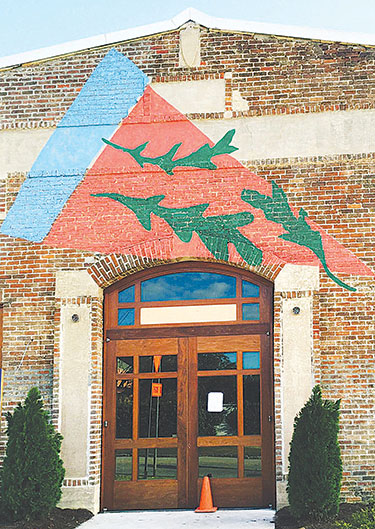 It's been a busy year on the local restaurant scene. Catch up on the latest openings and changes from excerpts of our Restaurant Roundup feature, which runs every week from WILMA's sister publication Greater Wilmington Business Journal. Go to wilmingtonbiz.com to sign up to receive the free Restaurant Roundup news emails.
Vivian Howard's Next Venture
BENNY'S BIG TIME PIZZERIA, a Wilmington restaurant created by star chef Vivan Howard and her husband, Ben Knight, is expected soon, in a redevelopment project that continues to attract additional tenants.
A Facebook post from Howard's Kinston restaurant Chef & the Farmer on October 9 said the Wilmington eatery (now boasting a exterior mural by local artist Sarah Rushing) at 206 Greenfield Street is expected to open late fall. The pizzeria is at South Front II, a redevelopment project also slated to include a second location of Wilmington's The Fortunate Glass Wine Bar and bakery from PinPoint Restaurant pastry chef Lydia Clopton.
Filling a Spot at Mayfaire
The Papanikolaou family, owners of The Greeks Authentic Mediterranean Deli, signed a lease at 890 Town Center Drive in Mayfaire Town Center for SYMPOSIUM RESTAURANT AND BAR.
The space, located next to the Regal Mayfaire Stadium 16 movie theater, has been vacant since Towne Tap & Grill closed in August 2015. Symposium will feature Greek-inspired cuisine with recipes and techniques that chef George Papanikolaou collected throughout his career in Europe before coming to Wilmington in 2011. The restaurant, which will lean more toward fine dining than fast casual, is expected to open in early January.
North Fourth's New Foodie Market
Pete Mairs, owner local seafood distribution company BARBARY FISH CO., recently leased a space at the edge of the Brooklyn Arts District. The building at 1124 North Fourth Street will be the new distribution center for Barbary Fish Co. as well as Mairs' first retail venture, Fathom & Farm.
Fathom & Farm will carry a wide variety of seafood, from local waters and beyond. Mairs will also carry Berkshire-Duroc pork, bison, elk, venison, veal and chicken from western North Carolina farms.
Fathom & Farm is in the final stages of construction, and a mid-November opening is anticipated.
Monkey Junction's Mexican Spot
Brothers Miguel and Ramon Villasenor, co-owners of Los Portales Supermarket and Los Portales Taqueria, leased 5607 Carolina Beach Road.
TEQUILA COMIDA AND CANTINA will feature the authentic Mexican cuisine, with an emphasis on lighter, healthier options. Miguel Villasenor says customers will find Mexican staples such as burritos and tacos, as well as lots of salads, fresh fish dishes, and the ceviches served at Los Portales Taqueria.
A late-December to early-January opening is expected.
My Oh My, Biscuits and Pies
Craig Love, chef and owner of Surf House in Carolina Beach, and Annalee Berry, general manager of Surf House, have partnered in forming Coastal South Hospitality Group LLC. Coastal South Hospitality's first project will be THE SOUTHERLY BISCUIT & PIE in Carolina Beach at 1206 North Lake Park Boulevard. The Southerly will be a quick-service concept, specializing in made-to-order biscuits and biscuit sandwiches, along with traditional hand pies and whole pie options.
Owners were hoping for an early to mid-November opening.
Beach Bagels Expanding Again
BEACH BAGELS owner Tony Di Norcia is opening a third location of the popular eatery, this one in Monkey Junction at the Myrtle Grove Shopping Center. The menu will include some Beach Bagels specialties as well as some new items unique to the location. An opening is expected early next year.
–Jessica Maurer