New York Fashion Week
Local stylist works NY Fashion Week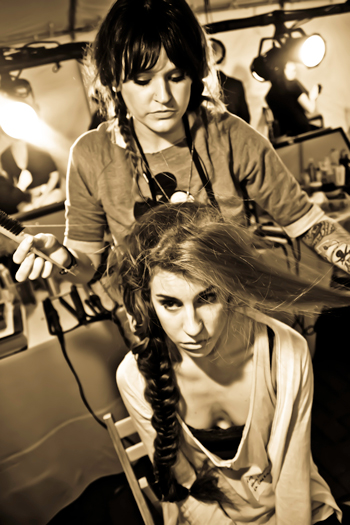 Wilmington-based hair and make-up stylist Erica Adams weighs in on working New York Fashion Week for the "Faster" by Mark Fast show and other career highlights thus far.
I was invited to go very last minute the summer of last year. And then I kind of went − and it was a crazy two days − and went home, and here I am. I've been watching it the majority of my life from different perspectives, and finally being able to be a part of it was really exciting.
You have a team meeting, and normally you're prepping. We prepped hair for the ponies … We
did a slick pony[tail] at the crown with long pre-colored extensions in all shades of pastel. We had a team meeting and went to the show. You're pretty much in charge of a specific model for a specific time.
There are two people per person, and it's very fast-paced but very calm at the same time.
You know how people say, 'the calm before the storm?' I feel like there's a little bit of an opposite with that. When you work with a very organized, structured and talented team, it's very calm during the storm.
When you get to work next to people who have worked multiple fashion weeks, they're at every fashion week, and they're right in the heart of creating fashion and creating what's hot and what's new in our beauty industry…Just being around them not only is an inspiration, but you learn just the way that they hold their hands or the way that they set their station up before they work, the tools that they use. You're always going to gain from it, even if it's something as simple as a ponytail.
There are a million ways to do a good ponytail, and I learned another variation. Taking small sections of hair starting in the crown and continue to gather hair till you reach the hairline. Spraying and readjusting hand positions the entire time. Using elastic string opposed to a traditional hair tie. Wrap an excessive amount of elastic around the base. The more you wrap, the more the pony will stand off the head. Then, wrap the extension around the base of the pony to create the illusion of a long-colored pony. Finish off with an Alice [head] band.
I've done a DANNIJO Jewelry shoot in New York City as well. It was on top of the Sally Hershberger Salon in Alexander McQueen.
I guess I'm just touching base on other things, because for me, New York may have been a really cool trip, but it was really just two days in the past two years of my life.
Really, Fashion Week happens two times a year in New York. But for me, fashion happens every single day.
Adams has been involved in high profile fashion events such as New York Fashion Week and Charleston Fashion Week where she worked with designers Sarah Parrot, Mychael Knight and Chris Benz. For more info, visit www.ericaadamshair.com