New Pours
Downtown draws additional wine spots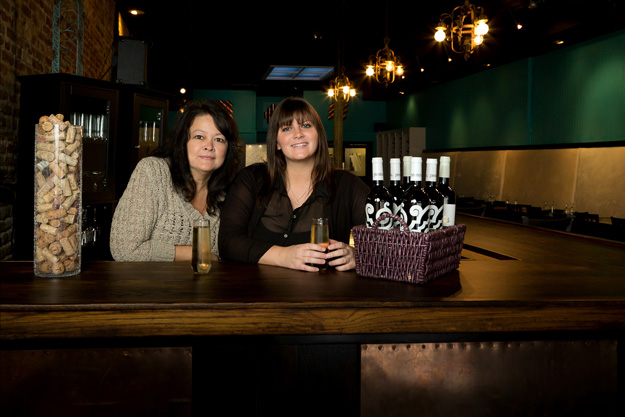 In 18th-century Germany, Pankert Clemens allegedly adopted his nickname "Perkeo" after the court jester famously replied "perche no?" – meaning "why not?" in Italian – time and again when offered glasses of wine. He was quickly celebrated for his massive wine consumption, regularly downing between five and eight gallons of wine a day. So when choosing a name for their new wine bistro in Wilmington, MALISSA MARSHBURN and LYNN ADKINS turned to the story for inspiration. Perkeo Wine Bistro represented their laidback approach towards customers, wine, and food, alike. Why not?
With Perkeo and another newcomer, BELLA'S BAR LOCAL, options in downtown Wilmington have expanded recently for wine aficionados.
For Perkeo's owners, the goal to open a wine-centric place was years in the making.
Mashburn and Adkins built a friendship based on their love for good wine and good food. They frequently visited wineries in Virginia but always felt a little something was missing at each one. Finally, they decided on less talk and more action; they started planning the opening of their own wine bistro.
After just three and a half months of hard work, Adkins and Mashburn opened their dream bistro in November in the former Deluxe restaurant space at 114 Market Street.
The location required updates to make it the bistro both women had in mind. From bubbly glass tables to a water wall, every square foot was considered carefully. They wanted an atmosphere of relaxation and comfort.
John Miketa, owner of Bar LoCal, also put his focus on atmosphere. What he wanted most was to have a place for anyone – local or tourist, young professional or retired – to feel welcome.
There are no televisions inside his bar at 19 Market Street. He opened up the space – converted from a coffee shop – to include more seating for his customers, though the space is cozy with low lighting and candles.
"We're keeping it intimate," Miketa says.
He plans to have two red wines and two white wines on tap for glasses, rotated regularly, and bottles available for purchase. Miketa has plenty of beers to choose from, too, and a champagne choice on the menu.
Miketa says he chose every type of wine, beer, and seating arrangement specifically to give Bar LoCal a select and unique feel when his customers walk through the door.
Just as Miketa makes choice selections for his menu, Perkeo also makes sure every bottle of wine and menu item has been taste tested and approved by Mashburn, Adkins, and their staff.
"You won't come in here and find something you could get anywhere else," Mashburn says.
Menu offerings include pork belly lettuce wraps, authentic Greek salads, and lamb lollipops.
They prepared for the grand opening by making personalized flyers and posters, creating a Facebook page, and walking door-to-door in the neighborhood to introduce themselves. Adkins and Mashburn wanted Wilmington to know them on a personal level, to see the faces behind the Perkeo.
Adkins and Mashburn take their "less talk, more action" approach to Perkeo's specials list, too.
On Wine Down Wednesday, they offer half off of wine bottles, followed by Tasting Thursday with tastings led by wine vendors.
"There's nothing on the wine list we don't love ourselves," Adkins says.
On Friday evenings Perkeo offers twenty-five percent off food items, and on Saturdays patrons can order a glass of wine and get their second glass free.
Perkeo offers a range of wine types including sweet wines, plays on pinot noir, buttery flavors, moscato, and merlot.
The bistro pulls from all over, whether the origin is France, California, Washington, Oregon, or North Carolina.
Look for these wines under their unique headings on the menu: "The Deliciously Drinkable Reds," "Blushingly Good Rosé," "The Wonderful Whites," and "Shall We Paint the Town Red."
Both Bar LoCal and Perkeo make their venues uniquely focused on their customers.
"We want Bar LoCal to be the local bar," Miketa says, "the bartender-knows-your-name type of place."
Click here to see more photography by Mark Steelman.