New Directions
Full Belly Project's Amanda Coulter feeds her passion for helping others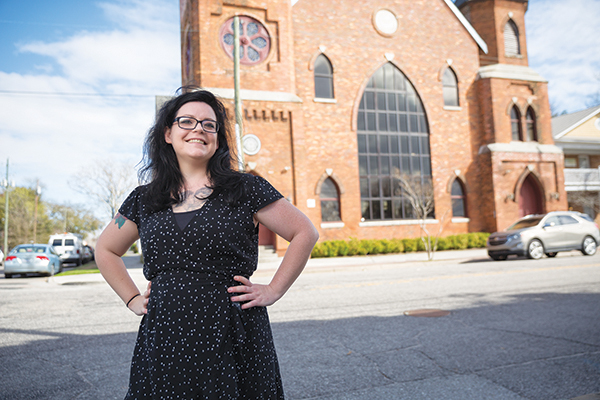 Amanda Coulter was a stay-at-home mom who'd recently moved back to Wilmington when she started to go a little stir crazy. Armed with a passion for international work and a master's degree in Global Affairs, she began searching for local ways to scratch her global itch. That's when she discovered Full Belly Project.
"Full Belly Project is a truly unique local organization with a global impact," Coulter says. "We create, design and build simple tools that help people all over the world get more food in their bellies and more money in their pockets."
Full Belly Project's success stems in part from the fact that it asks communities what they need, rather than making assumptions. "We're a request-based engineering nonprofit," Coulter explains. "If you're not partnering with communities, you can actually hurt them rather than help. For example, you may build a school, but there're no teachers. You might build a library, but no one can read." By asking the right questions, Full Belly Project avoids this problem, ensuring the tools it creates are truly helpful.
The impact of this work is felt in Wilmington, too. Volunteers learn basic engineering principles in Full Belly's workshop as they build the products that will help others. By working to improve lives across the ocean, volunteers improve their own with new skills and a better understanding of the world.
Taking the Wheel
Impressed by the organization's mission, Coulter began volunteering as often as possible. She wanted a full-time job but Daniel Ling, the executive director at the time, told her they just didn't have the budget.
"Then one day, April 27th 2016, he came in and said 'I'm resigning, and I want you to be the executive director,'" Coulter recalls with a laugh. "I said, 'I don't know how to run this!' And he said, 'Yes, you do.' That's when I realized he'd been training me the whole time."
Learning to lead the organization was a big step up from volunteering, and at first Coulter was nervous. "It felt like [I was] driving a car alone for the first time," she says. "Am I really making these decisions? Am I really doing this? But my heart was in the right place, and I put the organization above all else. That led me in a great direction."
Changes Ahead
In March the organization held its 16th annual Full Belly Feast, and Coulter was integral in reimagining and reinventing what had become a routine event. To that end, she moved the gala to the Brooklyn Arts Center and welcomed supporters to celebrate Full Belly Project's newest mission—Aflatoxin management.
Aflatoxin is a fungus that grows on legumes, particularly peanuts, and has become the number one health concern in Africa. "It causes immune suppression, liver cancer, and mental and physical stunting in children, disabling a whole generation," Coulter says. "It's pervasive, and occurs most often in drought conditions. And with global warming, developing countries pay the biggest price."
To help combat the spread of Aflatoxin, Full Belly Project has introduced a basic, practical intervention in the form of a five-step program. "These are simple things that reduce the levels of Aflatoxin, improving the health of the communities that depend on peanuts and allowing them to reach more markets," Coulter says. In keeping with Full Belly Project's goal of empowerment, the organization will distribute Aflatoxin test kits and train farmers to use the tools provided.
It's an ambitious mission that could have a massive impact on communities around the world. Coulter seems confident in Full Belly's ability to achieve it, as well as her own ability to take the wheel and drive the organization forward.
Take 5 with Amanda Coulter
AS A NATIVE WILMINGTONIAN, WHAT IS THE BEST PART OF LIVING IN WILMINGTON NOW?
"Wilmington is growing so quickly, which can be a point of complaint for a lot of natives. However, along with this growth has come the emergence of a much more diverse and enriching community, as well as a thriving local nonprofit sector. For me, that makes the traffic worth it!"
WHAT INSPIRES YOUR WORK IN THE NONPROFIT ENVIRONMENT?
"I've always been passionate about using my gifts and skills for the advancement of underprivileged peoples and communities around the world. Now, I feel like the luckiest person alive to be able to get a paycheck for it."
WHAT IS THE MOST REWARDING ASPECT OF YOUR JOB?
"Community. Working with our local community here in Wilmington, working with communities abroad, and empowering them all to improve their own lives."
DO YOU HAVE A FAVORITE DESTINATION IN YOUR TRAVELS?
"This is a tough one, but I'd have to say Cambodia. It is a country still healing from a violent and poverty-stricken past, yet I found the people to be optimistic, gracious and resilient. Their strength and beauty, as well as the charming landscape, have had a lasting impact on me."
WHAT IS SOMETHING THAT FEW PEOPLE KNOW ABOUT YOU?
"I am exceptionally good at air hockey for no good reason, having only been defeated a handful of times out of about a million games in my lifetime!"
To view more of photographer Chris Brehmer's work, go to www.chrisbrehmerphotography.com
Want more WILMA? Sign up for our WILMA Weekly email and announcements at WILMAOnTheWeb.com.