Natural-Born Chef
Alicia Ross in the kitchen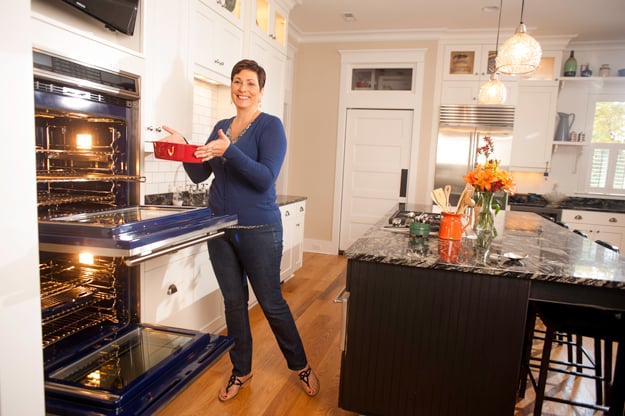 ALICIA ROSS has a knack for cooking. The food columnist doesn't have a formal background or education in food, but it's always been her passion. Her career writing recipes wasn't planned, and it seems to have happened all at once.
One morning Alicia Ross was a full-time journalist with a degree from UNC-Chapel Hill, the next she was a working mom. Quickly, she realized how much more staying home with her children meant to her than being there for the next big story, so she traded her desk for a changing table. She learned to cook for her family and made evening meals around the dinner table a daily occurrence, one she didn't take lightly.
Her love for cooking didn't overcome her love for writing, however, so she found a way to incorporate both. Ross began to write a recipe request column for Raleigh's News and Observer. While writing the column, Ross met Beverly Mills, who was writing from home as well. Together they created a food column in the early 1990s called Desperation Dinners.
"The focus of the column was quick and easy. We wouldn't come home from work to create a difficult meal that either took too long to make or took twice as long to clean up, so we didn't expect our readers to," Ross says.
The response was more than Ross or Mills ever hoped for, and soon fans were begging for a cookbook.
"This was long before the blogs and websites era where we could post the recipes easily. I even had some fans saying if I just sent them the recipes, they'd make the book for me," Ross says.
Ross went on a fifty-city media tour for the cookbook, Desperation Dinners, which was released in 1997. She and Mills followed this with Desperation Entertaining in 2002 and Cheap. Fast. Good! in 2005.
Ross has been on the Today show, QVC, Good Morning America, and a host of local television and radio shows.
"I didn't plan on gaining any television experience when we first put the column, or even the book, together. But it felt important for the publicity for the books," Ross says.
Now Ross has more than twenty years of film experience under her chef's hat and is completely comfortable with a camera pointed her way.
In 2010, Mills retired from the partnership so Ross felt a change in name was important. Desperation Dinners became the Kitchen Scoop column, which turned into the Kitchen Scoop television segment and website, too.
Her column still appears in many newspapers around the country, over 100 in fact. They include The Dallas Morning News, Miami Herald, and The Columbus Dispatch among others.
Today, Ross appears on a weekly WWAY segment for a 2-3 minute recipe recap that airs on Mondays during the 5:30 p.m. newscast, where she explains the recipe and a little about the process. She posts these segments on her website each week so her fans have a media library available at the click of a mouse.
"There's no real cooking being done on the segments since they're so short," Ross says.
Ross would like to eventually have a longer cooking segment where she can showcase the act of cooking the meals on the show. She kept this in mind when she started building her new house.
"I made the kitchen the center of the house. It's both physically and metaphorically the center of everything to me," Ross says.
This is where Ross tests out new recipes, takes photos for her website, and creates new dishes for the WWAY segment.
Cooking easy meals should be within everyone's reach.
"I try to stress this as much as possible. People were cooking great food with just a bowl and wooden spoon long before food processors came along," Ross says. A whisk is her essential kitchen tool.
But the appliance she raves about the most is her immersion blender. It makes creating soups much easier and eliminates extra cleanup.
"The immersion blender is my go-to wedding gift, too. Most people don't have it on their registry, but they'll love it once they try it," Ross says.
The most challenging part of her experience was when her children left for college. She had focused her career on making family meals, and it was a difficult transition to cook for just one. However, her mother will be moving in with her into her new house, and she's excited to have someone to cook for once again.
She does not have a favorite chef on the many cooking show she watches, but there's one woman she admires: Martha Stewart. To Ross, Stewart's ideas of entertaining and cooking aren't attainable on a daily basis, but she loves her ideas.
"I love to tell people, 'I'd love to be Martha Stewart when
I grow up, but I'm just not there yet,'" she laughs.
To see some of Ross' recipes, click here.
To view more of photographer Jeff Janowski's work, go to www.jeffjanowski.com.