Music & Medicine
Harp players gather for therapeutic music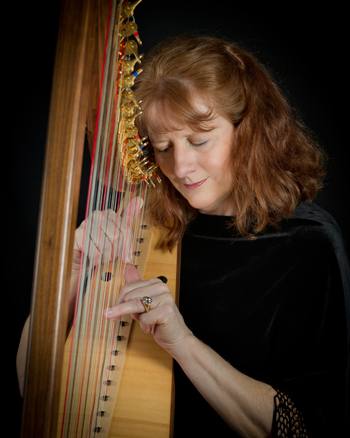 According to Julie Rehder, impassioned harpist and soon-to-be certified therapeutic musician, live music is medicinal.
"I played for my dad when he was dying," Rehder says, "and it was the most remarkable experience. My harp mentor, Carole Bowman Green, played for her mother while she was dying and she said to me, 'Why don't we do this together? Double the harp pleasure.' "
The two played for Rehder's dad, who was in and out of consciousness. For Rehder and her father, music was a common bond. They used to play the piano together, and he taught her about rhythm and songs.
"Playing for him at his hospital bed was my opportunity to have one last duet with my dad," Rehder says.
Rehder, marketing and community relations administrator for The Davis Community in Porters Neck, has a goal now to support live music coming to Davis and to create a therapeutic harp program there.
Toward that goal and to mark her sixtieth birthday, Rehder is organizing a Magic Mermaids extravaganza – a private harp retreat and benefit concert. Harpists from across the country, ranging in age from 12 to 65, will convene at a rented beach house (specifically, the Magical Mermaid cottage) to play and practice with American folk harp pioneer Kim Robertson from Wisconsin.
And on April 28, there will be a benefit concert at Thalian Hall with Robertson performing and the students – the Magical Mermaids – joining her for the final selections.
Rehder touched her first harp at age five, when the North Carolina Symphony came to Wilmington.
"But truly, it's been a journey, which started before I was born. My mother was at art school in New York City, and she heard the sound in her apartment building. She wandered down the hall to investigate and met the harpist, Julia Louise Herrmann," Rehder says.
"My mother proclaimed that one day she would have a daughter, she'd name her Julia, and Julia would play the harp."
Rehder is enrolled in the Harp for Healing program. It includes forty-five hours of direct playing time, and upon completion, she'll be a certified clinical musician.
Different from a music therapist, who works with specific clinical needs, a therapeutic musician is a "passive practitioner," Rehder says.
"I'm there to create an outcome for the body, mind, and spirit – to create a space where the body can do its own work," she says, adding that she's seen that impact on patients by watching Green, who did her internship playing at Lower Cape Fear Hospice & LifeCareCenter.
Rehder says the upcoming Thalian Hall concert benefit will support therapeutic music for those who need it. But for Rehder, the show will have a deeply personal meaning as well.
"It will be homage to my dad, to thank him for introducing me to music," she says, "and to my mother, for introducing me to the harp and its healing vibrations."
To view more of photographer Mark Steelman's work, go to www.marksteelmanphoto.com.