Moon Moves
Full moon Qi Gong happens oceanside monthly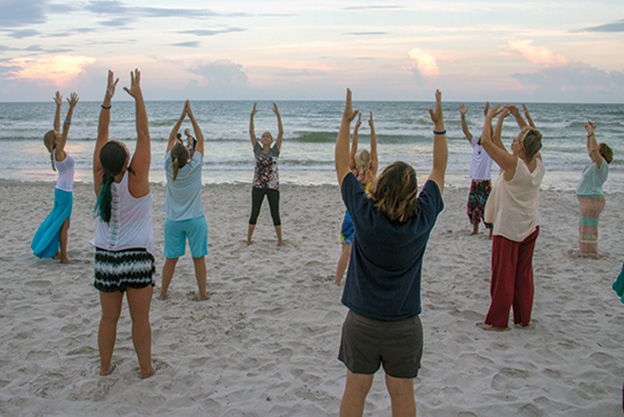 On any night of the full moon, there are all sorts of weird goings-on in this town. Downtown, the party-goers kiss and fight. Midtown, the beer gardens light up. The dogs bark, and children have strange dreams. But at the beach, a different kind of mindset prevails, as people gather under the moon to practice Qi Gong, a holistic Chinese pattern of movements over 4,000 years old.
Acupuncturist and Qi Gong practitioner ALISON LARMEE BORN, owner of Cape Fear Community Acupuncture, came across Qi Gong while suffering a painful flare-up of her Crohn's disease at school. Forced to quit her part-time job and cut back on her classes, Born was on the verge of dropping out when she found a weekly meditation group led by Master Li Jun Feng. Born later did her teacher training with him.
"It helped me heal from the inside out," she says. "It helped me feel calmer, and get into a more parasympathetic nervous system state. The meditation and Qi Gong, I'm convinced, are some of the things that helped my body heal."
Born started the Full Moon Qi Gong sessions when she moved to Wilmington twelve years ago. She was inspired by fellow practitioner Vicky Goldsberry in Austin, Texas.
"She may be the first person who started practicing this specific form of Heaven Nature Gong (also known as Kuan Yin Standing Qi Gong) on the full moon. I loved it so much I decided to continue when I moved here," Born says. "Kuan Yin is the Taoist/Buddhist goddess of compassion, so the form has a lot to do with opening your heart, opening your body, opening your mind to compassion – not just for others, but also for yourself."
The group meets every full moon at Wrightsville Access No. 3, on the beach, half an hour before sunset. It is beginner friendly, and all levels are welcome. But don't imagine you'll just be quietly sitting.
"It's very moving; it's very active. People will tell me 'Oh, I was actually a little sore the next day, I wasn't expecting that,'" says Alison Larmee Born of the Qi Gong sessions.
The group is by donation, with all donations going to local charities. In September, for instance, donations will go to help Kids Making It and the vocational training building the group is raising funds for.
And don't expect it to cancel for just a little drizzle.
"This last full moon, it was actually really dramatic," Born says. "It was cloudy over the Intracoastal, looking like rain the whole time. But there were beautiful pink hues through the sky as the sun was setting, it was gorgeous. When we finished the meditation, you couldn't even see the moon. You could see this vague orange thing peeking through the clouds, but a lot of people couldn't even see that. And, about five minutes later, there it was, big, huge, and orange, right on the horizon. Then, we started getting these really dramatic lightning strikes across the sky, behind the moon. It was pretty cool."
To view more of photographer Lindsey A. Miller's work, visit kylemaples.crevado.com.
Comments
comments