Money Savvy Kids
How to introduce finance at a young age.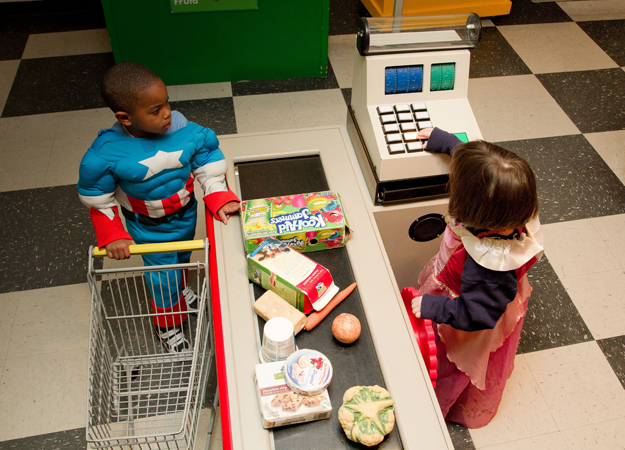 I've forgotten most of what I learned in Economics 101, but I do remember one joke the professor told.
Before she set off for Sunday school one day, a little girl was given two quarters by her mother: one to put in the collection plate and one to buy an ice cream cone afterward. Crossing the street on her way to church, the little girl stumbled and dropped one of her quarters, which rolled into a storm drain.
"Uh-oh! There goes the Lord's quarter!" she said.
The joke was a backhanded lesson on personal finance and setting financial priorities. And, too few of us adults do a good job of managing our money.
"There are two things in life for which we receive no formal education and for which there are no instructions included, and that's how to handle money and how to raise children," said
Rob Penn, president and co-owner of Pathfinder Wealth Consulting in Wilmington.
Penn and other financial experts want to remedy the lack of financial know-how by incorporating financial skills development into every youngster's education.
"The earlier the better," he said.
Pathfinder gives in-school presentations that emphasize four financial principles: spend, save, donate and invest. Penn recently adapted the presentation into a program called "Bringing up a Money-Savvy Generation" for an audience of children and their grandparents.
"The audience was highly engaged and shared personal stories of delayed gratification and goals of what each was planning on saving money for," said Pathfinder's Angela Kelly. "With today's kids growing up in an environment of 'the world at their fingertips' with lightning fast technology and the mindset of instant gratification, now is a crucial time to teach them the importance of properly handling finances."
During the program, the kids were given a special piggy bank with four slots: "Spend" for money they wished to spend immediately; "Save" for money that would fund short-term goals; "Donate" for money that would do something for someone else and "Invest" for long-term goals.
Smart shoppers
Even very young children can practice making wise consumer choices. A grocery store activity center at the Children's Museum of Wilmington not only provides lessons in choosing the right foods, but also encourages young shoppers to save money through a rewards system.
Junior Achievement also aims to help young people make smart economic choices. The Cape Fear chapter, like chapters across the country, recruits volunteers to deliver relevant, hands-on experiences to students in kindergarten through 12th grade. The organization here currently serves 4,664 students in 23 schools.
"Junior Achievement programs incorporate financial components as early as elementary school and then build upon this base knowledge more in-depth at the middle and high school levels," said Eric McNally, the chapter's executive director. "As a result, students become financially literate and develop work readiness and entrepreneurship skills."
McNally said that Junior Achievement programs teach students key skills such as how to develop a personal budget and how to protect themselves from identity theft. Participants discuss the difference between paying with cash and with credit, and learn the true costs of using credit cards.
"Junior Achievement's programs provide supplemental learning experiences that help young people develop the competence, confidence and character to make smart academic and economic decisions," McNally said.