Mixing In Matcha
Add this power tea powder to your pantry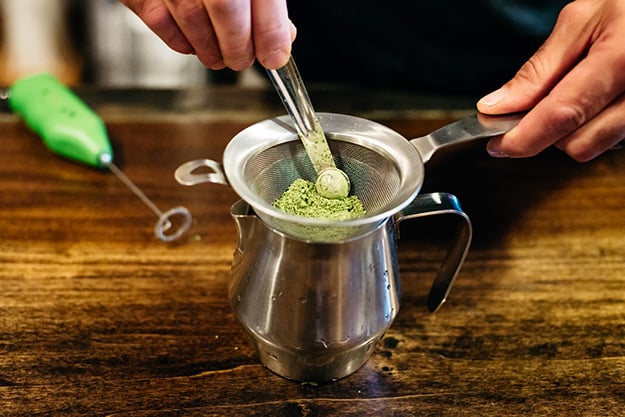 It's called "matcha", rhymes with "gotcha", and has lotsa, lotsa health benefits.
Matcha green tea, originally from Japan, is said to boost metabolism, detoxify the body, calm the mind, enhance one's mood, stimulate concentration, prevent disease, and lower cholesterol.
Rich in fiber, chlorophyll, vitamin C, selenium, chromium, zinc, and magnesium, matcha green tea's biggest claim to fame is its insane level of antioxidants, namely epigallocatechin gallate (EGCg).
For those healthy side effects and earthy flavor, the ingredient is turning up in more and more drinks and dishes.
LUNA CAFFÈ owners, Will and Nina Hayhurst-Chacon, were turned on to matcha a couple years ago, becoming one of the first coffee shops in Wilmington to add it to the menu.
"We originally were researching loose leaf tea and then read about matcha. They sent us a sample, we tried it, and loved it and started serving it," Will Chacon (below) says about the Castle Street shop's offerings.
Unlike loose leaf tea or traditional brewed green teas where leaves steep in hot water and are then discarded, with matcha the actual leaf is consumed, he says.
Matcha, which means "powdered tea" comes in powder form and is whisked into hot water with a bamboo brush. One serving of the powder equals one matcha tea leaf and can also be used in a multitude of recipes, for a boost of caffeine and antioxidants, such as brownies, ice cream, or matcha cupcakes that Lovey's Market sells at its Landfall Center store, for example.
Matcha tea leaves are picked from Camellia sinensis plants at an early, nutrient-rich age, are steamed and stone ground into fine powder, then stored away from light and oxygen to preserve matcha's antioxidants and brilliant emerald hue.
"I don't think a lot of people knew a lot about matcha but everyone is usually attracted to vibrant green colors, they say, 'ooh what's that?" says Luna Caffè co-owner Nina Hayhurst-Chacon.
The taste by itself is a little grassy. That's why the Chacons created three different Matcha Green Tea Lattes for their Luna customers – served hot or cold. It's what former Downton Abbey actress Michelle Dockery usually gets when she pops into Luna while filming episodes of Good Behavior, Nina Hayhurst-Chacon says.
Luna's regular Matcha Latte – Black Matcha Latte infused with black tea – and Chai Matcha Latte infused with chai (recipe below) are made with any type of milk, and on some days, outsell Luna's coffee lattes.
Matcha also makes a great frappe. Matcha green tea has three times the amount of caffeine as coffee and 137 times the amount of antioxidants as traditional green tea.
"Once people try it, they seem to really love it," Will Chacon says. "It's become pretty popular."
Chai Matcha Latte
(Recipe from Luna Caffè, 604 Castle Street)
This simple hot latte recipe combines the antioxidant boost of matcha with the aromatic spiciness of chai.
• 5 ounces chai concentrate
• 5 ounces milk of choice, steamed to 180 degrees
• ¾ teaspoon matcha green tea powder
• Cinnamon, for garnish
DIRECTIONS: Mix together chai concentrate and milk. Place matcha into separate cup, and pour in half of the chai/milk mixture. Whisk. Pour in remaining chai/milk and top with cinnamon.
Matcha Coconut Frappe
(Recipe from Tidal Creek Food Co-op, 5329 Oleander Drive)
For a summer-friendly matcha drink, this iced-down
frappe also is easy and quick to make.
• 16 ounces coconut milk (or milk of choice)
• 1 tablespoon matcha green tea powder
• 1 tablespoon honey (agave or maple syrup if making vegan version)
• Cinnamon, for garnish
DIRECTIONS: Blend all ingredients with ice until smooth. Top with cinnamon.
Vegan Matcha Mini Cupcakes
(Recipe from Lovey's Market, 1319 Military Cutoff Road)
Matcha isn't just for sipping. It also adds a subtle tea flavor and green hue to baked desserts.
FOR CUPCAKES:
• 1¾ cups almond milk
• 2 tablespoons apple cider vinegar
• 2 tablespoons matcha green tea powder
• 2 teaspoons baking powder
• 1 teaspoon baking soda
• 2½ cups flour
• 2½ cups sugar
• ⅓ cup coconut oil
• ⅓ cup canola oil
• 2 teaspoons vanilla
• ½ teaspoon salt
FOR FROSTING:
• 1 cup dairy-free butter, such as Earth Balance, softened
• 1 tablespoon matcha tea powder
• 2½ cups powdered sugar, more or less for consistency
• 1 teaspoon vanilla
• 1 tablespoon almond milk, more or less for consistency
• Pistachios, chopped (optional, for garnish)
DIRECTIONS: Preheat oven to 350 degrees.
To make cupcake batter: Stir together almond milk and apple cider vinegar, let sit for 10 minutes.
Whisk together 2 tablespoons matcha tea powder, baking powder, baking soda, and flour. In a separate bowl, combine sugar, coconut oil, canola oil, vanilla, and salt. Add milk mixture to sugar mixture.
Mix wet ingredients into dry ingredients, stirring to make the batter. Drop batter by one-ounce scoops in lined mini-muffin pan, and back for 15-20 min. Let cool.
To make frosting: Combine dairy-free butter, matcha, powdered sugar, vanilla, and almond milk. Add extra powdered sugar or milk to get frosting to desired consistency. Spread or pipe frosting onto cooled cupcakes. Sprinkle with chopped pistachios for garnish if desired.
To view more of photographer Erik Maasch's work, visit ejmphotography.org.