Mentoring Measures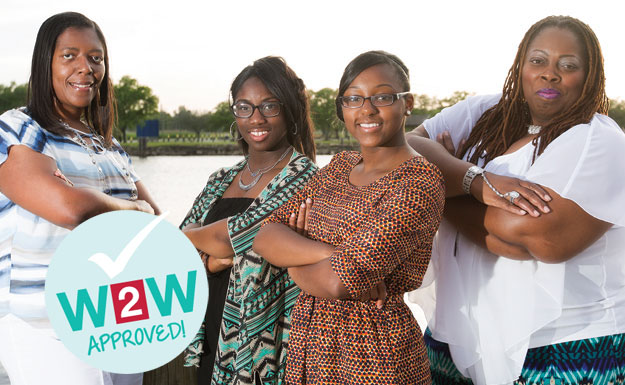 In a fast-paced world full of academic and social challenges both in and outside of school, many female teens find themselves struggling to compete. Two local groups are trying to reach young women early on to connect them with mentors and role models.
To help young women ages thirteen through eighteen, Stephanie Willis and SUPRENA HICKMAN (both above) founded GIRLS ROCKING IN THE SOUTH, or GRITS. The Wilmington-based wellness organization helps teens build their self-esteem, develop life skills, and create mental, physical, and spiritual balance.
Willis says she wishes an organization like it had been available to her as a teenager.
"Our mission is to start with our teenagers and help them be leaders, to help empower them, to teach them leadership skills, to get them into the community to have exposure and just to educate them on different topics," says Willis, who serves as GRITS' director.
Through GRITS (facebook.com/gritswilmington), the girls can attend workshops that address topics such as leadership skills, etiquette, and public speaking. As they learn from older, female role models, Willis has seen teens come out of their shells and gain confidence.
"If we start intervening earlier, like in the teenage years, by the time that they are women, they will have the self- confidence and motivation and the ability to do things that they want to do in life without anything holding them back," she says.
The support GRITS offers has made a major difference for fifteen-year-old ZAMYA WILLIAMS who recalls she was far quieter before joining the organization. Through GRITS, she has bonded with peers and strong female leaders, gained self-confidence, developed leadership skills, and embraced her local community.
"It just lets me know that I can do anything that I put my mind to and I have people to support me," says Williams, who's in ninth grade. "I'm a very shy person sometimes. My confidence level was sort of low, but now it's higher, and I'm more open."
Williams is an aspiring fashion entrepreneur and would like to start her own business. When she created a drawstring bag for a friend, Hickman urged Williams to think about the big picture and encouraged her to take her product further.
"You know it's not going to sit there. That's only the beginning. Next year at this time, she'll probably be marketing her product. Watch," Hickman predicts.
Hickman says she feels it's crucial to show children that they have support.
"To be honest with you, everybody can actually take time and mentor a child," she says. "We want to help them and guide them in the right direction and help them focus on more things–challenge themselves to better grades and a career."
Through college tours and volunteering in her community, sixteen-year-old TAMIYAH SPENCER feels GRITS has prepared her for the future.
"The biggest thing GRITS has helped me with is being a role model for the members in my group and my school. I've learned how to step up to the plate and take charge. I'm a leader," Spencer says.
Spencer has embraced the chance to participate in the GRITS mentoring program where teens get the opportunity to openly express themselves. The experience has gotten Spencer interested in owning a childcare facility in the future.
"I plan to go into the field of early childhood development," she says. "I enjoy working with children and, not only children, teens as well. I like listening to the problems they may be facing, which is one of the reasons why I joined the GRITS program."
JESS REEDY looks forward to starting a mentoring program for middle and high school aged girls within the next year through the Wilmington chapter of I AM THAT GIRL, or IATG.
"This is a great movement because it's making kindness cool. And it's making kindness amongst your girlfriends the cooler thing to do," says Reedy, who began the chapter in January 2014. "It's nice to kind of reshape what could be cool and what could be popular. You don't have to be the best. You don't have to be snooty about it. You just have to be kind."
Currently, IATG (iamthatgirl.com/wilmingtonnc) mostly serves women in their twenties and thirties, but the group is open to all ages. They meet at places such as Reedy's yoga and pottery studio Pineapple Studios or the beach and have discussions on transforming self-doubt into love and acceptance.
"The discussions are pretty challenging in the sense that they're really honest," Reedy says. "Just the bond that forms from that sort of authenticity and the accountability from it, I feel like is really amazing. Someone described it as it's their time to practice being their best self."
Reedy believes IATG would have helped her tremendously if it had been available when she was a teen.
"The idea of collaborating instead of competing and the message that someone else's success is not your defeat, I feel like it's great for us (to hear that message)
 as women in our twenties, thirties, forties, whatever," Reedy says. "But I feel like we kind of already want to know that information. It would be so great to absorb it as a middle schooler."
To view more of photographer Megan Deitz's work, go to megandeitz.com