Memorial Day weekend events
Memorial Day weekend events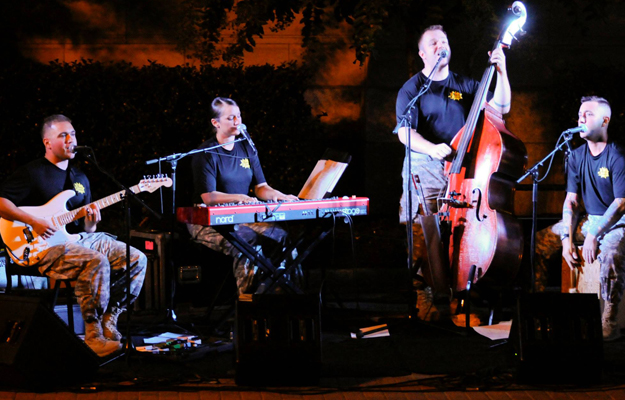 Whether your Memorial Day remembrance traditions are somber remembrances or on the party side of patriotic, Cape Fear area tourism officials have taken all requests into consideration this year.
Here's a sampling of Memorial Day weekend events for those who are looking to get into or get away from the crowds.
● Beginning Memorial Day and through Labor Day at Carolina Beach, you'll find amusement rides at the Boardwalk, weekly concerts, and fireworks by the sea (on Thursdays) and free outdoor movies by the lake (on Sundays). This Sunday, the movie feature is Frozen, starting at 8:45 p.m.
● Friday, Memorial Day Concert: St. James Parish annual Memorial Day Concert, featuring patriotic music with soloists and brass ensemble from New Hanover High School, 12:10 p.m., St. James Parish (Market and Third streets)
● Friday, Downtown Sundown Concert Series: Music by Satisfaction, a Rolling Stones tribute band, free, 5:30 p.m.
● Friday, Mayfaire Music on the Town: This week's band is Jam Sandwich (Southern rock), free, 6-9 p.m. Mayfaire Town Center
● Friday, Fireworks by the Sea & Boardwalk Blast: Music at 6:30 p.m., fireworks at 9 p.m. Music by David Dixon Trio & The Cut (acoustic & pop rock), free, Carolina Beach Boardwalk
● Friday, Fourth Friday Gallery Walk: Downtown art galleries and studios open their doors to art lovers on the self-guided tours (www.artscouncilofwilmington.org) Opening this Friday are: Earth, Sea and Sky at WHQR Gallery (254 N. Front St.), featuring works by Gail Henderson and Liz Hosier, Wine, Art and Music at Crescent Moon (24 N. Front St.) featuring work by glass artist Gina Pope and music by Susan Savia, Bloomsday preview at Old Books on Front Street (249 N. Front St.) featuring marionettes inspired by James Joyce's Ulysses by Nina Bays Cournoyer and Bryan Cournoyer and Haunted at SALT Studio (805 N. 4th St.) featuring photography by Wax + Vine, a collective vision of husband and wife team Scott Irvine and Kim Meinelt.
● Friday, Soccer: Wilmington Hammerheads v. Pittsburgh Riverhounds, Legion Stadium (www.wilmingtonhammerheads.com)
● Friday-Sunday, Shakespeare Youth Company presents As You Like It, a free outdoor Shakespeare production (donations welcome), 8 p.m., Greenfield Lake Amphitheater
● Wonderful Town, 8 p.m. Thursday-Saturday and 3 p.m. on Sunday, Thalian Hall
● Saturday, Riverfront Farmers Market: 8 a.m.-1 p.m., vendors bring fresh fruits and vegetables as well as plants and prepared foods to the along the river in downtown Wilmington
● Saturday, Carolina Beach Farmers Market: 8 a.m.-1 p.m, vendors line Carolina Beach Lake.
● Saturday-Sunday, Orange Street Arts Festival: Art, jewelry, pottery, and entertainment, free. Community Arts Center, Orange and South Second streets
● Saturday-Sunday, Carnivorous Plant Hike: Hike with a park ranger and learn about carnivorous plants such as the Venus' flytrap, 10 a.m., Carolina Beach State Park, nature trail parking lot
● Sunday, Boogie in the Park: Live music by Jah Creation (Reggae), free, 5-8 p.m., Kure Beach Ocean Front Park
● Sunday, Shallotte Memorial Day Celebration: Featuring the Army Ground Forces Band Loose Cannons from Fayetteville and cannon-fire tribute, starts at 4:30 p.m., Rourk Gardens (4912 Main Street)
● Monday, Memorial Day Observance on the Battleship North Carolina: The 49th annual gathering on the ship's deck to honor military members. Gov. Pat McCrory and Brig. Gen. Robert Castellvi will participate in the event, which is free and open to the public; 5:45 p.m., Battleship North Carolina
● Monday, wreath-laying ceremony: The American Legion, Hampstead Post, hosts a wreath-laying ceremony, 10:30 a.m., Hampstead Merchants Village
● Monday, Wrightsville Beach Farmers Market: 8 a.m.-1 p.m., Causeway Drive