Meetup Maven
Meeting in the middle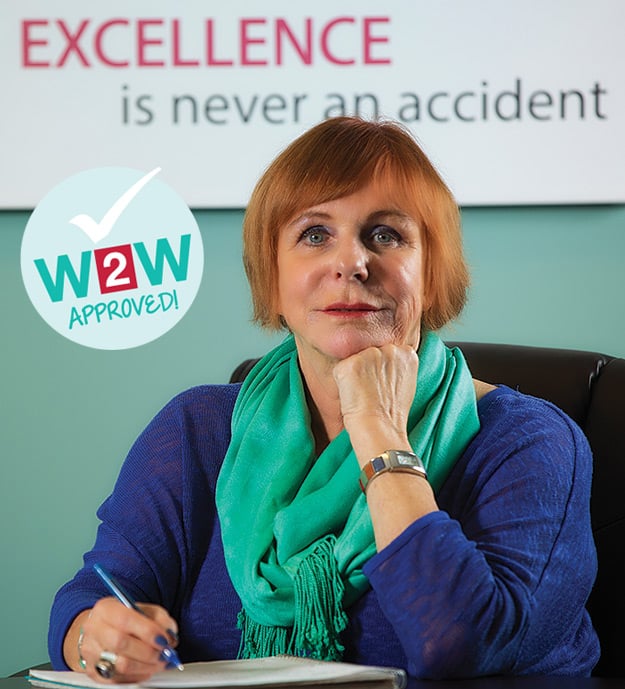 When KATHLEEN MCCASLAND moved to Wilmington twenty-five years ago, she was ready to put the hustle and bustle of her career in Washington, D.C., behind her and be a stay-at-home mom for her young sons. But she didn't get to focus solely on her family for very long.
She kept getting phone calls from D.C. where she previously ran the conference division of a consulting firm. With people still seeking her help running their conferences, McCasland began working from home.
"Every time I would do a job, I would get another contract," she says. "People from all over the country were now beginning to call me. So, I had to make a decision on whether I was going to stay small and have my office in my home or if I was going to go big and have an outside office."
She went big and launched Your Conference Connection, a professional association and conference management company for nonprofit and not-for-profit organizations. Twenty-three years after founding YCC, McCasland has eighteen women working for her. The team has managed hundreds of conferences across the country and around the world ranging in size from a hundred to a couple thousand participants.
"One of my mantras is we provide invisible support, and so we're kind of background people. We don't get in the forefront. And all of us are really good at doing that," McCasland explains.
YCC offers clients a one-stop shop for planning and organizing conferences and events. The Wilmington-based company finds event venues, sells exhibit space, handles registration, marketing, and social media, creates websites, and manages conference speakers. The team also orchestrates everything on-site from food orders to room design – "just manage it from the beginning to the end," she says.
"As you can see, we're pretty busy around here. It's very exciting being in this office because every day something new is happening."
Still, McCasland admits owning a business is not easy. While she's become a bit of a risk taker, she recalls some rough times in the beginning.
"There are times when I laid awake wondering how I was going to make payroll. And sometimes you have to let people go, and that's really hard. That's a terrible thing to have to do. So, you have your good times, and you have your bad times," she says.
Striking a balance between work and family life after launching her business was also challenging. Luckily her husband was retired and could take care of their boys. While she has no regrets about launching YCC, McCasland says it was difficult to miss out on some family moments.
"There were times I would kind of look and think, 'You know, he's having all the fun with the kids.' By the time I would get home, they were already home from school and would have told him everything that had happened (during the day). And by the time I got home, it was all old news, and they didn't really want to talk about it anymore," McCasland recalls. "You have your ups and your downs."
To stay involved, McCasland frequently volunteered at her kids' schools. While her children are now grown, McCasland still encourages her staff to volunteer so they can feel part of what their children are doing. McCasland also initiated the concept of incorporating a community service day into some conferences.
"People actually come in (to the conferences) early to go and either clean up a school or help a Boys & Girls Club," McCasland says.
Over time, McCasland has learned important lessons through running her own business including the importance of embracing technology, being honest with clients, and staying focused on the big picture to avoid stress.
McCasland also strives to be understanding of her staff's needs, which she says helps foster a positive work environment.
"Being that I have all women in here, many of them are mothers," she says. "And I always have at least one pregnant woman in this office. And I make it as easy as I can for them because I was a working mom, so I know what it's like. So I'm very liberal if they have to stay home because their child is sick."
Mistakes in her business, however, could cost a significant amount of money. For that reason, there are strict rules her employees must follow. Each written document is reviewed multiple times by an editing team. She seeks excellence in everything her team does.
"You're excellent because you put your heart, soul, and brain into it and you really want to do a good job," she says, "and you want your client to succeed, and you want yourself to succeed."
YCC Client Roster
Here are some of the organizations Your Conference Connection has worked with in its history:
Oracle Development Tools User Group, a not-for-profit global organization that provides education, support, advocacy, and networking for more than 20,000 Oracle technologists and managers.
The 3-D Architecture for Semiconductor Integration and Packaging annual conference by research institute RTI brings together technology and business leaders from around the world to examine the technology and market insights about the 2.5D/3D industry.
Angel Capital Association, a professional alliance of more than 200 angel groups in the U.S. and Canada. YCC has worked on conference and event management services for the association's annual three-day summit
International Symposium on Computational Wind Engineering's fifth meeting in 2010 took place in Chapel Hill, with YCC providing conference planning and on-site support.
To view more of photographer Chris Brehmer's work, go to www.chrisbrehmerphotography.com