May Spotlight
Spotlights on area women making news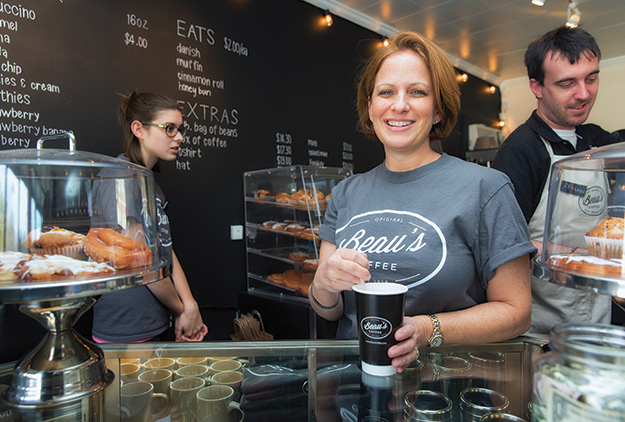 Women-owned firms named CEA winners
This year's Coastal Entrepreneur Awards winners include companies headed up by area women.
There are ten category winners in the awards, a joint program with WILMA's sister publication the Greater Wilmington Business Journal and UNCW's Center for Innovation and Entrepreneurship.
A panel of judges picked BEAU'S COFFEE, owned by Amy (above) and Ben Wright, as winner in the Retail & Hospitality category. WILMINGTON ORTHOTICS & PROSTHETICS, owned by Mariska
Truesdale, won in the Health Care category. And Marsha Carr, owner of EDU-TELL and self-mentoring expert, snagged a win in the Professional Services category.
For more about the companies and a full list of winners, pick up a copy of the Business Journal'sMay 6 issue. This year's overall winner is announced at the CEA ceremony May 24.
– Vicky Janowski
​
​Dosher Memorial names new controller
MARGARET FONTANA is the new controller at Dosher Memorial Hospital, officials recently announced.
Fontana has more than fifteen years of experience in operations and financial management within nonprofit and for-profit organizations. Most recently, she was CFO and COO at Tug River Health Association Inc. in West Virginia.
She also held CFO and controller positions at David Raines Community Health Center in Shreveport, Louisiana, and Bath County Community Hospital in Hot Springs, Virginia.
A certified public accountant, Fontana is a member of the North Carolina Association of CPAs and Healthcare Financial Management Association.
-Vicky Janowski
Singletary nabs Parade of Homes cover art
Local artist ELIZABETH SINGLETARY's colorful depiction of a blue heron was front and center at this year's Parade of Homes.
Her piece – a collage made up from paper from previous years of the Wilmington Cape- Fear Home Builders Association's Parade of Home plan books – graces this year's cover for the event, which started the weekend of April 23 and wraps up May 1.
"I was honored to create this year's Parade of Homes 30th Anniversary artwork," says Singletary, who also has served as a featured artist for the North Carolina Azalea Festival.
It was a local bird, a popular fixture in one neighborhood, that was Singletary's subject.
"When thinking about what I was going to create for the 'Explore the coast' theme, I was excited to learn about a blue heron named Sam that frequents Compass Pointe, a community in the Parade of Homes," she says.
The homebuilders association also sold portraits of Sam online, with a portion of the proceeds benefitting The Harrelson Center.
-Vicky Janowski
Ives becomes director of CCLCF agency
Community Care of the Lower Cape Fear recently announced that ANGELA IVES is the organization's new executive director.
The group is a public-private partnership that works to improve heath care and costs for treating vulnerable populations, including Medicaid and uninsured patients. It is one of fourteen networks in a statewide program.
Ives has more than thirty years of experience in health care and has been with CCLCF since it formed in 2003, serving in roles such as care management coordinator and deputy director.
"I am honored and humbled to serve CCLCF as Executive Director, especially during this time of (Medicad) reform in North Carolina," Ives says.
She replaces Lydia Newman, who at the end of last year became executive director of clinical integration for New Hanover Regional Medical Center.
-Vicky Janowski