May Spotlight
Area newsmakers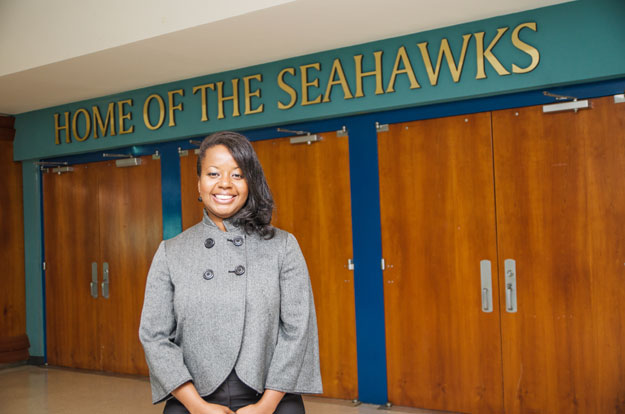 UNCW Names Swinney Deputy AD

ADRIANNE SWINNEY's responsibilities have grown since she was hired in 2014 as UNCW's senior associate athletic director. Last month, the university announced that Swinney had moved up to be deputy athletic director.

"She keeps student-athlete welfare at the center of her work," athletic director Jimmy Bass said in announcing Swinney's promotion. "We are pleased to expand her responsibilities."

Swinney, who serves as senior woman administrator in the athletic program, is well versed in sports administration, having worked at Jackson State University in Mississippi as assistant and associate athletic director, interim assistant compliance officer, and certified athletic trainer.

She is a member of the National Association of Collegiate Woman Athletics Administrators and CAA Competition Committee.

– Kate Kuchtjak
Female film collective forms
A Wilmington female filmmaker collective, WILMFFILM, organized earlier this year to cover all aspects of filmmaking from screenwriting to editing.
The resource group is a great opportunity "to meet, support each other, fuel ideas, and work as each other's film crews," says REBECCA BUSCH, one of the founding members (shown above with the group's managing director MEGAN DAWKINS).
The group is open to all skill levels and meets every second and fourth Thursday of the month at 7:30 p.m. at Community Action Center, 317 Castle Street.
– Kate Kuchtjak
Local photographer wins Google award
CRYSTAL GLASS, owner of CRYSTAL GLASS PHOTOGRAPHY, recently won a national award from Google for most creative use of Google Maps API.
She traveled to the Internet giant's headquarters in Mountain View, California, to accept the award.
Glass is registered as a Google Trusted Photographer to shoot for Business View, a tool Google sells to companies for panoramic virtual tours of their establishments.
Of the more than 1,000 Google-authorized and trained photographers for the service in the U.S. and Canada, Glass was one of only seven to win the award.
"It's been truly an honor to be a part of Google's Maps program for virtual tours, but even more so to receive an award that helps our local businesses," Glass says.
– Vicky Janowski
DeBiasi joins Easter Seals INT'L Board
Wilmington resident ELIZABETH DEBIASI was elected to the INTERNATIONAL BOARD OF DIRECTORS for EASTER SEALS.
The nonprofit provides services for people with autism, developmental disabilities, physical disabilities and other special needs.
"Serving on the board is an amazing opportunity to work with an organization that does so much for so many people," DeBiasi says. "It's a $1.5 billion nonprofit with an international scope that is dedicated to providing care at a local level."
DeBiasi is vice president at CLB Advisory, where she works with banking clients on strategic development and implementation. She previously served as a national manager in Bank of America's financial advisory training group.
– Vicky Janowski