May Spotlight
Area newsmakers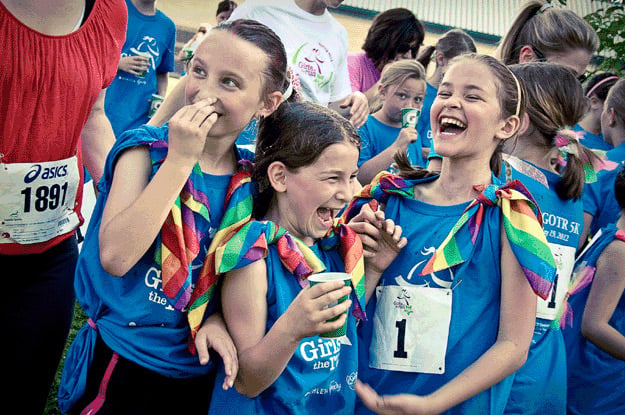 Girls Ready to Take on Annual 5K
Girls on the Run, a program designed to help young girls achieve new heights, is preparing for the upcoming OrthoWilmington 5K race May 17.
The race benefits Stride of Coastal Carolina, a boys running group, and Girls on the Run. Both programs target preteen kids and are administered locally by the Wilmington Family YMCA.
The 5K race is expected to host hundreds of young runners. Girls on the Run racers have participated in a ten-week program providing them with life lessons, fitness and nutrition training, goal setting, and teamwork leading up to the event.
"The Girls on the Run lessons encourage positive emotional, social, mental, and physical development," says Amber Rogers, council director for the program.
-Erica Suarez-Pinket
Howell to Head State's Pilot International
Pilot International's North Carolina chapter installs Sue Howell of Shallotte as its new governor this month. She will assume responsibilities for the state division's twenty-seven clubs in July.
Pilot International's primary focus is brain-related disorders and injuries. The Brunswick County chapter, in cooperation with the Brunswick County Sheriff's Office, initiated and continues to sponsor Project Lifesaver.
The chapter also assists with Special Olympics, Backpacks Full of Blessings, and other programs.
-Teresa McLamb
AAUW Celebrates 60th Anniversary
The 60th anniversary this month of the American Association of University Women's Wilmington branch holds special significance for two women: Clara Stokley, the branch founder and first president, and Jo Chadwick, a charter member.
When the branch was established May 12, 1954, fourteen women signed on as charter members. Potential members had to meet strict educational and character standards outlined in the group's membership booklet.
"I wasn't even sure I could join, since I had gone to a college and not a university," Chadwick says, remembering her relief at seeing her alma mater listed in the booklet.
The Wilmington branch has promoted education and a host of women's issues. Current recipient of its college scholarship
is UNCW student Jennifer Pozenel.
– Jenny Callison
Budd Becomes Associate Publisher
Judy Budd, sales manager of the Greater Wilmington Business Journal and WILMA magazine since 2007, has been promoted to associate publisher of the two publications.
"Judy has been instrumental in the growth of our business since joining the publications in 2007," Publisher Rob Kaiser says.
Budd will lead the development of strategic initiatives, help guide the company's overall direction, assist with sales force training and development, and foster relationships with clients and community leaders.
Budd has a business background. She owned a Minuteman Press franchise and held executive and sales positions at American Health Products, International Healthcare Supply Corporation, United Airlines, and Aflac.
-Jenny Callison