May Spotlight
Area newsmakers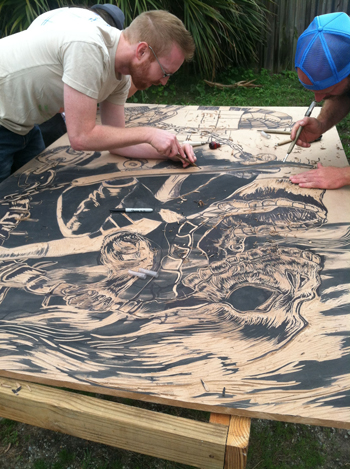 Carolina Beach starts arts fest

Local artists will be highlighted at the inaugural Carolina Beach Street Arts Festival on May 18.
"What makes this arts festival different is that it is interactive, so the public can
get involved with the artists' creative processes. By doing so, people will gain a greater
appreciation for the arts and realize buying local art is affordable and helps our community," says Chris Higgins, owner and partner of Artful Living Group LLC and member of Carolina Beach arts and activities committee.
The committee hosted the Big Block Print Party last year (above), launching the start of the festival planning, Higgins says. The festival is 10 a.m.-6 p.m. at Cape Fear Boulevard.
-Tabitha Shiflett
Going to bat
WILMA's newly sponsored softball team came out swinging this spring.
The team played its first game in April and had an undefeated start. The first-, second-, and third-grade players are part of an Optimist Club of Winter Park softball league.
WILMA's first-ever softball team is called WILMA Magazine, but on the field, the girls call themselves the WILMA Winners.
Pictured from left to right: Alex Kaiser (coach), Katie Harrell, Jillian Green, Jessie Kaiser, Emma Mauk, Bella Coronado, Mary Suzanne Moore, Kadynce McNeil, Trinity Reaves, and Samantha Kaiser (coach).
-Vicky Janowski
Boutiques participate in shopping walk
A new monthly event to promote boutiques launched recently in the hopes of bringing
shoppers downtown.
Inspired by the Fourth Friday monthly art gallery walk, Wilmington Downtown Inc. started Shop Hop, a self-guided fashion walk set for the first Thursday of every month.
During the event, shops such as aMuse, Island Passage, Glam Boutique, and Lure will offer promotions and exclusive deals.
"Shoppers are encouraged to use this event to see the newest fashion forward trends and get first dibs," says Aqua Fedora owner Jenna McKnight.
The first event was the evening of April 4, and the next Shop Hop will be May 2.
"This is better than big box factory fashion, this is community building on all levels," says Kelsey Gibbs, owner of The Wonder Shop.
-Tabitha Shiflett
Azalea queen reigns over fest
Jennifer Wayne, country singer, reality star competitor, and granddaughter of the iconic John Wayne, presided over this year's North Carolina Azalea Festival as its celebrity queen.
Wayne's ceremonial coronation on April 10 officially kicked off the festival.
She was part of the country music trio Stealing Angels. Wayne also competed on the most-recent season of The Amazing Race.
Other celebrity guests in this year's festival were: Gov. Pat McCrory, retired Air Force Col. Joe Kittinger, The Bachelor and The Bachelorette's Emily Maynard, former basketball player Chris Corchiani, championship surfer Benjamin Bourgeois, Miss North Carolina 2012 Arlie Honeycutt, Mad Men's Alexa Allemani, actress Peyton List, and the Golf Channel's Win McMurry.
-Tabitha Shiflett