May Men's Room
Feeling the burn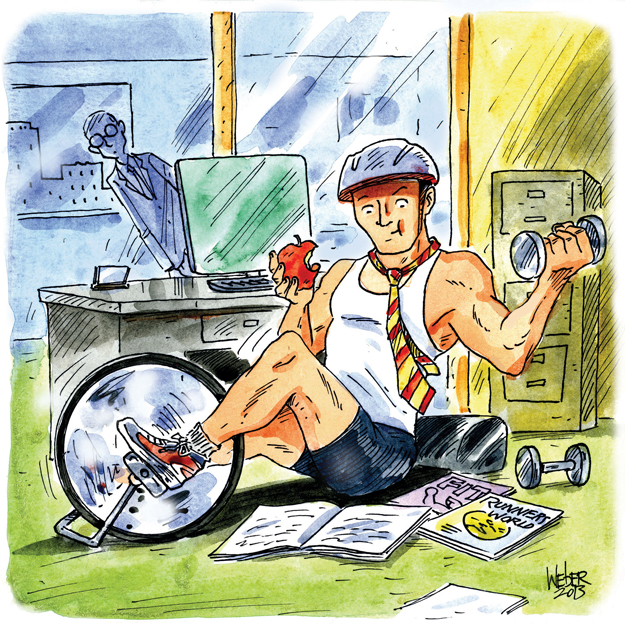 Shaun Hill is a Wilmington resident and fitness enthusiast, some might say fanatic. When not at work as a bank officer at NewBridge Bank, he can be found spinning, swimming, or running through the city.
Every so often a client comes into my office and just stares at me. I would like to say it is because of my Brad Pitt looks and charm, but unfortunately that is not the case.
The next thing out of her mouth is "What are you doing here?"
The response in my head is, "Do you see this nice glass office? It is mine. This desk and computer, those are mine. The nameplate on the desk and those business cards, they have my name on them. Oh, and by the way, I have been in this office seven years now – what are you doing here?"
Fortunately, I am used to this happening a few times a month and have come up with a much better reaction. But I get it.
People see me everywhere but in an office. Why would someone expect me to be stuck behind glass? They see me at the gym lifting weights, doing RPM, doing Body Pump, sometimes even Body Attack.
They see me working Military Cutoff, Eastwood Road, and the Loop (minds out of the gutter people, I mean running). They see me on my bike, in the pool, running races, and participating in triathlons.
Just not in an office.
People always see me wearing running shorts and tank tops, bike shoes, and helmets. Sometimes, they see me in Speedos, just not in a shirt and tie.
Hello my name is Shaun, and I am an addict … addicted to fitness.
My life revolves around the gym, running, biking, and swimming.
Some people lay out their suit or outfit for work the evening before; I pack a gym bag and try to decide if I want to wear a sleeveless or a long-sleeve shirt.
Some people watch the weather to see if it is going to be a nice day; I look at the hourly breakdown to see when there may be a break in the rain so I can get outside to run or bike.
At lunch, when some people pick at their food and try to diet, I make sure I shove enough food in to get me through the rest of the day including my evening workout.
Some people go home or even to happy hour right after work; I fight the rush hour traffic to save a bike in the front row at RPM.
It has even gotten to the point where my friends and family have begun to schedule social time by consulting race calendars before consulting with me.
I love it though.
I wouldn't ask for another way to spend my time. We should all find time to allow for that in our lives. Fitness makes me happy and satisfies my cravings.
Like most people, I need a break. That is when you can find me in my glass office, Monday through Friday, nine to five, with my computer, all my business cards, and nameplate with my name on them.
Fortunately for my coworkers, I wear a shirt and tie and not a Speedo. Plus, being in the glass office pays for all the gear, runs, triathlons, and my gym membership that thankfully does not expire until October 2019.