Material Man
July Men's Room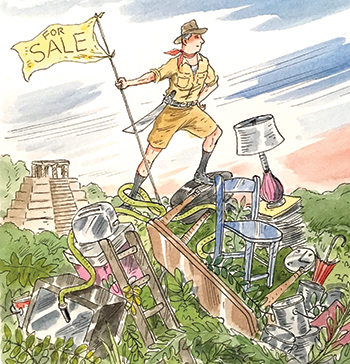 Dig through my house, and you'll unearth the archaeology of Single Middle-Aged Man, a still-evolving creature who has spent countless lonely hours trolling thrift stores and home-improvement warehouses, making impulse buys in pursuit of a vague notion of Life As It Should Be.
Finally, I have confronted him – stood outside myself and taken stock of his poor decisions and habitual misspending. And I'm not proud.
So I have busied myself with bringing this material man into an upright posture of living – by tossing, recycling, donating, and, when possible, selling my unneeded stuff for pennies on the dollar.
I found a buyer for the grandfather clock, the three record cabinets, and the matching mid-century chairs with ottomans. I hauled a carload of stereo receivers and speakers to a dealer in a low-dollar cash transaction for the lot.
I sold the first dining table, the one with the unleveled top. I sold its replacement, too, delivering it myself to get it out of my dining room. I sold the third one to a guy who also bought the entertainment center, a red monster of a box that hogged a corner for eight years. He was supposed to take the TV, too, but he never came back for it – probably because it was a 175-pound beast that had long ago become obsolete. I ended up giving it to the crew who replaced my windows.
The previous owner of my house left behind a rusting collection of stained paint cans, saying the paint was worth a lot of money, and I'd need it. What I needed was the money and not the paint, so, after a decade of walking around those blasted cans in the garage, I drove them to a recycling center. I could've hugged the two cheerful employees who took them away.
The roll-top desk had been an heirloom in the family of my ex-brother-in-law, who died years ago. I tracked down one of his sisters and arranged to return it. We transferred the beautiful antique in a hotel parking lot in Georgia, and I drove home feeling a weight lifted.
The garden hose – that leaky, useless serpent of trash that the previous owner (he of the paint cans) had left behind – brought me years of struggle with knots, kinks, and sudden sprung holes. One soaked day, I threw it in the garbage and wondered why it had taken me so long.
Where did all these unnecessary possessions come from? The furniture, the lamps, the pressure washer, and the leaf blower, and the four umbrellas, and the three coffee grinders, and don't get me started on the clothes – how did it all end up in my house? An industrial onion chopper? A nest of charging cords from long-gone phones? Did a flea market explode in my living room?
No doubt, psychologists would read plenty into this. So would anthropologists. But I'm not giving them the chance.
At my house, everything now is expendable. I've decided to rise from the primordial ooze of acquisition, upright myself, and climb out of my cluttered cave, thrashing through the jungle of junk and traveling lightly toward a future without what I don't need.
Tim Bass is coordinator of UNCW's bachelor of fine arts program in creative writing.
To view more of illustrator Mark Weber's work, go to www.markweberart.blogspot.com.