Material Girls: Media Mashup
Ally Favory, mixed media artist and graduate of UNCW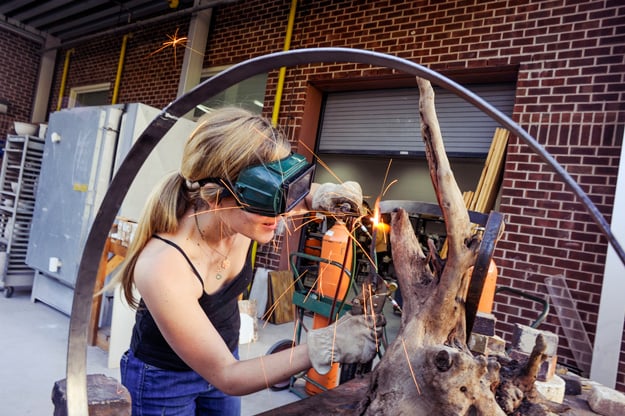 Recent University of North Carolina graduate ALLY FAVORY arrived in the Port City to study studio art at the school.
What she found was a passion for teaching art to kids in developing countries.
"I studied in South Africa for one semester. It was the most incredible experience I've ever had," she says.
She took a painting class for a month, 8 a.m.-6 p.m., then a photography class on the same schedule to give her time to focus on one medium at a time and hone each skill.
In December, Favory's exhibit Wood and Metal: An Exploration of How Materials Affect the Creative Process was on display at UNCW's Boseman Gallery as part of Favory winning the Ann Flack Boseman Scholarship. It was the gallery's only solo student exhibition for the year.
Favory continues to study different media, making sculpture out of found wood, metal, and homemade paper.
"In my art, I'm very into organic, natural flowing forms. It's environmental. I want to take pieces from outside and bring them inside," Favory says. "I'm intrigued by combining manufactured materials with natural materials and making them into a strong design."
For example, she says, the juxtaposition of parking deck streetlights with trees growing nearby.
"I've been finding wood with interesting forms and letting those forms guide the creative process, then adding the metal and paper."
"I really like to do mixed media. I'm so enthusiastic about every new process i've learned," she says.
While in school, she participated in a study abroad program for the adventure, she says, but found a community of people engrained in art and culture "more intense than anything I'd experienced."
In her last year at UNCW, Favory traveled to Haiti where she worked at a school and taught art lessons to first- and second-grade children. Many of her students had never painted before. She took art supplies to the country, secured through a fundraising drive at UNCW. The children learned basic color mixing and painted simple designs to take home.
From the two experiences, Favory realized that while her short-term objective is to go to graduate school, her long-term goal is to set up a nonprofit that will create and support art agencies in communities abroad.
Recently hired as a graphic designer by N2 Publishing in Wilmington, she plans to build her college fund and her portfolio there, return to school, then "make art for a little while" before forming the nonprofit.
Her goal is to spend half her time at home fundraising and hiring local artists to work abroad, and the other half teaching and managing the art programs. She envisions after-school programs.
"Especially in South Africa, I learned how excited they were for just going to school," she says. "They were excited to be staying after school to create art."
Click Here to read about vintage jewelry artist Natasha Caine.
Click Here to read about letterpress artist Emily Wismer.
Click here to see more photography by Jeff Janowski.