Material Girls: First Impressions
Emily Wismer, owner of Lady Pilot Letterpress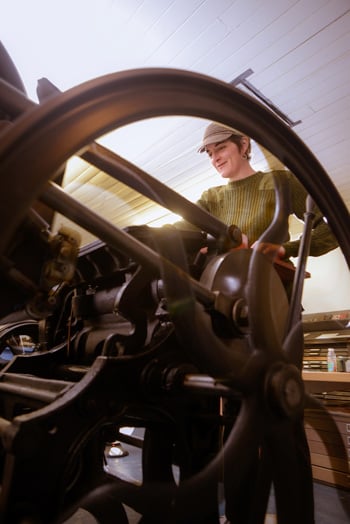 EMILY WISMER came to letterpress printing by way of a strange choice in collecting.
"I started collecting type a long time ago. I was an English major; type was at the root of literacy and books," says Wismer, who runs the one-woman shop LADY PILOT LETTERPRESS (www.ladypilotletterpress.com) in Wilmington.
Before computerized printing, before typewriters, words were printed using small blocks of wood or metal bearing a raised letter or character that left an impression when inked and pressed onto the paper. These type blocks, and the messages they convey, are Wismer's joy.
She enjoyed printing as a hobby while teaching third grade in Chicago but got more into it when she managed Blue Barnhouse letterpress shop in Asheville. After moving to Wilmington two years ago, she set up a studio near the river using several presses including one dating to 1897 and another from 1907.
"Setting up is difficult" because of the weight, she says. Maintaining them is "pretty easy, but you need to learn to fix them yourself. They're made of cast iron, and they will keep going if you keep them up."
The cards Wismer makes with the presses are often sarcastic, always intelligent, and all from her imagination.
"I do all the writing and printing," she says, adding that she also does some of the graphic design and subcontracts the remainder.
Cards are available on Etsy and at dozens of shops in twenty-five states and Canada. Two designs were just picked up by Urban Outfitters. She's also setting up sales on the website Scoutmob, which specializes in independent artists.
Printing on stock from French Paper, an eighth-generation Michigan papermaker, Wismer uses plates she makes beginning with computer-designed images.
"The platemaker burns the images from a negative onto a water-soluble plastic. When it's washed, the part that hasn't been burned stays," she says.
Making her own plates means she has no limitations, which also allows her to do custom work.
She's done everything from CD covers to posters to wedding invitations. A comic book she printed for cartoonist Jeffrey Brown was on display at a Chicago art museum.
"For the most part, anything you can put on paper, I can print it," she says. "I love what I do because of the tactile aspect. Letterpress is now (done by) primarily younger women. Thirty years ago, it was older men."
She's considering returning to her roots in teaching by expanding her workshop offerings.
"I like to watch the excitement people get out of it," Wismer says. "It's so low tech. I love doing that."
Click Here to read about mixed media artist Ally Favory.
Click Here to read about vintage jewelry artist Natasha Caine.
Click here to see more photography by Jeff Janowski.