Market Makers
Artisans on the go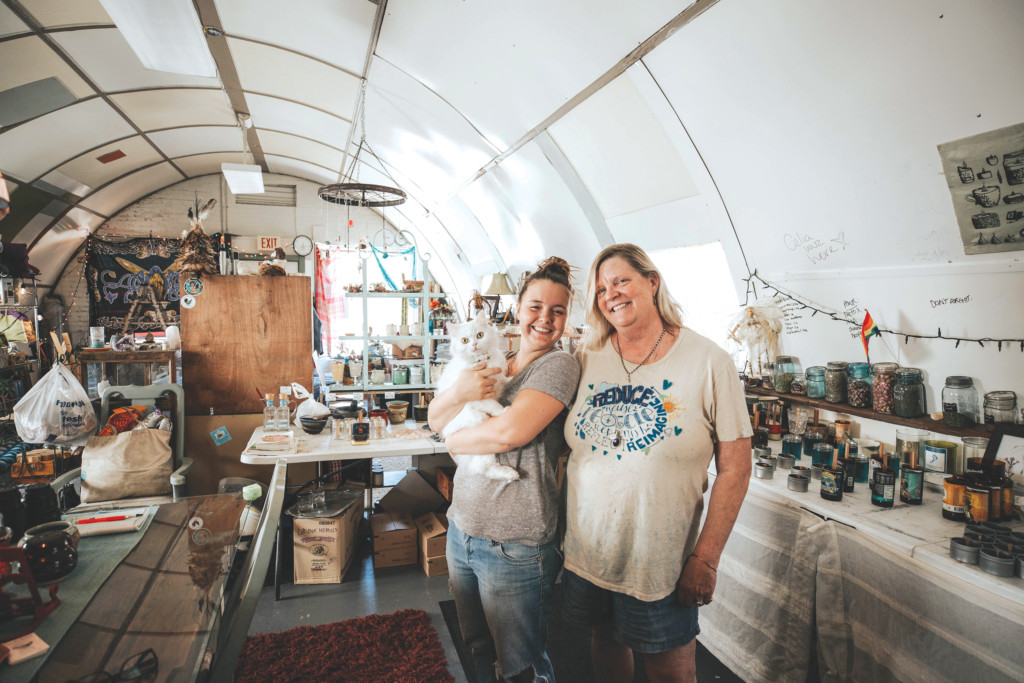 On one of her first days as a vendor at the Historic Downtown Wilmington Marketplace, a metalsmith watched two Cape Fear River porpoises slowly swim by her booth at the Riverfront Park. As a breeze flew in and passersby admired her handmade metal work, her heart soared at the sight.
It's this experience and many similar moments since that porpoise sighting five years ago that bring her – and her fellow artisans and shoppers – back to Sunday's downtown market each time.
"You are experiencing (life) when you shop a pop-up market," explains MELISSA MANLEY, the artist and metal worker who's been vending at outdoor shows since 1994. "There may be all the color, texture, and fragrance of a store experience, but add to that the joy of a breeze, your dog with you, your coffee in your hand, your buddies or your partner with you browsing along under a bluebird sky. It's a very different emotional and sensory experience than that of a mall."
Unlike most mall stores, artisan market products are often exclusively – and sometimes required by the market organizer – to be handcrafted.
"These are created items, not manufactured," Manley says. "The creations of the hand are enthralling because they connect us to something so deeply ingrained in our human psyche."
Although handmade art and goods are sold and promoted in several Wilmington stores, especially in the downtown area, the artisan market takes that connection another step further. Shoppers get the story directly from the source. rather than just the shop owner – asking about the materials, inspiration, or, simply, about the maker's life in general.
"(The artisan) had a moment during (the item's) making where they may have imagined the person who might be at the end of their creation's journey," Manley says. "You, the browsing shopper, become part of something. I think that something is community."
Not only does the direct maker- to-buyer experience feel so organic, so are many of the artisan products.
For example, 2 CHICKS WITH SCENTS, who, like Manley, regularly frequents the downtown market, specializes in what they call crystal soy candles, featuring organic dried herbs and cleansed crystals on top. They also use long-lasting cedar wood wicks that are a healthier alternative to cotton wicks because they produce less soot.
"Every product we make was made for ourselves, friends, and family in the beginning," says co-owner BITSY CRAWFORD.
She and her business partner KARA RIDER often use locally found items as vehicles for their candles, hand-pouring them in pieces of pottery, vintage teacups and glass, upcycled beer and liquor bottles, and more.
Many artisans and their organizers, by nature of their work, are strong advocates for the support of local business.
KELLI BENTON, the organizer of SEAGLASS SALVAGE MARKET, tells the story of one vendor, Clary Hollow, whose owner collaborated with Bill's Front Porch to create a soap using the beers from its brewery.
"There are a lot of examples like that where people will go out of their way to incorporate local into what they sell at markets," Benton says.
For five years, Benton and her husband have co-organized the Seaglass Salvage Market, which occurs on the third weekend of every month at an industrial warehouse in Leland (and with an extra market per-month during the winter holidays). They always host a local food truck and local 501(c)3 nonprofit at each market as well.
"We're one of the few businesses who actually markets other businesses," Benton says with a laugh. "When the vendors who are part of Seaglass go to another market, I share that market on the Seaglass page. I feel like there's enough for everyone."
The Port City area hosts many artisan markets across different regions, from the Historic Downtown Wilmington Marketplace and Seaglass Salvage Market, to the farmers market at Wrightsville Beach, to Poplar Grove Plantation near Ogden, to an evening market at Waterline Brewing Company (see below for times and dates).
Each market is like its own community. The makers and artists who vend there are often selling or sharing products to their friends, neighbors, and fellow townspeople (though, of course, tourists enjoy and frequent the events, too).
Benton is a vendor herself now, selling Dixie Belle Paint for the salvage furniture buyers who hope to reclaim a new piece, perhaps one they purchased at Seaglass Salvage.
Maybe it's the outdoor charm, connection to artisans, or the love for local business that drives vendors and shoppers to these markets. But, as Manley suggests, ultimately, people just want to make things.
"(People) want the hours of sunlight coming through the windows of their workshops and moments with their tools or brushes," she says. "And, (buyers) want to take home a little bit of that moment when they talked with the crafter and learned how that color came about."
Get your market fix:
Historic Downtown Wilmington Marketplace
Riverfront Park, Wilmington
Mid-April through October
Sundays, 10am-3:30pm
Farmers Market at Poplar Grove Plantation
10200 US Highway 17 North, Wilmington
Mid-April through September
Wednesdays, 8am-1pm
iLm Makers + Growers Market
Waterline Brewing Company
721 Surry Street, Wilmington
Thursdays, 5-9pm
Seaglass Salvage Market
1987 Andrew Jackson HWY, Leland
Third weekend of the month
Fridays, 9am-3pm
Saturdays, 9am-5pm
Wrightsville Beach Farmers Market
Wrightsville Beach Municipal Grounds, Seawater Lane
Mid May through October
Mondays, 8am-1pm​
To view more of photographer Megan Deitz's work, go to www.megandeitz.com
Want more WILMA? Click here to sign up for WILMA newsletters and announcements.