Marine Sleuth
Jennifer McCall investigates shellfish toxins for SeaTox Research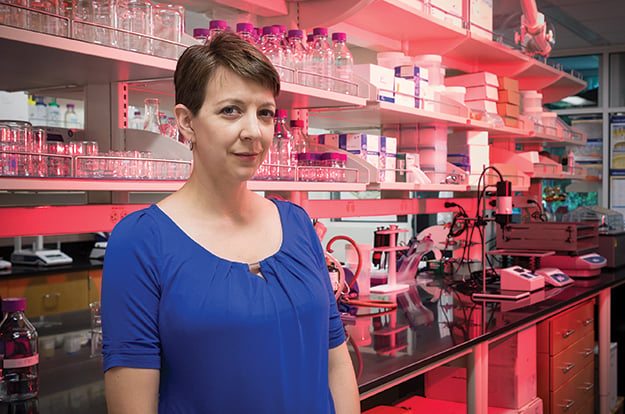 JENNIFER MCCALL is a scientist and a mother who has it all.
"Except sleep," McCall says. But, she feels lucky to be able to do what she loves to do, and she is dedicated to helping others to do the same.
McCall is mother of a two-year-old girl, expecting her second daughter in November, and is finding success with her Wilmington-based business SeaTox Research Inc., which she started with her fellow biologist and husband in 2013.
SeaTox's focus is developing a faster, easier-to-use process of testing shellfish for marine toxins, and she says, they "have been successful at optimizing several marine toxins and have begun selling a prototype kit that can be used by the general public."
It is important to McCall that her product can be used to protect consumers vulnerable to eating contaminated shellfish.
"I'd very much like to have our toxin test kit become widely used in order to help protect the safety of the nation's seafood supply," says Jennifer McCall.
After earning a Ph.D. in immunology from University of North Carolina at Charlotte, McCall enrolled in University of North Carolina Wilmington's unique postdoctoral program in the business of biotechnology that allowed her to continue her research in marine biotechnology while getting an MBA at the Cameron School of Business.
McCall's company is located within the UNCW Marine Biotechnology in North Carolina (MARBIONC) facility, an she teaches at UNCW, also. Many of her SeaTox lab employees are UNCW students.
"Within our company, we hire UNCW graduate students to keep what we've trained them to do in our community," McCall says.
A Charlotte native, McCall appreciates the smaller-town feel of the Wilmington area and wants to do her part to help and encourage small businesses to grow locally.
"I love being here, its community feel, and its support structure for small businesses and women-owned businesses," she says.
Being a woman in science can have its disadvantages and challenges, according to McCall, but she has not experienced that atmosphere in Wilmington.
"In science, you can face that little girl mentality, but I have not seen that here. And it's nice to not feel that," McCall says.
She also doesn't want other startup businesses to face the same struggles she had to face when starting SeaTox.
"I like to nurture and support other small businesses so they don't have to go down the same road I had to. It's a bumpy road, so I can give them a map to avoid some of the troubles I had to face," McCall says.
The framework of McCall's business has expanded. In addition to research and development, where they write and obtain grants to undertake research on marine resources to develop new natural products and services, SeaTox provides contract research services to local businesses using its expertise in microbiology and cell biology.
"We've expanded into contract research services for local businesses that need cell biology consulting, while continuing to do more research and development of marine natural products for medical purposes, especially antibiotic-resistant infections," McCall says. "We are expanding, broadening our scope. We've taken off, and it's very exciting."
This new frontier propels McCall who is dedicated to helping others on many different levels, especially when the opportunity arises to put her specialized lab equipment to use for "anybody, any company who has an interest in a product but does not have cell biology capabilities with the fancy equipment to do the high microbiology techniques that small startups may not be able to afford because it is difficult to have.
"We were able to get it, and now we can help them out with interesting projects that we are excited to be a part of," McCall says.
Using her equipment and products to serve the community is another goal that McCall has in her desire for people to know she and those at SeaTox have their health and best interests in mind.
"I want them to be able to say, 'We know in our local community, we know a company that is working to protect us from hazards," McCall says.
Being able to help students, small businesses, and the public plays a large role in McCall's life, in addition to her research and her family. She says she is not sure she would be able to find that balance anywhere but Wilmington.
"I appreciate the things I have in my life and the ability to balance them. I wouldn't want to sacrifice my family for my career or my career for my family," McCall says. "It is very supportive atmosphere, and I am very appreciative of what I have and what I've been able to do."
To view more of photographer Mark Steelman's work, go to marksteelmanphoto.com.