March Spotlight
Area newsmakers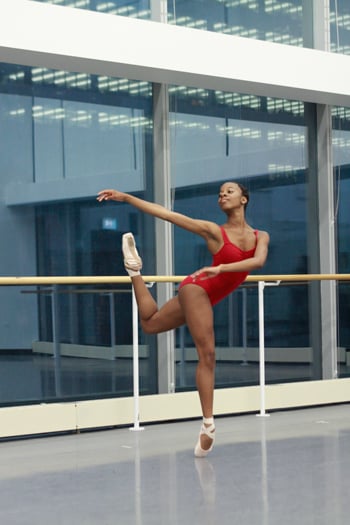 Dancer Performs with Joffrey Ballet
Wilmington native DARA HOLMES is coming back to North Carolina this month to perform with her ballet company.
The Chicago-based Joffrey Ballet, which Holmes joined in the 2011-12 season, is scheduled to appear March 23 and 24 at the University of North Carolina at Chapel Hill.
Holmes started her dance career at the Wilmington School of Ballet. She attended programs such as The School of American Ballet summer program, The HARID Conservatory, and the Joffrey Academy of Dance's trainee program.
The shows at UNC start at 8 p.m. on Saturday and 7:30 p.m. on Sunday. For ticket info, call (919) 843-3333.
Nordstrom Picks Up Half United
Nordstrom is carrying jewelry from Wilmington-based Half United in fifty-eight stores throughout twenty-one states.
Half United is co-owned by Carmin Black, a WILMA Women to Watch award-winner.
The company gives half of its profits to various hunger-fighting organizations.
The retailer's order included Half United's necklaces, bracelets, and earrings, Black says.
She says the Nordstrom order allowed Half United to feed more children in need than any other order the company, which started in 2009, has received before.
Literacy Council Names New Chairwoman
The Cape Fear Literacy Council elected Karen Pappas, owner and president of Amazing Grace Pet Care, as the nonprofit's chairwoman this year.
The literacy council provides free tutoring in reading, writing, spelling, math, and English.
"It's an honor to serve our students, staff, volunteers, and board members – especially our students who come from all walks of life but are unanimously full of courage for facing their fears," Pappas says.
Pappas was previously program director for University of North Carolina Wilmington's Quality Enhancement for Nonprofit Organizations and director of organizational development at UNCW, according to her LinkedIn profile. She joined Amazing Grace
Pet Care shortly after leaving her position at UNCW.
– Tabitha Shiflett
Couponing for Military Families
Commissaries at overseas military bases honor manufacturer's coupons for up to six months after the expiration date, and hundreds of military families are receiving money-stretching coupons thanks to an effort begun in southeastern North Carolina.
Stephanie Almasy of Winnabow founded Coups For Troops to collect, sort,
and ship coupons to families serving overseas.
This year, the group will reach hundreds of families because of volunteers at more than thirty satellite locations around the country. Coupons can be dropped off locally at the New Hanover County Senior Center.
For more information, email info@coupsfortroops.com or visit CoupsForTroops.com. The group welcomes volunteers to sort and bundle coupons.
– Teresa McLamb