March Spotlight
Spotlight on area women making news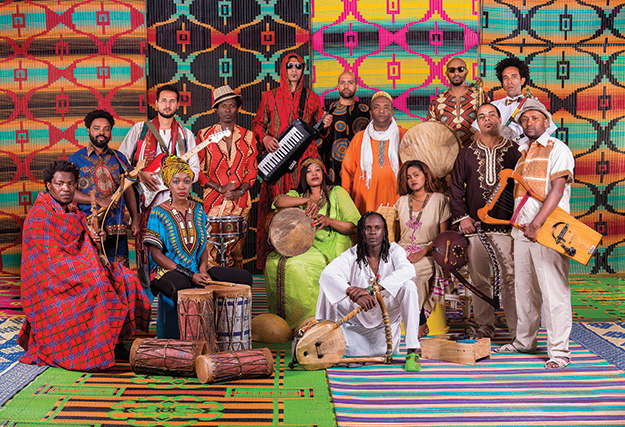 The Nile Project Stops In Ilm
THE NILE PROJECT, which includes a collective of musicians from the eleven countries of the Nile region, holds a series of local events March 25-28.
The visit kicks off with a performance at UNCW's Kenan Auditorium. Other programs are a free community day at the Cameron Art Museum, a water cooperation lecture demonstration, and a panel talk on water-quality issues for the Nile River and Cape Fear River. On March 28, a lecture demonstration titled "Zar: A Female Perspective" takes place on campus. And, a sunset river cruise from Wilmington Water Tours features The Nile Project musicians.
The mix of events is intended to involve different local groups during the visit, organizers say.
"We've been working with environmental organizations who wouldn't have arts involved in their work, but we're figuring out how artists can help them spread their message," says Kristen Brogdon, director of UNCW's Office of the Arts. Info: uncw.edu/presents/nile_project.html –
– Vicky Janowski
Poisson Takes On Legal Group Post
Wilmington attorney STEWART POISSON was unanimously elected as chair of the Workers' Rights Section of North Carolina Advocates for Justice.
The group is a statewide organization of attorneys committed to protecting the rights of North Carolina's residents, according to officials. Poisson is in her sixth year of serving on the organization's board of governors.
Poisson is a board-certified workers' compensation specialist and represents plaintiffs in workers' compensation and personal injury matters. She manages the law firm's two offices – in Wilmington and Wadesboro. Poisson also serves as an advisory member of the North Carolina State Bar Ethics Committee and serves on the Workers' Compensation Specialization Committee for the State Bar.
– Vince Winkel
Butler Joins General Assembly In House Seat
It was a whirlwind start for DEB BUTLER in Raleigh.
"A week into it, it's been extremely exciting," the Wilmington lawyer and now Democratic state legislator said in early February.
Butler was sworn in February 6 for the House District 18 seat that represents parts of New Hanover and Brunswick counties. It became open unexpectedly when Susi Hamilton, who held the seat since 2010, was picked for a state cabinet post as secretary of the Department of Natural and Cultural Resources.
Members of the district's Democratic parties chose Butler out of ten candidates who applied to fill the rest of Hamilton's term. Butler practiced law in New York before moving in 1994 to Wilmington, where she runs The Butler Firm. She made a previous run for the state Senate in 2012 but lost in the general election.
Butler joins Rep. Holly Grange as newest members of the local delegation. Grange, a Republican, took over the House District 20 seat last year.
– Vicky Janowski
Chamber Names English As CEO
NATALIE ENGLISH starts this month as the Wilmington Chamber of Commerce's new head official.
She replaces interim chamber president and CEO Dick Blouse, who stepped into the role following the retirement last year of longtime chamber head Connie Majure-Rhett.
English was the Charlotte Chamber of Commerce's chief public policy officer.
"It has long been a career goal of mine to lead a chamber in a vibrant community full of potential, and I can think of no better place to do that than the Port City," she says.
English holds a Certified Chamber Executive designation. She has received a Community Service Award from the National Association of Women Business Owners' Charlotte chapter; a Women in Business Achievement Award from the Charlotte Business Journal; and a spot on The Mecklenburg Times' list of the 50 Most Influential Women in the Charlotte region.
– Vicky Janowski