March Spotlight
Area newsmakers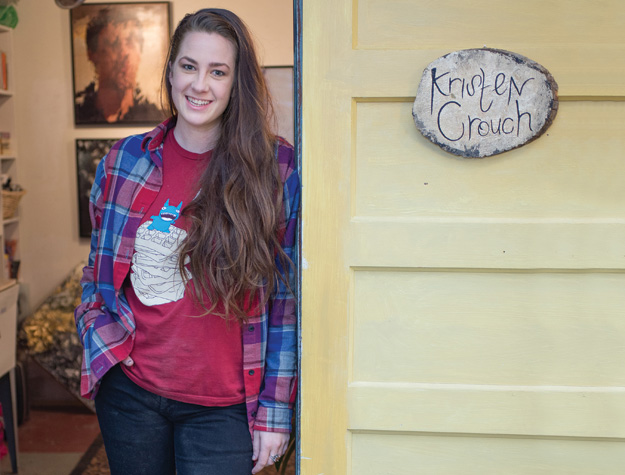 Competition for Young Artists
KRISTEN CROUCH, a recent graduate of Savannah College of Art and Design, created a competition for the top thirty international artists under the age of thirty, with the winning pieces set for display later this month in Wilmington.
"My goal is to showcase and support young artists that are working in contemporary and progressive mediums," says Crouch, a photographer and sculptor. "I see a recurring theme known as digital modernism, which uses the computer as a tool and also a way to question the art."
Her fellow judges are Sami Lee Woolhiser, an artist with a series of aerial landscapes, and Blair Nidds, curator at Canapé. The month-long show of selected pieces starts March 27 at Acme Art Studios, 711 North Fifth Avenue. Info: www.acme-art-studios.com
-Kate Kuchtjak
Family Fit Receives Grant
The Wilmington Health Foundation recently awarded its first grant to the Family Fit Challenge, founded by Wilmington Health physician assistant J'NELLE RUSCETTI.
"I am passionate about the health of children," Ruscetti says.
She launched the Family Fit Challenge in 2012 to encourage families to learn and implement healthy habits from nutrition to exercise. Officials say the program has been shown to statistically reduce body mass index in adults and children as well as blood pressure in adults.
The foundation gave the program a $20,000 grant.
-Vicky Janowski
Lee Heading Up CFCC as Interim President
AMANDA LEE was named interim head of Cape Fear Community College in the wake of college president Ted Spring's resignation Jan. 22.
Lee had been the college's vice president for instructional services since 2010.
As of press time, a search process for the school's next permanent president had not been announced.
She joined the college in 2003 as an instructor and previously taught at Nash Community College, Texas A&M University, University of North Carolina Wilmington, and Baylor University. Lee also worked in private industry as a director of standards, quality assurance, and personnel for a medical services company, according to the school.
Click here for more on Lee's appointment and her thoughts on the role.
-Staff reports
Elders to Speak at Fundraiser
Former United States Surgeon General JOYCELYN ELDERS is scheduled to speak at Planned Parenthood's annual Hibiscus fundraiser March 17.
Before becoming the first African-American and second woman surgeon general, she was Arkansas' public health director of Arkansas. She served briefly in the Clinton administration before being ousted for her outspoken yet controversial statements.
"For decades, Dr. Elders has been an advocate for sexual and reproductive health care," says Adam Waxman, spokesman for Planned Parenthood South Atlantic.
Elders will speak both at the group's lunch and dinner events, which take place at the Blockade Runner Beach Resort in Wrightsville Beach. Tickets start at $100. Info: www.tinyurl.com/hibiscus2015
-Kate Kuchtjak