'Mangia Bene'
The Christinana family puts final touches on Marsello's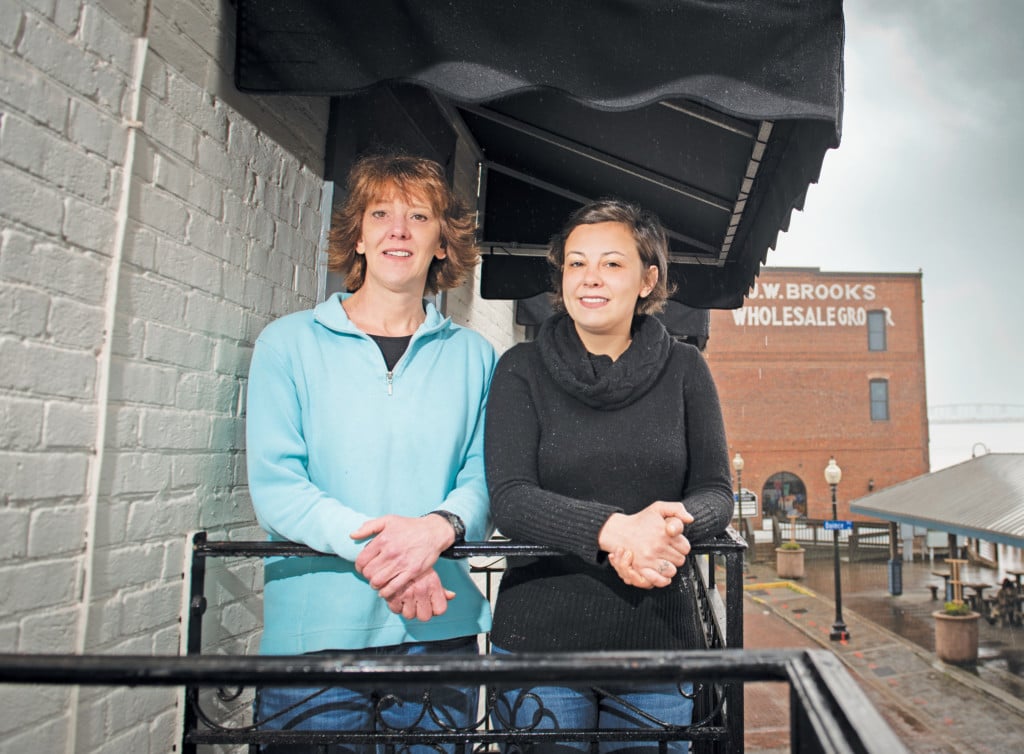 The Christiana family plans to open MARSELLO'S by April and bring Sicilian pizza and fresh Italian food to the riverfront.
BARBARA and JIM CHRISTIANA, along with their daughter MARANDA, have been working on the Wilmington restaurant for the past several months.
The family hails from outside of Pittsburgh, where Sicilian pizza reigns supreme. Jim Christiana says that his family and friends agreed that the crusty, fluffy pies would do well if brought down South.
"People maybe aren't going to know what it is," Marsello's Owner, Jim Christiana recalls thinking, "but they're going to fall in love with it."
Last year, the Christianas did just that, bringing along other Italian recipes – and plenty of gusto – with them.
When Jim Christiana's childhood friend unexpectedly closed her pizza parlor in Pennsylvania, he jumped on the opportunity to get a slice of the pie. He learned her recipes and agreed to bring them to the Port City.
He came to Wilmington shortly thereafter to look for a place to set up shop and found the perfect spot: 2 Market Street, the former home of Riverboat Landing restaurant.
The Christianas signed the lease in August. Although the building had undergone external renovations after being purchased by 2 Market St. LLC in February of last year, the interior needed some updating. The family went to work, intending to open Marsello's in October or November. Unfortunately, the weather had different plans.
Despite experiencing major setbacks because of Hurricane Florence, they have persevered.
"We should've been open months ago," Jim Christiana says.
Acquiring permits, finding available contractors, remodeling all three floors, and tackling the damages in the kitchen were exhausting tasks, but the family keeps a sense of humor.
"We're going to name a drink after her," Jim says when asked about Florence. "Maybe like a Dark and Stormy!"
"Hurricane Flo!" Barbara adds. "We'll just call it Hurricane Flo."
The Christianas have also been confronted with some of the historical building's quirks. Maranda and Barbara Christiana speculate about friendly ghosts when showing the renovated third-floor office, and Barbara laughs about discovering a hoard of pennies in the ceiling.
"Someone, every day, must have slid a penny up here when they were going into work," she says, amused, and taps the repaired seam twice.
Now, the interior of the building has been transformed. The walls have been freshly painted with a soft green; cast-iron adornments decorate the windowsills; and upcycled furniture fills both floors, giving Marsello's the capability of seating 148 guests. The natural wood accents remain, as does the exposed red brick.
The restaurant will have a bar on each floor stocked with craft beer and other libations, and the second features a room for hosting private parties. Access to the New Orleans-style balconies and their intimate two-top tables will, of course, be open.
In fact, Marsello's has already been the setting of a marriage proposal. Jim Christiana gave the couple access to the center balcony facing the river, and their family and friends witnessed the engagement and cheered from below on Water Street.
"Theirs is the first picture we're putting up on our Wall of Fame," he says.
Marsello's will sell whole pies and pizza by the slice. Its signature pies include the Triple P, with prosciutto, pesto, and pineapple; and Jim's Way, with pepperoni and melted extra cheese.
The menu also features Italian staples such as house-made spaghetti and meatballs, bruschetta, and tiramisu, as well as baked mozzarella, stuffed banana peppers, and a rotating daily pasta special. Fresh salads and sandwiches are also on the menu, and nothing is frozen or deep-fried.
The Christianas describe Marsello's as a casual Italian restaurant.
"All we want," Maranda Christiana says, "is mangia bene: for you to eat well and enjoy yourself."
To view more of photographer River Bondurant's work, go to riverbondurant.myportfolio.com.
Want more WILMA? Click here to sign up for our WILMA newsletters and announcements.