Making Waves
Alina Szmant's career has focused on ocean life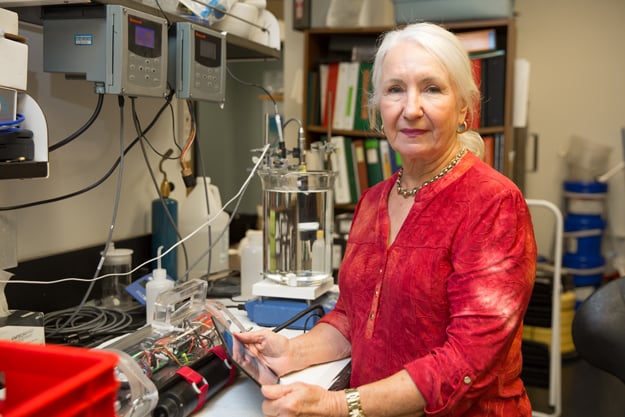 It pains ALINA SZMANT, a pioneer in marine science, that graduate students today cannot study the organisms she began studying because the planet has changed and organisms are dying.
That is why, even in retirement, she is working tirelessly to make sure the fruits of her labor make a difference.
Over the past decade, Szmant and her team at the University of North Carolina Wilmington's Center for Marine Science have worked to develop the CISME instrument to evaluate the health of live coral reefs.
Developed through a federal grant, CISME is a diagnostic device that measures the metabolic rates in the coral habitat without causing harm to the organism itself.
"It measures changes in oxygen and the pH levels of coral. We can measure the vital signs of coral animals to indicate the well-being of the organisms," Szmant says.
The tool can study the turbid effects of coral bleaching, climate change, and flooding sediments that have had a profound effect on the ocean since Szmant started studying it as a college student at the University of Puerto Rico.
Born in Dayton, Ohio, Szmant spent the first ten years of her life in Pittsburg, Pennsylvania, before moving to Cuba to spend time with her mother's family who was from and lived there. Nearly five years later, the U.S. and Cuba broke relations, so Szmant and her family evacuated to Miami, then landed in Puerto Rico when her father took a job at the University of Puerto Rico.
Szmant finished high school there and went straight to the university, where she started studying marine biology.
It was there that her life's work in the ocean would take shape.
"I grew up going to the beach and loving water, but I had an honors adviser who suggested I take a six-week science course on the coral reef over the summer, and I fell in love with it. It changed the course of my life," Szmant says.
That summer solidified her interest in marine organisms and set the pace for Szmant's career.
For her master's degree, Szmant traveled across the country to the Scripps Institute of Oceanography in La Jolla, California. There, she started to take strides for women in science as a member of the first all-female aquanaut team.
"The Tektite II was a program developed by NASA and the Department of the Interior to study people in isolation underwater. The Tektite I mission was in 1969 when four men were studied for two months underwater, but after a proposal from women scientists, including myself, we were selected for a two-week performance research mission," Szmant says.
From there, Szmant crossed the country once again to land at the University of Rhode Island's Graduate School of Oceanography where she worked on her Ph.D. She later moved to Florida State University, before her "real career" started at the University of Miami's Rosenstiel School of Marine and Atmospheric Science.
"It is a major player in marine institutions of the world," Szmant says about Rosenstiel. "I was getting funding and doing high-impact research,"
That is where Szmant concentrated her studies on coral, its reproductive ecology and skeletal formation.
She became a Wilmington resident in 1999 when she made her way to UNCW. Naturally, Szmant is passionate about women in science and often serves as a guest leadership speaker for
UNCW's MarineQuest leadership program for girls.
"I fear for the future of the Earth – the unbridled growth. Wilmington is an example of it. If we do not control the human population growth rate, I don't care how much renewable energy we have, we are still going to destroy it," she says.
She is most passionate about the planet's health and works tirelessly to make CISME available to those who can use it to study the health of the ocean. She explains that a third of the world's fossil fuels is absorbed by the oceans, and the major impact from data collected underwater.
"A brand new Ph.D. could not study the things I started with. There's not enough coral to do so, and it is fewer and more far between," Szmant says. "I am passionate and outspoken, and I wish people would think about what they do before they do it."
To view more of photographer Chris Brehmer's work, visit chrisbrehmerphotography.com.