Making the Grade
After filling in as interim, Marilyn Sheerer was officially named to the position of UNCW provost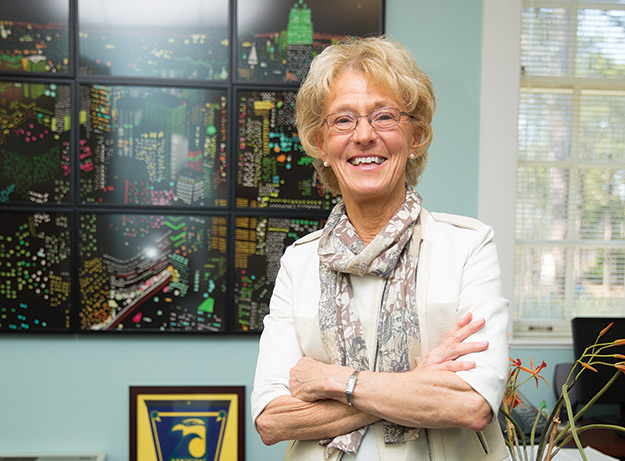 Everything old is new again for MARILYN SHEERER, the newly appointed provost at University of North Carolina Wilmington.
After seven-and-a-half years as provost at East Carolina University and seven months at UNCW as interim provost before being named to the post permanently February 1 by Chancellor Jose Sartarelli, Sheerer seems excited to build on her administrative skills and knowledge of academic institutions in a new environment.
As vice chancellor and provost, the university's chief academic officer – and incidentally, its highest-ranking woman – Sheerer oversees what is taught and how it is taught. She works closely with the faculty and is responsible for anything that concerns students and the quality of their experience at UNCW.
"My job is to ensure we deliver high-quality academic programs to students and their families, to make sure they get what they are paying for," Marilyn Sheerer says.
Sheerer talks about feeling fortunate to be able to reinvent herself in her position.
"I think I listen better," she says of her time at UNCW in comparison with her tenure as provost – and dean, before that – at ECU. She got a jump on getting to know and talk to many of UNCW's stakeholders in February 2015, when then-interim UNCW Chancellor William Sederburg brought her to campus after asking her to consider coming in as interim provost following the departure of Provost Denise Battles for State University of New York at Geneseo.
"The best thing Sederburg did for me was bringing me in last February for conversations (with administrators, faculty, and staff)," she says. "I was able to get the feel of things: What does this place value? What are people engaged in? What are they wed to?"
Because she had no official position at UNCW during those visits, people talked to her freely, she says.
"Then when I came in (as interim), I could do things based on what I'd heard from people. Their agenda became my agenda," Sheerer says.
UNCW is smaller than ECU, but many issues are the same, she says. Her experience there "absolutely underscored for me the importance of building relationships across the entire campus. If you don't, there's no way of making connections you need, including the chancellor and his cabinet, and the faculty and staff. My job is to totally understand issues they present and the issues of the chancellor, trustees, and (UNC-system) Board of Governors," she says.
In her lifelong career as an educator, Sheerer has held a number of positions, beginning as a high school English teacher before moving to post-secondary teaching and academic leadership roles. That experience helps her view issues from multiple perspectives.
As provost, she sees herself as a middle person, connecting the university administration with faculty and staff, and listening to everyone's ideas and concerns. Sometimes she assumes a troubleshooter role, as she did recently in untangling a knotty problem for about forty students who found the registrar's office had placed a hold on their registrations for fall semester. The students all had earned at least forty-five credits and were required to declare a major at that point, but most had obstacles preventing them from doing so.
"Some students were waiting to be admitted to the nursing school. Some others needed to take another course to raise their GPA," Sheerer explains.
Working with all parties, Sheerer managed to release the holds and allow the students to register, while exploring ways to address this problem in the long term.
"At ECU, we had business process reviews, mapping out processes to see where problems are," she says, adding that she plans to do the same at UNCW. "The university is working well, but there are pockets that need improvement."
From her perch at ECU, Sheerer watched from afar as UNCW grew over the years. She almost became UNCW's provost eight years ago.
"I applied for the job in 2008. (Then-Chancellor) Rosemary DePaolo offered me the job, but ECU offered more money for me to stay on," Sheerer recalls.
Complicating things was Sheerer's personal situation. She was caring at home for her husband, who had Parkinson's disease and dementia (and who died in mid-March, after this interview took place). It seemed easier at the time to stay put.
But after she retired as provost at ECU, she decided to move her husband, who needed more care, to The Davis Community in Wilmington. And she moved here to be near him.
Having her husband in a care facility gave Sheerer some breathing room and allowed her to refocus her career. Part of that process has been learning how she can help other women get ahead.
"What I find is people wanting to talk with me about women in leadership. One woman who spoke to me told me she was too old to pursue her Ph.D.," Sheerer says.
"I was thirty-nine before I started working on my doctorate and forty-four before I finished. I tell them, don't write yourself off because of perceived inabilities or age," she says. "We are never too old to do things if we have drive and interest."
To view more of photographer Chris Brehmer's work, go to www.chrisbrehmerphotography.com/