Making the Grade
Profiles of three education innovators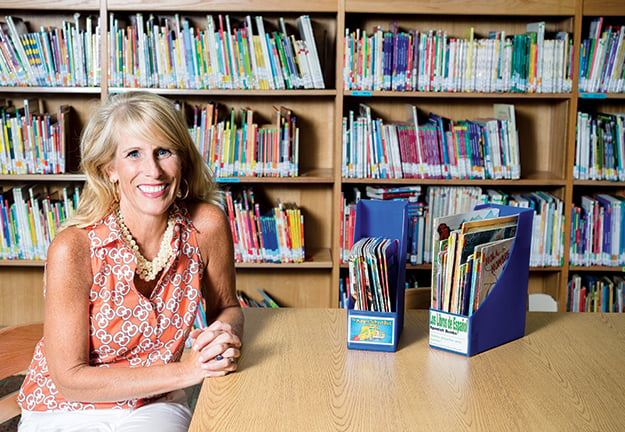 Amy Oots, Williams Elementary School
While elementary school children may be young, it is not too early to teach them what's expected of them, says Amy Oots, principal of Williams Elementary School in Wilmington for the past three years.
Oots (above) says setting expectations early on with students, especially those living in poverty, helps them set short- and long-term goals.
In June, Oots was named a 2016-17 New Hanover County Schools' Principal of the Year finalist. She said the honor was especially meaningful because she was nominated by her colleagues.
"I'm just one little piece of a big puzzle, and my school has done really well, and I'm really proud of them. It was an honor, but it was really just a reflection of the hard work of many, not just one person," says Oots, who has worked in education for twenty-eight years.
Having spent most of her time teaching in the classroom, Oots identifies with the challenges of being a teacher. Oots believes it's important to foster a collegial atmosphere amongst all her staff including teacher assistants, custodians, and school social workers.
"If we all work together as colleagues, that's really when children win – when we are all on the same team, when we're all working together, when nobody's role is more important than another. That's really, I think, a key to being a successful school team," Oots says. "We all have a job to do at the school, and we all need to be working together because it's about the kids and it's about what's doing what's best for children ultimately."
---
Laura Sokol-Scott, Leland Middle School
Learning and teaching have always been a big part of Laura Sokol-Scott's life.
As the oldest of three children, Sokol-Scott (above) used to play school with her sisters. Her mom encouraged lifelong learning, and her father thought it was important to expose Sokol-Scott and her siblings to new places and experiences such as trips to Washington, D.C., or nearby museums.
"Learning about the development of cultural and social traits over time gave me a strong sense of pride in my nation and a greater interest in the world and its history," Sokol-Scott says.
Now, Sokol-Scott is an eighth grade social studies teacher at Leland Middle School. Her lessons teach students about American and international events, including the locations where they occur, which allows the middle-schoolers to make connections between different topics of study. By learning about the past, Sokol-Scott believes students gain a better understanding of the world they live in.
"Students should see the importance of being part of building community around them to see influences of culture and the decisions as well as considering how past policies and laws impact life today. Through this, students become a part of history. It is one of the greatest rewards of teaching," says Sokol-Scott, who recently finished her eleventh year of teaching.
Last September, Sokol-Scott was named Brunswick County's 2015-16 Teacher of the Year for the entire school district.
"Being recognized as Brunswick County Schools Teacher of the Year is a tremendous honor and is only made greater by the fact that it is because I have the opportunity to do something I love: work with students by supporting them in achieving the goals they have for themselves," she says.
Sokol-Scott urges fellow educators to see the potential in students and help them recognize their own potential. If it weren't for her teachers, Sokol- Scott says she may not have found her calling. "We often focus on the exceptional, but there is so much potential in the middle, in kids who may not realize it; they have 'it' but do not know how to use 'it.'"
---
Sandie Cecelski, Ashley High School
A love of the natural world and a passion for sharing it with others got Sandie Cecelski interested in teaching about three decades ago.
Now, Cecelski (above) leads Ashley High School's Marine Science Academy, which offers students the opportunity to take college-level classes in which they gain an understanding of marine science and explore issues facing the global ocean.
While teaching, Cecelski uses a "flip classroom" approach where exploration and collaboration happens first at places like estuaries and beaches as students learn about waves, tides, and currents. Afterwards, students come together for class discussions where they share their discoveries.
"I think it's very important for students to feel as if they are involved in their learning. My role as a teacher is to facilitate exploration," Cecelski says.
Cecelski takes pride when students gain a sense of understanding in something they've learned or can comfortably discuss an issue with a class guest speaker.
"Not only are grades a reflection of success, but the fact that the student can communicate with the language of science successfully and do (it) in a setting that makes them feel a sense of empowerment and ownership of their own learning" is key, she says.
Cecelski was named New Hanover County Schools' 2016-2017 High School Teacher of the Year.
"I'm kind of my own little program, so I don't work closely with anyone," Cecelski says. "For my colleagues and people throughout the county to realize not only what I've created for the students ofNew Hanover County, but to see the value in that, is very humbling and a great honor."
This fall marks Cecelski's thirtieth year teaching in New Hanover County, and she plans to retire in June of next year. As she reflects on the end of her career, Cecelski is pleased to see the number of students impacted by the natural world around them in the area.
"I still will run into students who now have children of their own and they'll say, 'I still remember learning about the shells, and I've taught my children this and I've taught my children that,'" she says, "and you see the impact that you've made is multigenerational, and that's what a sense of stewardship and a love of the coast is all about."
To view more of photographer Erik Maasch's work, visit ejmphotography.org.