Made Awards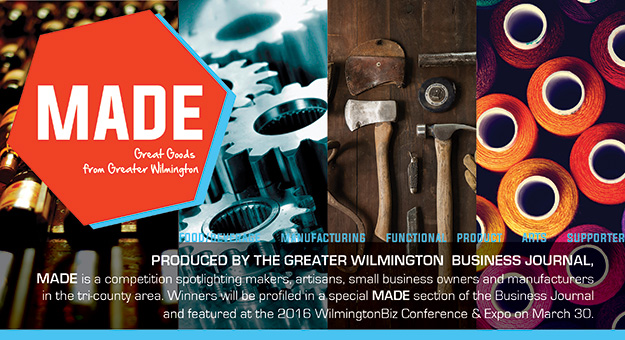 At this year's WilmingtonBiz Expo on March 30, the Greater Wilmington Business Journal – WILMA's sister publication – honors winners of its first-ever MADE competition.
The contest seeks to recognize local product makers, artisans, designers, and manufacturers. Judges pored through nominations from the public and awarded three winners in the categories of: Arts, Functional Products, Food and Beverage, and Manufacturing. A Supporter Category winner also was named to recognize an organization helping area makers and entrepreneurs grow their products and business operations.
The winners' products will be on display at the Expo, which takes place at the Wilmington Convention Center (WilmingtonBizExpo.com for more info).
Here are the women included in this year's MADE winners.
Rebecca Duffy Bush Metal Artwork (ARTS)
Year established: 1998
Number of employees: 1
Top official: Rebecca Duffy Bush, owner
Company description: Local artist producing handmade, hand-painted acrylics – focusing on whimsical, nautical sea creatures – on steel sculptures for retail and wholesale markets nationwide.
Target market: Women, tourists, "young at heart, parents, and grandparents"
Company growth: "In 2013, we started exhibiting at wholesale shows, and our gallery participation has grown from ten to 100 nationwide. We continue to expand to more galleries as we add more wholesale markets and sales reps to our show calendar. We also continue to participate in retail shows and have expanded our online presence to include Etsy retail, Etsy Wholesale, wholesalecrafts.com, and the Amazon handmade marketplace."
How has your product helped impact the region's economic development? "Our pieces are handmade right here in Wilmington. While we do sell to galleries all over the country, we exhibit our entire collection here in downtown Wilmington on the riverwalk at our family-owned gallery, River to Sea Gallery. At the gallery we feature my work, but also offer space to fifty other local and regional artists to sell their handmade creations. We also sell at local art and craft festivals around the region, offering our locally made products to tourists and locals alike. Each piece is like a little ambassador for Wilmington, as they each come with a hangtag that reads 'Handmade in Wilmington, NC.'"
What are your future goals for the product? "While I still paint on canvas and offer limited edition prints and handmade frames, my focus right now is really on expanding the steel sculpture line. Right now we are mostly nautical, but I am constantly working on new designs. I am currently working on an 'active girls' line, featuring strong girls playing sports. As a mom I feel it is so very important to emphasize how strong young girls can be. It can be very empowering to kick a soccer ball super hard! As demand for my sculptures grows, I hope to have the time to add even more designs to our line, incorporating zoo and jungle animals, boys sports, garden, and more."
Spectrum Fine Jewelry

(ARTS)
Year established: 1997
Number of employees: 7
Top official: Star Sosa, president
Company description: Fine jewelry store and award-winning designer studio; makes custom jewelry, designed to order
Target market: "Our primary demographic has been female self-purchasers from 40 to 65. This is unique to Spectrum since traditional jewelry stores typically focus on marketing to male clients to purchase for women."
Company growth: Spectrum Fine Jewelry has grown to over $1 million in sales. "Spectrum's team has been recognized nationally for excellence and unique design. In addition to their own creations, Spectrum has attracted some of the top art jewelry designers from across the U.S."
How did you originally come up with the concept for your product? "I have been in the jewelry business since the mid-1980s. My focus has always been on fine craftsmanship, exceptional materials and unique design. I'm very attracted to unusual gems with vibrant colors and these naturally find a place in our designs. Our lead designer, Susan Drake, is a sculptor at heart. … Rings are probably her best-selling item since they can be enjoyed to the fullest by the wearer. Each one is a unique sculpture and creation for that specific wearer, and because they are sculpted specifically for a certain finger and hand, they are exceptionally comfortable."
How has your product helped impact the region's economic development? "Well, since 2008 my payroll has tripled in cost, so that contribution to the local economy should have an impact. I have attracted talented staff to the area, increasing the skills available here in Wilmington. Also, we represent local artists and designers, this serves to compound our financial impact into the community, what we pay them for their products provides them the opportunity to make a living doing what they love."
What are your future goals for the product? "I'd like to see Spectrum producing most of the product it sells, both custom and items for stock. As we approach our twentieth year in business, my goal is to break into the two million mark in sales. Plus now that my jewelry team is complete with both an award-winning designer and a master goldsmith, I think we are ready to blow the doors off the competitions and bring home even more design awards. We will continue to participate in the national contests and aim to put Wilmington on the map as the home to the most award-winning jewelry designer studio in the Southeast."
Sea Love Sea Salt Co.

(Food & Beverage)
Year established: 2013
Number of employees: 2
Top official: Amanda Jacobs, owner and harvester
Company description: Sea Love Sea Salt Co. hand harvests and solar evaporates sea salt from the ocean waters of Wrightsville Beach. It creates culinary finishing salts in seven flavors, a cocktail salt, a food rub, and three hand/body scrubs.
Target market: Chefs, both professional and at-home; natural foods and natural body products customers; stores that carry local, culinary and/or natural products; bartenders who create unique cocktails
Company growth: "We started out what would be an experiment three years ago in our backyard in a 3-foot, two-shelf greenhouse. It held six pans. After six months and success at two local farmers markets, we moved to Allens Lane, Wilmington. A friend who offered us free space in exchange for lawn mowing owned this property. We set-up a 10×10 salthouse, which we shortly outgrew as well. In May 2015, we purchased a 6-acre farm in Burgaw, N.C. Here is where we plan to grow and stay for a long time. In the future, we plan to add more salt flavors, working (slowly) on a cookbook and have a ton more expanding to do (putting in a huge garden where we will grow many of our salt ingredients (garlic, rosemary, lavender, etc), building tables for hold more evaporation pans and also getting bees this spring-think salted honey!)"
How has your product helped impact the region's economic development? "We sell to approximately twenty stores and fifteen chefs. We also work with UNCW Cameron School of Business to help two interns each semester. The goal is to hire someone down the line.
What are your future goals for the product? "We look forward to expanding out product line with new flavors. We also are currently expanding outside the ILM region. We are currently in a few restaurants in Edenton, Avon, Winston-Salem, and are always working on others."
The Veggie Wagon

(Food & Beverage)
Year established: 2009
No. of employees: 14
Top officials: April and Max Sussman, proprietors
Company description: A growing local market in Pleasure Island, The Veggie Wagon is open year-round. Besides selling items from area farmers and artisanal North Carolina producers, it also specializes in making all-natural items with locally sourced ingredients including cheese, pickles, ice cream, hot sauce, baked goods, breads, and more.
Company growth: "We are coming up on our five-year anniversary of opening our brick-and-mortar market, and it feels like only a couple of years have gone by. As we continue to add products and diversify our offerings, we are excited to watch our business continue to grow. We are also in the process of expanding our brand to the Triangle in the next few weeks, with our brewery cooler program."
How did you originally come up with the concept for your product? "April and Max had just moved to North Carolina from Virginia and saw a drastic need to fresh produce and better quality food options. April was teaching full time and started a roadside produce stand in Carolina Beach during the summer to make extra money. This lead to a CSA business, followed by the Carolina Beach Farmer's Market starting up. Then the opportunity presented to start The Veggie Wagon in 2010. Max and April really missed their farming families during the off season and thought Pleasure Island was ready for a year-round market. Our market would offer very affordable bottles of wine, local beers, handmade cheeses, pickles, salsas, and all around fresher foods, with an emphasis on value-added products made from local farm goods."
How has your product helped impact the region's economic development? "We believe that our products have helped impact the region's economic development by putting more money in the pockets of our farming families on a consistent basis. We have several farmers who use high tunnels, in addition to traditional field grown techniques to grow produce. The high tunnels allow farmers to produce, all natural fruits and veggies year round without the use of chemicals. We are then able to purchase their produce and make a ready to eat product or simply offer the raw veggies directly to the customer at the peak of freshness. By being able to produce more products year round, this has not only grown our business but has allowed us to hire more employees. Approximately half of our employees live either in Carolina Beach or Kure Beach."
For a full list of MADE award nominees and winners, click here.