Love Of Life
Lorraine Perry focuses on healing with art at Hospice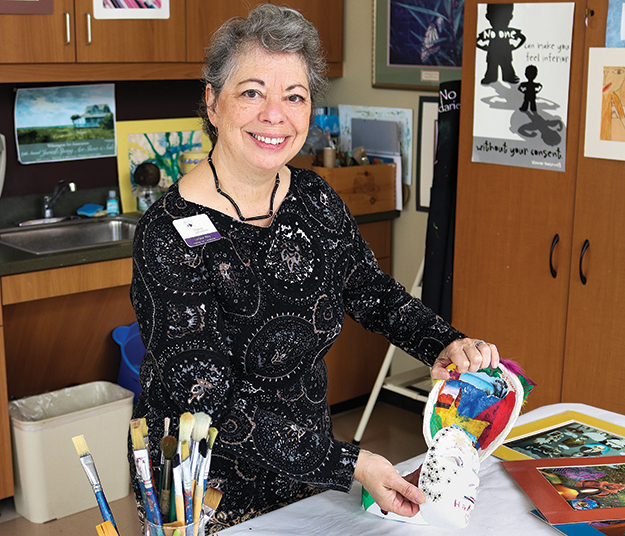 Albert Schweitzer said, "The purpose of human life is to serve and to show compassion and the will to help others."
Schweitzer was a French-German theologian, organist, philosopher, and physician. He was given the Nobel Peace Prize in 1952 for his humanitarian efforts. Closer to home, University of North Carolina Wilmington chooses an Albert Schweitzer Honors Scholar each year.
The award goes to someone who has done work in the same vein as Schweitzer within the Cape Fear region. Recent winners include Katrina Knight, executive director of the Good Shepherd Center, and Camilla Herlevich, founder and executive director of the North Carolina Coastal Land Trust.
This school year's award went to LORRAINE PERRY (above), who serves as the healing arts coordinator and bereavement counselor at Lower Cape Fear Hospice's Healing Arts Program.
The program that Perry has fostered works cohesively with medical care in using expressive art forms to aid in pain management, healing, grief, and stress relief. It works with every aspect of care, providing services for patients, staff, caregivers, and family members. Schweitzer was known for being a proponent in having "reverence for life."
The Healing Arts Program is ingrained with the same philosophy. It approaches the end of life, with great compassion, as a celebration of that life.
In patients' rooms, you can find harpists playing soothing chords for a patient who may be in pain. In the lobby, there are musicians playing for caregivers who are there attending to patients. In the arts studio, there are trained visual artists working with families to create collages of a life spent with someone who is in the process of dying.
Besides creating an environment that helps provide distractions, there is a lot of research that has gone into this program.
Between the trained professionals working in the Healing Arts Program there are many certifications that focus on healing via expression. The harpists, for example, are more than just musicians, they are certified music practitioners trained in bedside therapeutics. The idea behind music as therapy is scientific: Studies say that music can encourage the brain to release endorphins that could block the sensation of pain and even strengthen the immune system.
It's part of Perry's job to find and recruit these trained artists.
Perry received a degree in art education from Sarah Lawrence College and then a degree in psychology from UNCW. She came into her own in London under the mentorship of Cicely Saunders, considered the founder of modern-day hospice.
Saunders worked as a "lady almoner," a hospital social service worker, in the 1940s and was involved with care of patients who had been diagnosed with terminal illnesses. She found that the patients needed a better plan for pain management and sought a method of well-rounded palliative care.
In 1967, Saunders opened St. Christopher's Hospice. It was the first facility of its kind, focusing on pain control and compassionate care as well as serving as a place for clinical research and teaching.
Perry became inspired after studying under Saunders' leadership. She went on to complete a certificate in gerontology and bereavement counseling.
Combining her background in art with her health care training, Perry realized there was a connection between creating and healing.
"Arts are a form of expression which promotes healing, eases grief, and helps in relaxation," says Lorraine Perry of Lower Cape Fear Hospice's Healing Arts Program..
Perry originally pioneered the Healing Arts Program at New Hanover Regional Medical Center in 1979 where she worked with psychiatric patients and then in the oncology unit. In 2004, upon returning from studying hospice care under Saunders in England, Perry moved on to apply her experience at Lower Cape Fear Hospice where she developed a healing arts program and transitioned into her current role as healing arts coordinator and bereavement counselor.
"I find and invite artists to volunteer their intervention with therapies that compliment medical care and help the development of coping skills," Perry says.
In addition to overseeing the coordination of all healing arts, on a day-to- day basis, Perry works directly with people dealing with grief. Perry works with them to harness the innate story behind the grief they are experiencing using expressive outlets such as clay, collage, journaling, sculpting, or tile.
"There is usually a story behind it (grief), and when we tell the story it enhances the healing process," she says. "It (storytelling) gives you an opportunity to celebrate experiences in a positive way."
What's more, the program as well as Perry individually, provides outreach in the community with free workshops open to anyone who has experienced a loss.
Perry feels grateful for what she receives in turn for the service she provides.
"When I find there's a much-needed respite for caregivers," she says, "what I can produce, that is rewarding to me, is a sanctuary of calm where they quiet that business and release their innermost self."
To view more of photographer Terah Wilson's work, go to www.terahwilson.com.