Looks to Fall For
What's in store for the fall season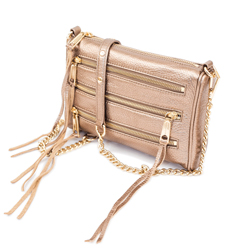 Refined feminine silhouettes, nature-inspired palettes, and classic patterns are all key elements of fashion this season. Sophisticated and sleek styles, along with ornamental embellishments, leather, and warm knits construct a look that's both sculpted and elegant. Here are some of the trends making the rounds this fall:
Small clutches and handbags
Mini bags are a chic, slimmed-down alternative to the oversized bags popular in past seasons. The metallic bronze hue is right on trend for autumn as well.
Mini 5-zip clutch by Rebecca Minkoff ($195)
Striking and repetitive patterns

Eye-catching and vibrant patterns

reminiscent of 1960s pop art brighten

up the cooler months of the year.

Side cutout dress by Mara Hoffman ($286)

Leather

Faux or for real, from jumpsuits to

jackets, leather is always a chilly weather staple. The tough yet captivating fabric

is a fall favorite year after year.

Black leather blazer by Rebecca Taylor ($995)

Punk-themed jewelry

Spikes, studs, and skulls give autumnal jewelry a grunge-inspired edge. Combine hardcore accessories with more polished pieces for an overall sophisticated style.

Oval double skull ring by Michael Spirito ($288), skull stud delicate cuff ($143)

All items available at Oliver.
What local fashion experts are loving for fall
"I am really excited about big, bold-colored coats that will be important for fall and winter. They will be the statement piece of an outfit. Bright, bold colors and shapes. Moto-style jackets in reds and purple. Mod shapes and fun faux fur trims and accents on coats in greens and oranges. Leather is here to stay, so I think we will be seeing a ton of leather styles."
-Kristyn Prentice, Island Passage (buyer)
"The kimono: We can't get enough of these lightweight kimonos. They are perfect for a Wilmington summer to fall transition. As our fall temperatures tend to stay on the warm side, kimonos are
the go-to item to throw over your tank and jeans or to add an extra layer to that sundress that you are not ready to put into storage quite yet."
-Catherine Yearwood, Hallelu (owner)
"My favorite fall trend is GREEN. I love olive green and all the shades around it. Also, texture is a key trend to keep in mind. Layering is one of my favorite ways to dress in the fall, especially with our warm autumns that can be hot during the day and chilly at night … and bold patterns. Bold patterns are all the rage for this season!"
-Jenna McKnight: Aqua Fedora (owner)
"If you're afraid of change, don't fret, I think we will see some of the trends from spring/summer transition right in to the fall season – color blocking, camouflage, and other patterns and prints, with the addition of plaid. If you recently purchased some of these items, then layering will be the way to go to extend their shelf life. Men, when it comes to color, be on the lookout for burgundy and all types of blue. Ladies, black, white, and different shades of green have been popular with top-named designers during New York's Fall Fashion Week."
-TJ Dunn (style consultant)