Looking Out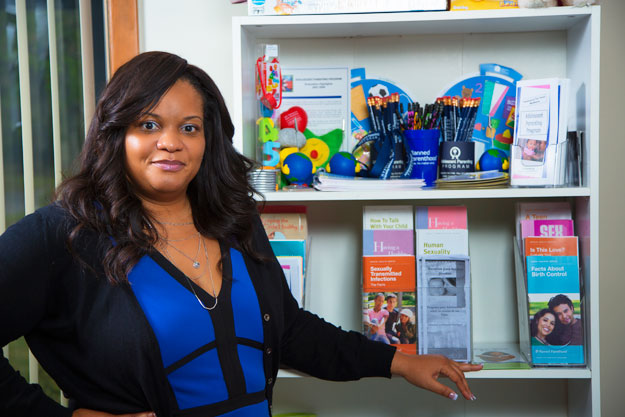 Dana King can be seen as a Teen Whisperer of sorts, able to connect with the highly aloof demographic with relative ease. As the adolescent parenting program coordinator for Planned Parenthood South Atlantic, King's duty is to assist her teen clients through the obstacles of unplanned pregnancies and prevent a second occurrence.
Her program has a 96-percent success rate, but it's not because she relies on stern lectures or any textbook approaches. She simply chooses to be herself.
"You have to be genuine. You have to be who you are," King says. 'Teenagers read that from the time they spot you. They'll find out very quickly if you're a genuine person and truly care about what's going on with them or not."
King has worked with the parenting program for eight years and served more than a hundred kids during her stead. Through her work, she is able to provide academic assistance and parenting and child development training. The goal is not only to prevent a second pregnancy but to also encourage the kids to graduate high school and reach for better opportunities. King believes that primary and secondary prevention programs like hers contribute to the 67 percent decrease in teen pregnancies in the state.
The coordinator is a one-woman operation but relies on an intern for assistance and the support of a supervisor based in Fayetteville. She serves fifteen students – the youngest of whom is twelve years old. She admits that her line of work can be trying, but she's not one to shy away from a challenge.
"I love challenges, and that's why I love teenagers," King says. "I always knew that I wanted to work with children, even as a child. But I never knew (my job) was going to be with teenagers. It turned out that that was my niche."
King, who is divorced and a single mother, has two daughters, who are twenty and twenty-two, and an eleven-year-old son. She raised her children while earning an associate's degree in early childhood education at Cape Fear Community College. She continued her education by attending the University of North Carolina Wilmington and majored in sociology with a minor in psychology. Her master's degree in marriage and family counseling was earned shortly thereafter. Now, she's contemplating whether she'll pursue a doctorate degree or opt for a second master's in social work.
She confidently juggles motherhood and work with a bubbly demeanor and anomalous energy. Her days can vary, but King's agenda is usually packed with home and school visits, transporting students to doctor's appointments or just making time to talk with the teens when they need to vent. Being ever so present in their lives makes it easy to see her clients as her own children.
"You see them grow up and turn from children to adults. You see their children grow up, you have relationship with their parents," King says. "It's like being a part of their family, while being a mentor and advocate for them."
Students like Simone Gray, often keep in touch with King long after they've graduated high school. Gray was sixteen when she entered the program and worked with King.
"Most teens don't want to talk to a woman that's older than them, but with her it was different," Gray says. " She's like a mother but also like a counselor, and she comes off like a friend. She'll tell you when you're right and when you're wrong."
Gray, now twenty, volunteers with King and is studying phlebotomy at CFCC – a feat accomplished with the help of the program coordinator, she says.
"She encouraged me to stay in school, do my best, and go to college. Any dreams I had, whether big or small, she told me to go for it," Gray says. "She said she had my back, and she did."
The kids often beat the odds with the support and example of King. She is reminded of that every day by simply looking around her office. Her workspace is peppered with happy photos from her clients.
"You know, they think it's me inspiring them, but it's absolutely the opposite," King says, with a smile. "They inspire me."
To view more of photographer Chris Brehmer's work, go to www.chrisbrehmerphotography.com