Learning Through Dance
Contra-Tiempo, a nonprofit hip-hop and Latin music activist dance troupe, dances its way into D.C. Virgo Preparatory Academy.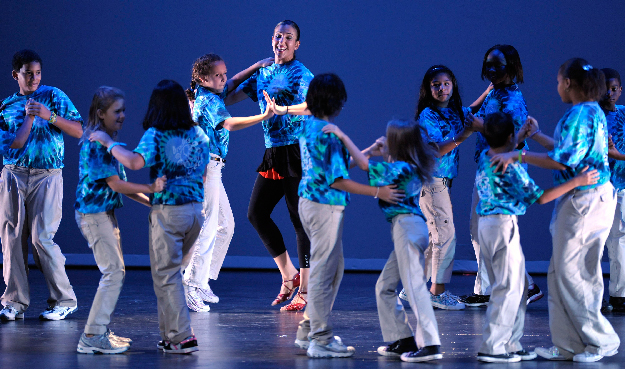 In the field of public education, engaging and exposing students to a different approaches of learning can be challenging.
As the state continues to slash school budgets in anticipation of another round of federal cuts, teachers and administrators are finding themselves with few resources.
But in the trend of doing more with less, officials with New Hanover County Schools and the University of North Carolina Wilmington, have formed a partnership that not only hopes to expose their students to the arts, but to get them moving, literally.
Los Angeles-based CONTRA-TIEMPO, a nonprofit hip-hop and Latin music activist dance troupe, will salsa, meringue, and stomp its way into the classrooms of sixth graders at D.C. Virgo Preparatory Academy next month for a two-week artist residency at the campus.
The nationally renowned dance troupe is no stranger to Wilmington.
In 2010, it completed a tour at Bradley Creek Elementary to rave reviews from teachers and students. Ana Maria Alvarez, Contra-Tiempo's artistic director, says the dance troupe will unveil its newest artistic work titled Full. Still. Hungry. − a program that explores the politics of food and consumption in our culture.
"Food is not just the material I put in my body to sustain life but a web of relationships, histories, choices, decisions that all impact the world around us," says Alvarez, a Greensboro native.
While in Wilmington for the residency, the troupe also will perform the piece at UNCW on February 23.
Alvarez says the complexities of food in our culture will be brought to life through the company's unique fusion of salsa, Afro-Cuban, and contemporary dance theater to discuss the origin of food and how food transcends cultural lines and unifies people.
"It's about building community and making sure the students can identify with themselves and others," she says. "In many respects, food helps us bridge those gaps."
But as Virgo students move to the beat, there are also other lessons the dance troupe hopes to share.
Alvarez says the troupe plans to incorporate poetry and history as part of the class interaction. She says the goal is to introduce a new element of education that strays away from the typical module of learning.
"Education has become so compartmentalized, and I feel that educators are looking for more ways to engage their students," says Alvarez.
"Our hope is that our students see a connection with what they are studying through the dance lessons we are teaching."
Other dance elements to be introduced include a style of stomping and stepping that a number of historic black fraternities and sororities typically perform during college Greek shows that will be taught by Michael Butler, who danced in the movie Stomp The Yard.
At the end of the two-week residency, students will perform for their parents and the community, incorporating the famous underground poem and song The Revolution Will Not Be Televised by Gil Scott-Heron.
Alvarez says students will use their poetry and the troupe's themes and lessons to display the need for increased acceptance and diversity.
"It's going to be a mix of energetic and education," says Alvarez. "We're excited about this opportunity to return to Wilmington."
Georgeann Haas, arts education supervisor for New Hanover County Schools, says it is only natural to pair Contra-Tiempo with students at Virgo.
"Given the school's community-focused nature, we felt that the dance troupe would be a great match with the campus," says Haas. "It's a wonderful partnership that we are fortunate to have with UNCW and share these types of experiences with our students."
Courtney Reilly, assistant director of cultural arts at UNCW, says the artist residency program, which is supported by grants from the Kennedy Center Partners in Education program, has been very resourceful for the New Hanover County school system.
"It's an ongoing collaboration about what is the best way to engage our community," says Reilly.
"We look at the curriculum needs a particular campus has and try to find some element of art to pair with that campus that's going to help students learn."
Haas said her hopes are that students learn to be respectful of each other's differences and take away a new appreciation for the arts.
"The work Contra-Tiempo does is so inspirational," she says. "The students and the community are in for a real treat. My hope is that our students take more away from this opportunity that they can apply in their daily lives."