Leading the Charge
Judge Ola Lewis fights the opioid crisis in Brunswick County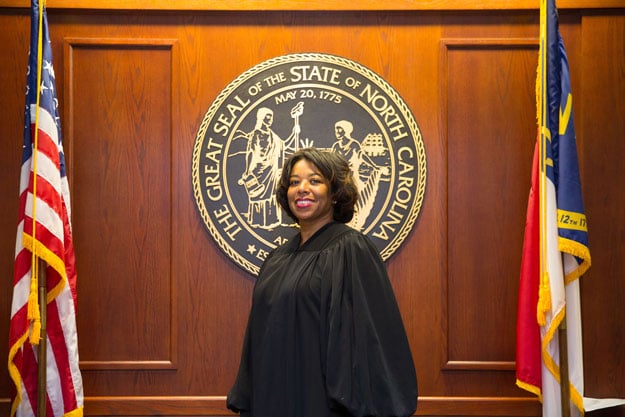 Resident Superior Court Judge OLA M. LEWIS isn't afraid of a challenge.
The daughter of hardworking parents – her father was in the 82nd Airborne Division, and her mother is an educator – she moved to Brunswick County when her father became the principal of South Brunswick High School.
Rather than follow in their footsteps, Judge Lewis chose a different path.
"My uncle was a prosecutor," she says. "He was always talking about putting bad guys in jail."
Those stories stuck with her. After finishing law school and spending a year in a private practice, she became an assistant district attorney. That was only the beginning.
Today, as one of only two female African-American Superior Court judges in North Carolina, Lewis is using her position of power and influence to focus on one of the most harrowing issues plaguing Southeastern North Carolina: the opioid crisis.
A Growing Problem
Brunswick County and Wilmington share a troubling title—together, they're number one in the nation for heroin addiction.
"There's a myth that it only affects young people," Lewis says. "We have a large retirement community in Brunswick County, and our research shows that one of the biggest populations affected are over forty-five years old."
These older populations go in for knee or hip surgeries and might come out with opioid prescriptions for pain management.
"Sixty-seven percent of people who get hooked on heroin started with a prescription from their doctor," Lewis says, adding that her goal is to eradicate the opioid epidemic in her community through partnerships rather than punishment.
Breaking the Cycle
Personal experience is one of the reasons Lewis is interested in helping people with substance abuse.
"My brother started smoking marijuana with friends at sixteen," she says. "He was always in and out of trouble."
Lewis saw firsthand how people could come from the same household and still make different choices.
This idea of choice is one of the guiding principles of drug treatment courts, which she initiated in Brunswick County. These courts seek to break the cycle of addiction through court-ordered treatment plans, which helps cut down on repeat offenders.
Treatment programs last eighteen to twenty months, because it takes that long begin recovering from addiction, experts say. During this time, patients are offered incentives and assistance, such as earning their GED or developing job skills.
"It's a graduated process that gives them the tools that they need to live clean and sober lives," Lewis says.
A Team Approach
More recently, Lewis initiated a task force to focus on the unique issues facing Brunswick County. She got the idea after being invited to join a similar group in Wilmington.
"Because we're rural, our needs are different," she says. "We lack many opportunities of bigger cities, such as affordable housing, public transportation, treatment facilities, and jobs."
Even though the two counties are dealing with the same problem, they require different solutions.
Currently, the task force includes members of law enforcement, community partners such as Novant Health, and Dosher Memorial Hospital, the clergy, and parents who have lost children to addiction.
"Part of our effort is to change prescription practices in the ER and encourage medical professionals to be mindful of how they write prescriptions for opioids," Lewis says.
She says she believes the success of the task force depends on members from every walk of life, pooling their experiences and knowledge in order to enact real change.
"We're creating a consortium of ideas," she says, "to make Brunswick County a better place to live, to work, and to play."
To view more of photographer Chris Brehmer's work, go to www.chrisbrehmerphotography.com.