Law & Order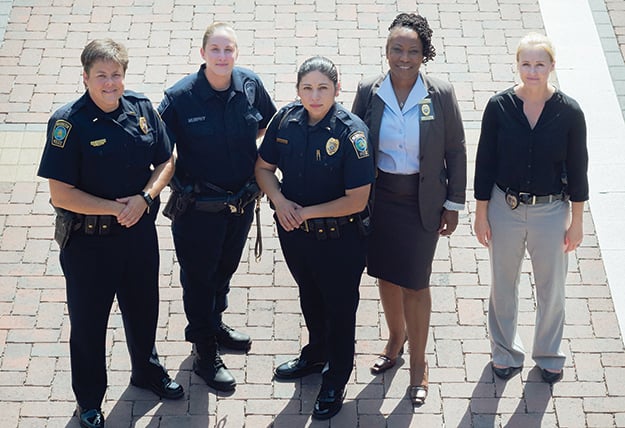 Women continue to make up more of the ranks in the Wilmington Police Department. While some still feel the pressure to prove themselves, they say perceptions have changed over the years. Meet some of the women of the WPD and what they're bringing to the force.
Growing up in Wilmington in the 1970s, a young YOLANDA R. SPARROW would sit in front of the television screen and watch a program called Get Christie Love!, which is where her earliest inspiration to become a police officer came from.
"The actress on the show was black, and she was the only woman that played the role of a police officer, and she wore a gun and kicked in doors," says Lieutenant Sparrow (second from right) of the Wilmington Police Department (WPD). "And I knew that's what I wanted to do."
After attending a summer youth program at the WPD and working for a year as a police cadet, Sparrow was sworn in as a police officer on the eve of her twenty-second birthday. Sparrow is approaching her thirtieth year with the department, and she can clearly remember the hurdles she faced as a woman in a workforce traditionally made up of men.
"At times women are just looked at in reference to their physical abilities, and this job is more than what you can do physically," Sparrow says. "On the surface when you say law enforcement or police officer or cop, people are looking for 'the brute,' and so our abilities as a female may be doubted."
On the job, Sparrow found that she had to prove herself to her male counterparts, remembering some of the difficulties she faced when she joined because she was young and petite. She credits her upbringing, however, with her thick skin and outward confidence.
"I was raised in the inner city of Wilmington and later on moved into the housing projects, so I always knew how to stand up for myself," she says. "So I had an air of confidence about me that allowed me to come into this job and not be intimidated."
Despite her unwavering confidence, Sparrow still acknowledges the burden of historical and cultural standards for women that inevitably affect her work as a woman in law enforcement.
"There are things in society that men can do and get kudos for, and women cannot," Sparrow says.
Sparrow does see some changes in the culture of the police department in regards to welcoming females from when she first joined in the 80s, but she adds that challenges still exist.
"It's like baby steps, just so, so small," she says. "Because the changing of times, women may be welcomed more easily now, but still when they come in, out of the gate, they have to prove themselves worthy to wear this uniform and badge more so than our male counterparts."
Despite that, Sparrow tries to separate that cultural stigma from her job and approach every aspect of her work with the same unbridled professionalism.
"Initially, being a female officer is not at the forefront of my mind," Sparrow says. "I go in as professional as I possibly can."
Lieutenant KATHY COCHRAN of the WPD says she also has seen firsthand the impact of being a female police officer.
"Being a woman in law enforcement has not been easy," Cochran says. "It certainly makes you bring your A-game, because people are always looking at you to see what kind of officer you're going to be."
Cochran has been a member of the WPD for twenty-six years and has seen in that time some of the negative perceptions of women in law enforcement perpetuated.
"They're just old-timey perceptions," Cochran says, "like women aren't as physically strong or yada yada, but we bring so many other things to the job."
One skill that Cochran believes a woman can bring to the table is a different approach to communication. In the WPD, there is large focus on community policing, which is a style of police work that seeks to build strong, trustworthy bonds between police officers and members of the community.
"We have females in the community, obviously," Cochran says. "And at times, we can be more approachable in some aspects possibly for female citizens or children in the community."
Cochran seeks to separate her gender with her professional life, echoing the same sentiment as Sparrow.
"I come as a police officer," she says. "I come and do my job, and if people view me as anything other than blue or in uniform, then that is on them."
Kendall Murphy
Title: K-9 officer/handler: responds to calls and assists other officers and units using police dogs to detect narcotics
Joined: Started as cadet/front desk duty in 2005, became an officer in 2008
Future goals: To be promoted and go back to school for her master's degree
"I definitely have the best job in the department. I get to combine my love of dogs with serving the community."
Melody Escarsega
Title: Gang Task Force detective
Joined: 2008
Future goals: To get promoted within the department
"Most people are shocked that I am in the field. Being a woman in this field of work is less intimidating for people to talk to and therefore more approachable."
Yolanda R. Sparrow
Title: Lieutenant and section supervisor for the Criminal Investigation Division
Joined: 1986
Future goals: Retiring within a year and continuing to lecture, train, and educate others in the field.
"A flower that blooms in adversity is a rare and beautiful thing."
Kathy Cochran
Title: Patrol lieutenant: responsible for and manages the Wilmington Housing Task Force, interacting daily with residents in an effort to improve community relationships
Joined: 1989
Future goals: To be promoted to captain, retire in three or four years, travel, and enjoy retirement "until I get bored and have to find a part-time job."
"Leave it better than you found it and don't pass the buck."
Alejandra Sotelo
Title: Lieutenant: ensures that everyday patrol functions are completed effectively and efficiently
Joined: 2000
Future goals: To retire from the agency at a command staff level
"The general public doesn't care if you are a woman. When they call for a police officer, they just want someone to help in their time of need."
To view more of photographer Erik Maasch's work, go to websta.me/n/emaasch