Launching Leaders
A new program takes a broad look at forming leaders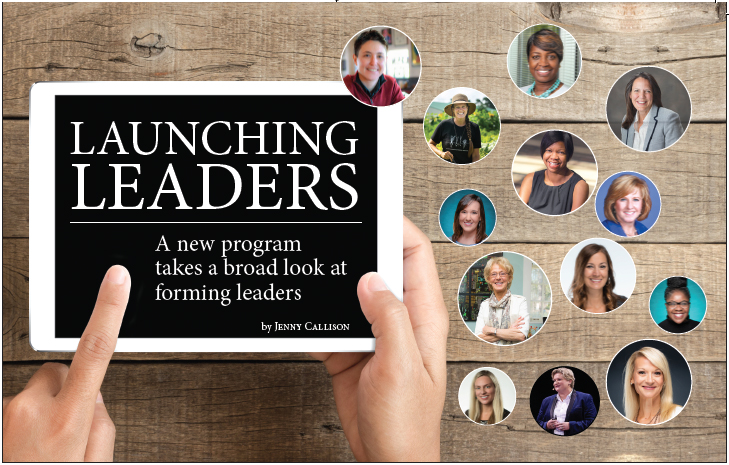 A three-part program at University of North Caroli­na Wilmington this fall has focused on helping wom­en build the confidence and courage to take on leadership roles while being true to who they are.
The Gender and Leadership Academy, whose tagline is "Courage to Grow," has held the first two of its three half-day ses­sions on the first Fridays in October and November. The final session takes place December 4.
"We envisioned the program as a way to introduce leadership at UNCW to students, faculty, staff, and administration with the goal of increasing diversity in higher edu­cation," says JUSTINE REEL, a professor in the university's School of Health and Ap­plied Human Sciences and associate dean of research and innovation in the College of Health and Human Services.
The first session focused on gender ste­reotypes, barriers, and solutions. Novem­ber's program was titled "Redefining Your Role: Stepping Up and Finding Courage." In December, the topic will be "Building a Pipeline of Diverse Leaders in Higher Ed­ucation."
Reel says she is leading the initiative be­cause she chairs the Globalization, Culture, and Diversity Committee within CHHS, explaining that her committee is large and connected with all aspects of university life in its goal of empowering people at UNCW to become leaders. And, while the spotlight is on women, men are part of this mission as well.
Asked about the gender aspect of the program, Reel says, "This program is trying to start the conversation that it's import­ant to go beyond binary gender to include trans and queer. To accomplish this, we were intentional in the selection of diverse presenters and opened the audience up to everyone."
As an example, Reel points to the inclu­sion in the GLA October program of a male nurse, who represents a "different take" on minority, she says, and goes against a com­mon stereotype.
The Gender and Leadership Academy, according to Reel, was inspired by WIL­MA's Leadership Institute.
"The WILMA Institute has become so competitive that only a couple of UNCW people can get in each year," she says. "This (program) could be a feeder or a comple­ment to it. It's about putting oneself in a po­sition to be recognized and, when opportu­nities come along, being willing to step up and say yes."
Originally planned as an in-person pro­gram, planners switched to an all-online format because of COVID-19 restrictions. Holding the sessions virtually was a plus in terms of participation, Reel says.
"Our (attendance) goal for October was one hundred when we were going to be live, in-person. We had 253 people. In November, we had 262 people. And, I think (the sessions) will live on because they were recorded and are free to watch. There will probably be additional views."
Because the programs are online, there have been registrants from other universi­ties, both within North Carolina and even beyond. The Gender and Leadership Acad­emy also snagged presenters from else­ where who might not have participated if travel had been involved.
"Our December keynote (speaker) will be the president of Elon University, CON­NIE BOOK," Reel says, adding that the program's co-presenter is UNCW Provost and Vice-Chancellor for Academic Affairs JAMES WINEBRAKE, who pulled in a colleague from Rochester Institute of Tech­nology who runs RIT's program on female leadership and inclusion.
Although the GLA was designed to pre­pare individuals at UNCW for leadership in higher education, it has featured voices from outside academia as well, Reel notes. November's keynoter was DONNA ES­TEVES, North American regional supply chain manager for Corning Inc., who spoke on navigating career challenges and step­ping up to opportunities. WANDA COLEY, vice president of strategy and execution for UnitedHealthcare, was part of a November panel.
Between the monthly half-day sessions, the GLA offers free forty-minute online "Studio Interviews" with a range of woman leaders, such as former television executive JUDY GIRARD, founder of the Girls Lead­ership Academy of Wilmington (GLOW).
Appropriately enough, December's final panel discussion topic is "Where Do We Go From Here?" The three-part program this fall was funded by a small grant from the university.
"It's been very successful but, without continued funding, we have no plans to continue (the program)," Reel says. "This was an awakening, but we don't know where it will go from here. Our intention was for this to be an entry point, a catalyst, and complement, and to point to other existing programs."
To keep the program and its momentum going, Reel explains, she would need to se­cure a larger grant. BETSY DELL at RIT secured such a grant for her women's lead­ership program.
Two-thirds of the way through her en­deavor, Reel is happy with what it has ac­complished. "We've been delighted," she says, "at the outpouring of enthusiasm from faculty, staff, students, and administrators."
---
Registration for the December 4 GLA program is open. For more info or to watch previous programs, go to uncw.edu/chhs/gla/index.html.
---
Want more WILMA? Click here to sign up for our WILMA newsletters and announcements.