Lady Knievel
Fearless Profile: Tina Wanner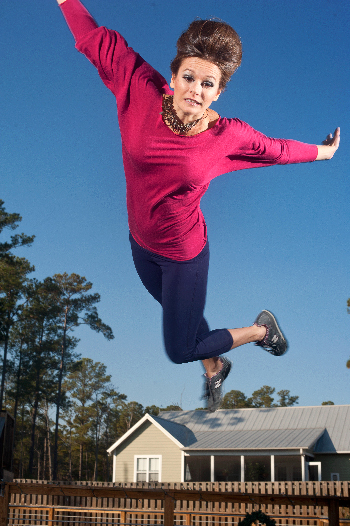 Not just anyone would choose a career in which accidents, beatings, falls, and fights make up the daily to-do list. But for Wilmington resident TINA WANNER, it's a dream job.
For the past six years, Wanner has been a stuntwoman, appearing in many episodes of shows such as The Vampire Diaries and One Tree Hill as well as in the movies The Hunger Games, Green Lantern, and Edge of Darkness.
Her career was born when she met local stuntman and stunt coordinator Dino Muccio, who suggested that she begin training with him and John Copeman, as well as other local stunt professionals.
"It had never crossed my mind to do stunts, but it's perfect for me because it combines my interest in film with athletics," says Wanner.
Growing up in rural Camden, Ohio, Wanner was a self-described tomboy who hung out with her brothers and enjoyed four-wheelers, horses, and bb-guns. A track scholarship brought her to the University of North Carolina Wilmington, where she double-majored in film studies and communications.
She also met her future husband and realized that his job was going to keep them in the Wilmington area. That chance meeting with Muccio gave her the inspiration she needed. Next came the perspiration, as she began her training regimen with Muccio, Copeman, John Gilbert, and Kevin Hall. She also met and worked with Florida-based stuntwoman Jennifer Badger, who became a mentor.
How does she stay fit and able to take all those tumbles, bumps, and bruises?
"I run a lot, lift weights, and do mixed martial arts to train for fighting," says Wanner. "I also eat healthy and cross train. My husband and I like to paddleboard and mountain bike."
Even after taking 2012 off to have a baby, Wanner's in great shape. She's looking forward to being back in action this year, touting an impressive catalog of dangerous achievements.
Here are a few of her memorable ones:
Fights
"I've done a lot of fights and a lot of hair-pulling, mainly in One Tree Hill. Fights are mostly choreographed," says Wanner, who also takes punches like in The Killer Inside Me where she doubled as Jessica Alba with Casey Affleck's character.
Falls into water
"There was an especially challenging scene from One Tree Hill when I had to leap into a swimming pool from second-story window. The pool cover was on. When you jump from a great height, the water surface is hard – add a pool cover, and it's worse," she says. "We cut slits in the pool cover, and I aimed for one of them. I had to practice a lot and learn how to change position mid-air to land on my back, which was padded.
"It's all about body awareness, body control. Fortunately, there are a lot of extra eyes on you in case you mess up or get hurt."
Fire burns
Wanner has had plenty of experience in fire scenes, which are among the most dangerous of stunts.
In one scene from The Vampire Diaries, Wanner doubles a character "locked" inside a fire ring.
Other fire-related projects include the very violent The Killer Inside Me.
"These scenes use real fire and require a ton of preparation," she says. "A safety crew, emergency crew, and fire department are on hand. We practice the motions beforehand, going through all the 'what ifs' to be extra safe. You want to know and trust the stunt team you're working with."
Although stunt professionals in fire scenes wear an under layer of clothes that have been treated with fire protectant, they still must be very careful.
"It is scary," says Wanner. "You break (the action) down and see how you are going to do it. You have to pay attention to how hot it's getting. Normally, the director likes to do a couple of takes – maybe filming from a variety of angles."
The fire scene in The Killer Inside Me was particularly harrowing, says Wanner, because it was shot in the attic room of an old house. The peaked ceiling intensified the heat. Then, there was the physical proximity to the other stunt person.
"Normally, you try to separate two burning people, but this director wanted the two of us leaning against each other," she says.
Car hits
In the 2010 movie Edge of Darkness, a car sideswipes Wanner's character. Planning for the scene was an exercise in physics.
She was connected to the nearby guardrail by a cord, which was then tied to a pole on the other side of the road. Crew members helped control the car's impact on her by manipulating the cord.
Even so, the hit and her subsequent fall to the pavement were real.
"It's calculated risk; hopefully you are padded up well," says Wanner. "Stunts are easier for men because of their clothing, which is better for hiding padding. Women don't often have the best wardrobes or shoes."
To view more of photographer Jeff Janowski's work, go to www.jeffjanowski.com.