Ladies of the Rink
Roller derby team attracts women of all skill levels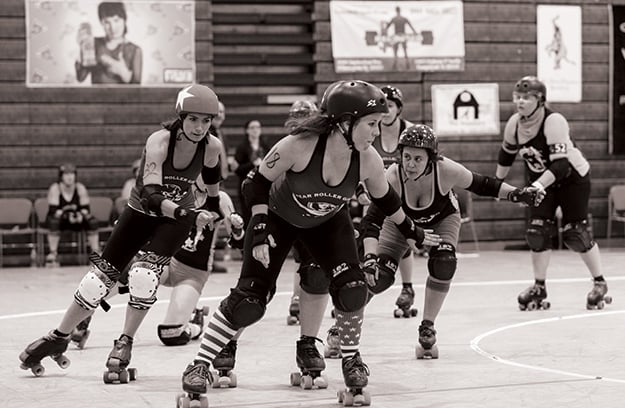 It's roller derby night in the Port City, when the women on skates take on the rink, the men in kilts cheer them on, and all the fans ooze black and red.
"There ain't nothing better than a power jam," says the game announcer as the CAPE FEAR ROLLER GIRLS (CFRG) maintain their lead.
Their rival's offensive skater waits in the penalty box as jammer Fiona Fatale coerces through the pack of her opponents and gains a point for each helmet she passes. Kat Von D-Linquent, one of the best blockers of her time, forces her energy backward to keep the opposing team behind Fiona Fatale's streak of success, leading to the team's first win of the season.
When the roller girls unhook their helmet straps and knee pads, fans rush to congratulate the women, who wear bruises all over their legs and arms as if they're medals of honor.
Off the rink, thirty-four-year-old veteran skater and team captain CABELL BRYAN, a.k.a. MCVENOM, talks about being with CFRG since its inception in 2005. On her skates, McVenom might be tough, but without wheels, Bryan's warm and protective spirit shows as she talks about the other women of her team.
"(Derby) builds you up as a woman and a person," says Cabell Bryan. "You gain a family of people. It makes you grow as a person, not just for yourself, but other people as well."
More than thirty women of all kinds and skill levels make up the Cape Fear All Stars and the Cape Fear Black Harrts, which are both official members of the Women's Flat Track Derby Association.
Personal Boost
JYNETTE BROGDEN (left), a.k.a. RAVEN MADD, is one of the newer additions to the team. Before this, she hadn't been on skates since she was a child and only knew about roller derby from the 2009 movie Whip It about a league in Austin, Texas.
When a friend asked her to try out, Brogden was hesitant. Her husband is in the military, so she's often alone while taking care of their five-year-old daughter.
"I was scared to tell him because I stopped working when I had my daughter," Brogden says. "I had all these ambitions to go to law school and stuff, but I was afraid for five years to do anything for myself. It was just my own feelings."
Then one day she shared her news, and now her husband is one of the official cheerleaders and engages the fans while he wears a kilt and his CFRG tee. "It's been really good for my self-esteem and confidence," she says. "It's nice to be able to do something like this."
Being Stubborn
KAT DAVIS (left), a.k.a. KAT VON D-LINQUENT, is in her fifth season of roller derby, and she's not planning to quit any time soon. Davis's jersey number reads 1057, the police code for a hit and run.
"I'll play until my legs fall off," says thirty-seven-year-old Davis.
Davis explains that she and her husband, Stephen, refuse to grow up. One day, he bribed her with Starbucks to get her to finally try the sport. Now, she calls it "addicting."
"You never stop improving with roller derby," she says. "It's very rewarding to be able to hit that next level."
When asked what it takes to do derby, she and several of her teammates quickly give the same answer. "You have to be stubborn," says Davis, who describes her derby peers as strong female role models. "You have to want it for yourself and no one else."
Off the Rink
At the derby game, a young blond girl in pigtails walks up the benches while wearing an oversized pink T-shirt that reads "little Cinderwreckya" on the back.
Her mom, AMY TOLHURST (left), No. 12 on the Black Harrts team, is playing her first home game.
"I had no clue what to expect when I started," says forty-year-old Tolhurst, a.k.a. CINDERWRECKYA. "I put my pads on backwards. I put my helmet on backwards."
When she's not blocking her opponents, she works as a human resource manager at GE Hitachi Nuclear Energy.
"This is what I do in the evenings," Tolhurst says. "I'm corporate during the day. My work friends are like 'Who is this alter Amy?'"
She explains that, in addition to committing time, all the derby girls must pay dues, fundraise for the community, and participate in local philanthropy efforts. For each home game, CFRG donates a portion of ticket sales to a local charity.
"This is the first time I haven't been good at something," Tolhurst says. "I've had to work really hard at something. You have to figure out why it is you're here."
Tolhurst and her teammates look forward to another year of derby competition, both at home and in other states. "It's not something that's hard to get into," says Bryan, the team captain. "Everyone is so supportive. Yet, I'm totally not the same person as I was when I first started derby."
---
Meet members of the Cape Fear Roller Girls when they kick off the WILMA Dash 5K on May 26 at the starting line. The next home bout is May 7 at Cape Fear Community College's Schwartz Center, 601 North Front Street. Info and schedule: capefearrollergirls.com.
To view more of photographer Erik Maasch's work, visit websta.me/n/emaasch.