Kitchen Remodel Professionals Keep Project on Track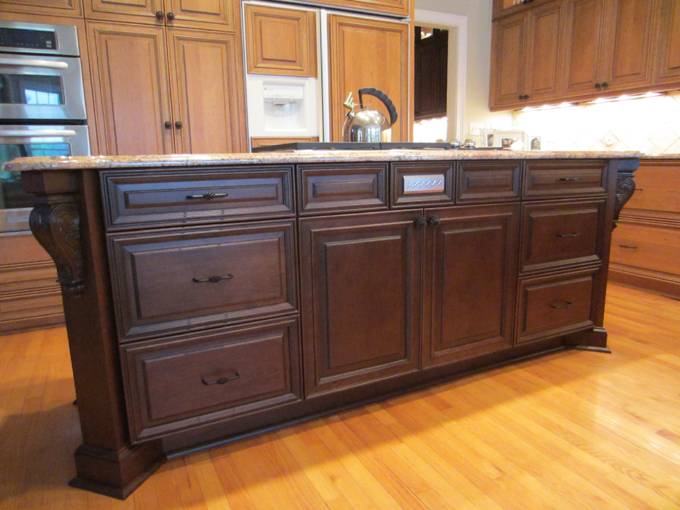 When John and Rose Mollozzi embarked on their first kitchen remodel, they visited about five or six companies in Wilmington and chose Markraft Cabinets.
"We decided they had the best product and they were very professional and extremely accommodating and helpful in the planning process," said John Mollozzi, who moved from the northeast to Wilmington.
The Mollozzis lived in their Landfall home since 2000. The house was built around 1996 and the original white kitchen with black granite countertops did not suit their taste. They preferred a warmer look and chose the Ultracraft York Cherry cabinets with a low sheen caramel and brown glaze. They also selected Courterco 4WCT3 decorative hardware.
Markraft helped them reconfigure the space by moving the refrigerator, dishwasher and two ovens to one side of the kitchen and extended the cabinets to the ceiling giving them more storage and counter top space. They also installed 18-inch pull-out drawers on the lower cabinets.
"It's much more functional. You can pull everything out and everything is there," Mollozzi said.
Markraft also installed a commercial grade cabinet that can hold the weight of heavy appliances for better storage and easier access.
The Mollozzis also wanted to install glass window panes in the upper cabinet doors to be able to display their antique tea set collection. They received a quote that was quite high, Mollozzi said. So Markraft referred them to a glass company that was able to achieve the look and save them about $1,500, he said.
Overall Markraft came within budget and close to the proposed timeframe for the total project that ran from September to December 2011. But for about eight weeks, they could not use their kitchen.
"When you go through the process you either do a lot of cooking on the grill because you don't have a sink or go out to dinner," Mollozzi said.
He also said he was particularly impressed by the professionalism of Markraft staff including selection center coordinator Lauren Morris, who visited the house each week to make sure everything was progressing smoothly and the cabinet installer, who was precise and meticulous. He arrived at the house by 9 am everyday and vacuumed the work area before he left each night.
A couple of the Mollozzi's friends have also had Markraft conduct remodels on their homes.
"And they were very pleased," he said. "I would recommend the company."
Markraft Cabinets specializes in cabinet and countertop design and installation in both new residential and commercial construction as well as custom remodeling projects. For more information, visit www.Markraft.com or call (910) 793-2002.