Kitchen Lab
A full teaching kitchen will greet returning GLOW students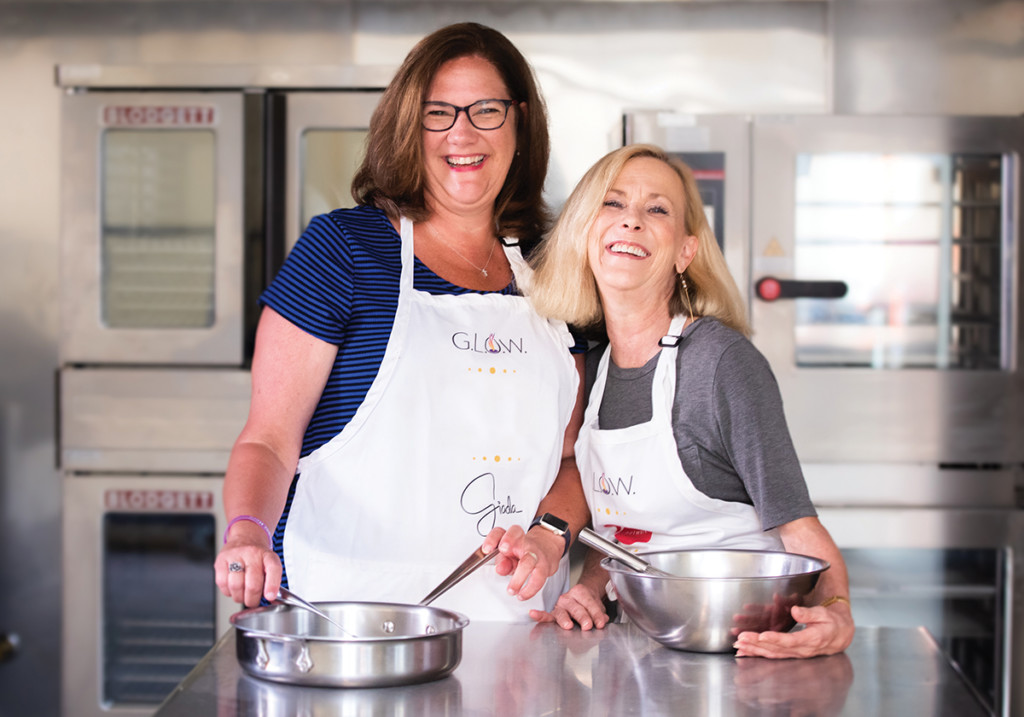 When Girls Leadership Academy of Wilmington (GLOW) students start classes at their new campus this fall, one of the features will be a teaching kitchen for the school's culinary arts program.
GLOW, North Carolina's only single-gender charter school, has operated from a small building off South College Road since opening in 2016.
The new $16 million-dollar facility, built on land donated by the Cameron family, includes an 18,600-square-foot middle school building and a nearly 19,200-square-foot high school building, as well as a cafeteria, media center, makerspace, administrative offices, and the teaching kitchen.
Culinary arts classes, which have been a part of GLOW's curriculum from the start, will be available as an elective to the approximately 400 sixth- through ninth-grade students who are enrolled for the 2019-20 school year.
Teachers BETH HOLLIS and LYNN MICHAELS, both of whom have been involved with the program since the early stages of its development, will lead the culinary program.
Hollis and Michaels (above) say culinary arts is an important part of GLOW's curriculum because it's an interdisciplinary program. Lessons incorporate subjects such as math, science, history, and geography as well as skills such as organization, teamwork, and time management. Beyond that, students are gaining information about nutrition, safe food handling, and meal planning.
"Cooking gives you so many skills other than just being able to prepare food," Michaels says.
It's fitting that GLOW's curriculum includes the culinary arts, not only because it incorporates so many different subjects and skills, but also because the school's founder Judy Girard served as president of the Food Network from 1994 to 2004.
Over the past several years, Girard has called up on some of the Food Network's brightest stars to help her raise funds for the school. Emeril Lagasse, Giada De Laurentiis, Guy Fieri, and Robert Irvine have all visited the Port City to take part in sold-out fundraisers that have raised over $1.5 million for the school.
Lagasse, Fieri, and Irvine will all return this fall for the grand opening of the new campus on September 5.
For the past few years, the culinary teaching space at GLOW's initial location was a small room outfitted with only hot plates, a microwave, toaster ovens, and two bar sinks. The new facility has a teaching station with an overhead mirror, commercial wash sinks, and four workstations – each with a gas stove and oven.
"This new facility is going to be a whole new ballgame," Hollis says. "It's going to allow us to do so much more and for the students to work much more efficiently."
The students work in teams throughout the semester, beginning with knife safety and skills, and working through the basics. The course culminates with a cook-off that requires the students to select a recipe, shop for ingredients within their given budget, prepare the recipe, and present it to a group of guest judges.
"This is a project that the girls really take ownership of, and they take it very seriously," Hollis says. "We occasionally steer them a bit as far as the recipe selection, but beyond that, the rest is up to them."
At the end of the semester, students receive a copy of all the recipes they've completed. Hollis says one of the most rewarding aspects of the program, for her, is when a student asks for a recipe they've recently prepared so that they can make it at home for their family.
When the program at GLOW first started, Hollis served as the director of the locally based nonprofit NourishNC. Because many of the students received weekly boxes from Nourish, she planned many of the recipes around items that were likely to be sent home with them.
Now, as the student population grows and diversifies, Hollis and Michaels have shifted beyond the boxes to introducing the students to foods they may not have been exposed to.
The two say that once a student has the experience of really enjoying something they hadn't ever tried or thought they didn't like, they become more adventurous.
"I love seeing the girls progress," Michaels says. "Food is about community, and that's what this program is creating."
Hollis and Michaels say the culinary program is a great way for the local community to be involved with GLOW students. Two or three volunteers are scheduled per class, ranging from professionals in the industry to those who simply have an interest in food and want to be a part of GLOW's mission.
"The girls are learning skills they can take into the home and the workplace," Hollis says. "And, the more we can expose them to members of the community, the stronger the program becomes."
To view more of photographer River Bondurant's work, go to autumnrivermedia.mypixieset.com.
Want more WILMA? Click here to sign up for WILMA newsletters and announcements.
Comments
comments